| | | |
| --- | --- | --- |
| Review Article | | | |
Low HbA1c and Increased Mortality Risk-is Frailty a Confounding Factor?
H Abdelhafiz Ahmed1,*, J Sinclair Alan2
1Consultant Physician and Honorary Senior Clinical Lecturer, Department of Elderly Medicine, Rotherham General Hospital, Rotherham, S60 2UD, UK
2Dean and Professor of Medicine, Institute of Diabetes for Older People (IDOP), Bedfordshire &, Hertfordshire Postgraduate Medical School, University of Luton, Puteridge Bury Campus, Bedfordshire, LU2 8LE, UK
Abstract

Diabetes mellitus is increasingly becoming an older person disease due to the increased survival and aging of the population. Previous studies which showed benefits of tight glycemic control and a linear relationship between HbA1c and mortality have largely included younger patients newly diagnosed with diabetes and with less comorbidities. Recent studies, which included older population with diabetes, have shown a U-shaped relationship of increased mortality associated with low HbA1c. The mechanism of such relationship is unclear. There was no direct causal link between low HbA1c and mortality. It appears that malnutrition, inflammation and functional decline are characteristics shared by the populations that showed increased mortality and low HbA1c. In these studies functional status, disability or frailty was not routinely measured. Therefore, although adjustment for comorbidities was made there may be a residual confounding by unmeasured factors such as frailty. Thus, frailty or decline in functional reserve may be the main confounding factor explaining the relationship between increased mortality risk and low HbA1c.

Keywords Frailty Mortality Diabetes Low HbA1c
Corresponding Authors: H Abdelhafiz Ahmed
About author:

present address: Kunming Biomed International, Kunming, Yunnan, 650500, China

Issue Date: 01 August 2015

Table 1 Summary of observational studies reporting increased mortality with low HbA1c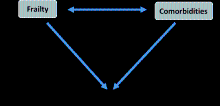 Figure 1. Frailty and comorbidities as confounders and low HbA1c and other biochemical factors as markers of increased mortality.
| | |
| --- | --- |
| [1] | UKPDS Group. UKPDS 33 (1998). Intensive blood-glucose control with sulphonylureas or insulin compared with conventional treatment and risk of complications in patients with type 2 diabetes. Lancet 352: 837-851. |
| [2] | Stratton IM, Alder AI, Neil HA, Matthews DR, Manley SE, Cull CA,et al (2000). Association of glycaemia with macrovascular and microvascular complications of type 2 diabetes (UKPDS 35): prospective observational study. BMJ, 321: 405-412. |
| [3] | Patel A, MacMahon S, Chalmers J, Neal B, Billot L, Woodward M,et al (2008). Intensive blood glucose control and vascular outcomes in patients with type 2 diabetes. N Engl J Med, 358: 2560-2572. |
| [4] | Duckworth W, Abraira C, Moritz T, Reda D, Emanuele N, Reaven PD,et al (2009). Glucose control and vascular complications in veterans with type 2 diabetes. N Engl J Med, 360: 129-139. |
| [5] | Gerstein HC, Miller ME, Byington RP, Goff DC Jr, Bigger JT, Buse JB,et al (2008). Effects of intensive glucose lowering in type 2 diabetes. N Engl J Med, 358: 2545-2559. |
| [6] | Abi KC, Roussel R, Mohammedi K, Danchin N, Marre M (2012). Cause specific mortality in diabetes: recent changes in trend mortality. Eur J Prev Cardiol, 19: 374-381. |
| [7] | Ricci P, Blotière P O,Weill A, Simon D, Tuppin P, Ricordeau P,et al (2010). Diabète traité en France: quelles évolutions entre 2000 et 2009? Bull Epidemiol Hebd, 43: 425-431. |
| [8] | Cheng YJ, Imperatore G, Geiss LS, Wang J, Saydah SH, Cowie CC,et al (2013). Secular Changes in the Age-Specific Prevalence of Diabetes Among US Adults. Diabetes Care. 36: 2690-2696. |
| [9] | Boyle JP, Thompson TJ, Gregg EW, Barker LE, Williamson DF (2010). Projection of the year 2050 burden of diabetes in the US adult population: dynamic modeling of incidence, mortality, and prediabetes prevalence. Population Health Metrics. 8: 29-40. |
| [10] | Cowie C, Rust KF, Ford ES, Eberhardt MS, Byrd-Holt DD, Li C,et al (2009). Full Accounting of Diabetes and Pre-Diabetes in the U.S. Population in 1988-1994 and 2005-2006. Diabetes Care 32: 287-294. |
| [11] | Valiyeva E, Russell LB, Miller JE, Safford MM (2006). Lifestyle-related risk factors and risk of future nursing home admission. Arch Intern Med, 166: 985-990. |
| [12] | Dybicz SB, Thompson S, Molotsky S, Stuart B (2011). Prevalence of Diabetes and the Burden of Comorbid Conditions Among Elderly Nursing Home Residents. Am J Geriatr Pharmacother, 9: 212-223. |
| [13] | Maddigan SL, Feeny DH, Johnson JA (2005). Health-related quality of life deficits associated with diabetes and comorbidities in a Canadian National Population Health Survey. Qual Life Res, 14: 1311-1320. |
| [14] | Duffy RE, Mattson BJ, Zack M (2005). Comorbidities among Ohio's nursing home residents with diabetes. J Am Med Dir Assoc, 6: 383-389. |
| [15] | Gadsby R, Barker P, Sinclair A (2011). People living with diabetes resident in nursing homes--assessing levels of disability and nursing needs. Diabet Med, 28: 778-780. |
| [16] | Gregg EW, Engelgau MM, Narayan V (2002). Complications of diabetes in elderly people. BMJ, 325: 916-917. |
| [17] | Volpato S, Bianchi L, Lauretani F, Lauretani F, Bandinelli S, Guralnik JM,et al (2012). Role of muscle mass and muscle quality in the association between diabetes and gait speed. Diabetes Care, 35: 1672-1679. |
| [18] | Bergman H, Ferrucci L, Guralnik J, Hogan DB, Hummel S, Karunananthan S,et al (2009). Frailty: An emerging research and clinical paradigm-issues and controversies. J Gerontol A Biol Sci Med Sci, 62A: 731-737. |
| [19] | Fried LP, Tangen CM, Walston J, Newman AB, Hirsch C, Gottdiener J,et al (2001). Frailty in older adults: Evidence for a phenotype. J Gerontol A Biol Sci Med Sci, 56A: M146-M156. |
| [20] | Buchman AS, Yu L, Wilson RS, Schneider JA, Bennett DA (2013). Association of brain pathology with the progression of frailty in older adults. Neurology. 80: 1-7. |
| [21] | Walston J, Hadley EC, Ferrucci L, Guralnik JM, Newman AB, Studenski SA,et al (2006). Research agenda for frailty in older adults: Toward a better understanding of physiology and etiology: Summary from the American Geriatrics Society/National Institute on Aging Research Conference on Frailty in Older Adults. J Am Geriatr Soc, 54: 991-1001. |
| [22] | Kalyani RR, Varadhan R, Weiss CO, Fried LP, Cappola AR (2012). Frailty Status and Altered Glucose-Insulin Dynamics. J Gerontol A Biol Sci Med Sci, 67: 1300-1306. |
| [23] | Beers MH Berkow R (eds). The Merck manual of geriatrics. Medical services, USMEDSA, USHH. Section 1. Nutritional disorders. Malnutrition; 2000-2004 [chapter 2]. [accessed Sept. 2014]. |
| [24] | Lee JSW, Auyeung TW, Leung J, Kwok T, Leung PC, Woo J (2010). The effect of diabetes mellitus on age-associated lean mass loss in 3153 older adults. Diabet Med, 27: 1366-1371. |
| [25] | Landi F, Onder G, Bernabei R (2013). Sarcopenia and diabetes: Two sides of the same coin. J Am Med Dir Assoc, 14: 540-541. |
| [26] | Leenders M, Verdijk LB, van der Hoeven L, Adam JJ, van Kranenburg J, Nilwik R,et al (2013). Patients with type 2 diabetes show a greater decline in muscle mass, muscle strength, and functional capacity with aging. J Am Med Dir Assoc, 14: 585-592. |
| [27] | Rizvi AA (2009). Nutritional challenges in the elderly with diabetes. Intern J Diabetes Mellitus, 1: 26-31. |
| [28] | Nichols GA, Joshua-Gotlib S, Parasuraman S (2013). Glycemic control and risk of cardiovascular disease hospitalization and all-cause mortality. J Am Coll Cardiol. 62: 121-127. |
| [29] | Huang E, Liu JY, Moffet HH, John PM, Karter AJ (2011). Glycemic Control, Complications, and Death in Older Diabetic Patients. The Diabetes and Aging Study. Diabetes Care, 34: 1329-1336. |
| [30] | Colayco DC, Niu F, Mccombs JS, Cheetham TC (2011). A1C and Cardiovascular Outcomes in Type 2 Diabetes. Diabetes Care, 34: 77-83. |
| [31] | Engoren M, Schwann TA, Arslanian-Engoren C, Maile M, Habib RH (2013). U-Shape Association Between Hemoglobin A1c and Late Mortality in Patients With Heart Failure After Cardiac Surgery. Am J Cardiol, 111: 1209-1213. |
| [32] | Aguilar D, Bozkurt B, Ramasubbu K, Deswal A (2009). Relationship of Hemoglobin A1C and Mortality in Heart Failure Patients With Diabetes. J Am Coll Cardiol, 54: 422-428. |
| [33] | Shurraw S, Hemmelgarn B, Lin M, Majumdar SR, Klarenbach S, Manns B,et al (2011). Association Between Glycemic Control and Adverse Outcomes in People With Diabetes Mellitus and Chronic Kidney Disease. Arch Intern Med, 171: 1920-1927. |
| [34] | Ricks J, Molnar MZ, Kovesdy CP, Shah A, Nissenson AR, Williams M,et al (2012). Glycemic Control and Cardiovascular Mortality in Hemodialysis Patients With Diabetes. A 6-Year Cohort Study. Diabetes, 61: 708-715. |
| [35] | Currie CJ, Peters JR, Tynan A, Evans M, Heine RJ, Bracco OL,et al (2010). Survival as a function of HbA (1c) in people with type 2 diabetes: a retrospective cohort study. Lancet, 375: 481-489. |
| [36] | Nicholas J, Charlton J, Dregan A, Gulliford MC (2013). Recent HbA1c Values and Mortality Risk in Type 2 Diabetes. Population-Based Case-Control Study. PLoS ONE, 8(7): e68008. doi:10.1371/journal.pone.0068008 |
| [37] | Monami M, Vitale V, Lamanna C, Bartoli N, Martelli D, Zannoni S,et al (2013). HbA1c levels and all-cause mortality in type 2 diabetic patients: Epidemiological evidence of the need for personalised therapeutic targets. Nutr Metab Cardiovasc Dis, 23: 300-306. |
| [38] | Carson AP, Fox CS, McGuire DK, Levitan EB, Laclaustra M, Mann DM,et al (2010). Low Hemoglobin A1c and Risk of All-Cause Mortality Among US Adults Without Diabetes. Circ Cardiovasc Qual Outcomes, 3: 661-667. |
| [39] | Ray KK, Seshasai SR, Wijesuriya S, Sivakumaran R, Nethercott S, Preiss D,et al (2009). Effect of intensive control of glucose on cardiovascular outcomes and death in patients with diabetes mellitus: a meta-analysis of randomised controlled trials. Lancet, 373: 1765-1772. |
| [40] | Bonds DE, Miller ME, Bergenstal RM, Buse JB, Byington RP, Cutler JA,et al (2010). The association between symptomatic, severe hypoglycaemia and mortality in type 2 diabetes: retrospective epidemiological analysis of the ACCORD study. BMJ 340: b4909. |
| [41] | Zoungas S, Patel A, Chalmers J, de Galan BE, Li Q, Billot L,et al (2010). ADVANCE Collaborative Group. Severe hypoglycemia and risks of vascular events and death. N Engl J Med, 363: 1410-1418. |
| [42] | Goto A, Arah OA, Goto M, Terauchi Y, Noda M (2013). Severe hypoglycaemia and cardiovascular disease: systematic review and meta-analysis with bias analysis. BMJ 347: f4533 doi: 10.1136/bmj.f4533. |
| [43] | Selvin E, Steffes MW, Zhu H, Matsushita K, Wagenknecht L, Pankow J,et al (2010). Glycated hemoglobin, diabetes, and cardiovascular risk in nondiabetic adults. N Engl J Med, 362: 800-811. |
| [44] | Eeg-Olofsson K, Cederholm J, Nilsson PM, Zethelius B, Svensson AM, Gudbjornsdottir S,et al (2010). New aspects of HbA1c as a risk factor for cardiovascular diseases in type 2 diabetes: an observational study from the Swedish National Diabetes Register (NDR). J Intern Med, 268: 471-482. |
| [45] | Elley CR, Kenealy T, Robinson E, Drury PL (2008). Glycated haemoglobin and cardiovascular outcomes in people with Type 2 diabetes: a large prospective cohort study. Diabet Med, 25: 1295-1301. |
| [46] | Hubbard RE, Andrew MK, Fallah N, Rockwood K (2010). Comparison of the prognostic importance of diagnosed diabetes, co-morbidity and frailty in older people. Diabet Med, 27: 603-606. |
| [47] | Cacciatore F, Testa G, Galizia G, Della-Morte D, Mazzella F, Langellotto A,et al (2013). Clinical frailty and long-term mortality in elderly subjects with diabetes. Acta Diabetol, 50: 251-260. |
| [48] | Kim TN, Park MS, Yang SJ, Yoo HJ, Kang HJ, Song W,et al (2010). Prevalence and Determinant Factors of Sarcopenia in Patients With Type 2 Diabetes. Diabetes Care, 33: 1497-1499. |
| [49] | Andersson C, van Gaal L, Caterson ID, Weeke P, James WPT, Couthino W,et al (2012). Relationship between HbA1c levels and risk of cardiovascular adverse outcomes and all-cause mortality in overweight and obese cardiovascular high-risk women and men with type 2 diabetes. Diabetologia, 55: 2348-2355. |
| [50] | Greenfield S, Billimek J, Pellegrini F, Franciosi M, De Berardis G, Nicolucci A,et al (2009). Comorbidity Affects the Relationship Between Glycemic Control and Cardiovascular Outcomes in Diabetes. A Cohort Study. Ann Intern Med, 151: 854-860. |
| [51] | Mehta KM, Pierluissi E, Boscardin WJ, Kirby KA, Walter LC, Chren MM,et al (2011). A Clinical Index to Stratify Hospitalized Older Adults According to Risk for New-Onset Disability. J Am Geriatr Soci, 59: 1206-1216. |
| [52] | Hubbard RE, O'Mahony MS, Savva GM, Calver BL, Woodhouse KW (2009). Inflammation and frailty measures in older people. J Cell Mol Med, 13: 3103-3109. |
| [53] | de Ruijter W, Westendorp RGJ, Assendelft WJJ, den Elzen WPJ, de Craen AJM, le Cessie S,et al (2008). Use of Framinghamrisk score andnewbiomarkers to predict cardiovascular mortality in older people: population based observational cohort study. BMJ 337: a3083 doi:10.1136/bmj.a3083. |
| [54] | Vischer UM, Safar ME, Safar H, Iaria P, Le Dudal K, Henry O,et al (2009). Cardiometabolic determinants of mortality in a geriatric population: Is there a "reverse metabolic syndrome"? Diabetes Metab, 35: 108-114. |
| [55] | Kalantar-Zadeh K, Block G, Horwich T, Fonarow GC (2004). Reverse epidemiology of conventional cardiovascular risk factors in patients with chronic heart failure. J Am Coll Cardiol, 43: 1439-1444. |
| [56] | Kopple JD (2005). The phenomenon of altered risk factor patterns or reverse epidemiology in persons with advanced chronic kidney failure. Am J Clin Nutr, 81: 1257-1266. |
| [57] | Abdelhafiz A H, Loo B E, Hensey N, Bailey C, Sinclair A (2013). The U-shaped relationship of traditional cardiovascular risk factors and adverse outcomes in later life. Aging Dis, 3: 454-464. |