| | | |
| --- | --- | --- |
| Review Article | | | |
SUMOylation: Novel Neuroprotective Approach for Alzheimer's Disease?
Juliana B. Hoppe1, Christianne G. Salbego1, Helena Cimarosti2,*(

)
1 Laboratory of Neuroprotection and Cell Signaling, Department of Biochemistry, Federal University of Rio Grande do Sul, Porto Alegre, RS, 90035-003, Brazil
2 Reading School of Pharmacy, University of Reading, Reading, RG6 6UB, UK
Abstract

Alzheimer's disease (AD) is a progressive neurodegenerative disease characterized in the brain by the formation of amyloid-beta (Aβ)-containing plaques and neurofibrillary tangles containing the microtubule-associated protein tau. Neuroin?ammation is another feature of AD and astrocytes are receiving increasing attention as key contributors. Although some progress has been made, the molecular mechanisms underlying the pathophysiology of AD remain unclear. Interestingly, some of the main proteins involved in AD, including amyloid precursor protein (APP) and tau, have recently been shown to be SUMOylated. The post-translational modification by SUMO (small ubiquitin-like modifier) has been shown to regulate APP and tau and may modulate other proteins implicated in AD. Here we present an overview of recent studies suggesting that protein SUMOylation might be involved in the underlying pathogenic mechanisms of AD and discuss how this could be exploited for therapeutic intervention.

Keywords Alzheimer's disease neuroinflammation post-translational protein modification SUMOylation SUMO
Corresponding Authors: Helena Cimarosti E-mail: h.i.cimarosti@reading.ac.uk
About author:

present address: Kunming Biomed International, Kunming, Yunnan, 650500, China

Issue Date: 01 October 2015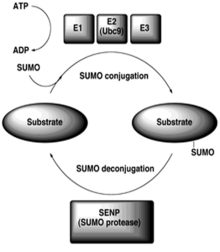 Figure 1. The SUMO conjugation pathway. SUMO is expressed as a precursor protein and processed by a SUMO protease (SENP). Mature SUMO is activated in an ATP-dependent manner by the SUMO activating enzyme (E1) and is transferred through a transesterification process to the unique SUMO conjugating enzyme (E2) Ubc9. SUMO is next conjugated to the target lysine of a substrate (consensus sequence ΨKXE/D). Conjugation, in some instances, is facilitated by a SUMO E3 ligase. The sumoylation pathway is reversible as specific proteases can remove and recycle SUMO from modified substrates.

Table 1 The involvement of SUMOylation in Alzheimer's disease, aging and neuroinflammation.
| | |
| --- | --- |
| [1] | Prince M, Bryce R, Albanese E, Wimo A, Ribeiro W, Ferri CP (2013). The global prevalence of dementia: a systematic review and metaanalysis. Alzheimers Dement, 9:63-75. |
| [2] | Blennow K, De Leon MJ, Zetterberg H (2006). Alzheimer's disease. Lancet, 368: 387-403. |
| [3] | Tiraboschi P, Hansen LA, Thal LJ, Corey-Bloom J (2004). The importance of neuritic plaques and tangles to the development and evolution of AD. Neurology, 62: 1984-9. |
| [4] | LaFerla FG, Green KN, Oddo S (2007). Intracellular amyloid-beta in Alzheimer's disease. Nat Rev Neurosci, 8: 499-509. |
| [5] | Hardy J, Selkoe D (2002). The amyloid hypothesis of Alzheimer's disease: Progress and problems on the road to therapeutics. Science, 297: 353-356. |
| [6] | McGeer EG, McGeer PL (2010). Neuroinflammation in Alzheimer's disease and mild cognitive impairment: a field in its infancy. J Alzheimers Dis, 19: 355-61. |
| [7] | Garwood CJ, Pooler AM, Atherton J, Hanger DP, Noble W (2011). Astrocytes are important mediators of Aβ-induced neurotoxicity and tau phosphorylation in primary culture. Cell Death, 2:1-9. |
| [8] | Dawbarn D, Allen SJ (1995). Neurobiology of Alzheimer's Disease. Bios Scientific. |
| [9] | Selkoe D (2001). Alzheimer's Disease: Genes, Proteins, and Therapy. Physiol Rev, 81: 741-766. |
| [10] | Allen S (2007). Alzheimer's disease: a hundred years of investigation. Neurobiology of Alzheimer's disease. Oxford, Oxford University Press: 1-36. |
| [11] | Haass C, Schlossmacher MG, Hung AY, Vigo-Pelfrey C, Mellon A, Ostaszewski BL, Lieberburg I, Koo EH, Schenk D, Teplow DB, Selkoe DJ (1992). Amyloid beta-peptide is produced by cultured cells during normal metabolism. Nature, 359: 322-325. |
| [12] | Robertson E (2007). Reducing Endogenous Tau Ameliorates Amyloid b-Induced Deficits in an Alzheimer's Disease Mouse Model. Science, 316: 750-754. |
| [13] | Amor S, Puentes F, Baker F, van der Valk P (2010). Inflammation in neurodegenerative diseases. Immunology, 129:154-169. |
| [14] | Lue LF, Kuo YM, Beach T, Walker DG (2010). Microglia activation and anti-inflammatory regulation in Alzheimer's disease. Mol Neurobiology, 41:115-128. |
| [15] | Ralay Ranaivo H, Craft JM, Hu W, Guo L, Wing LK, Van Eldik LJ (2006). Glia as a therapeutic target: selective suppression of human amyloid-beta-induced upregulation of brain proinflammatory cytokine production attenuates neurodegeneration. J Neurosci, 26:662-670. |
| [16] | Drew P, Xu J, Storer P, Chavis J, Racke M (2006). Peroxisome proliferator-activated receptor agonist regulation of glial activation: Relevance to CNS inflammatory disorders. Neurochem Int, 49:183-189. |
| [17] | Parpura P, Heneka MT, Montana V, Oliet SH, Schousboe A, Haydon PG, Stout RF, Spray Jr. DC, Reichenbach A, Pannicke T, Pekny M, Pekna M, Zorec R, Verkhratsky A (2012). Glial cells in (patho) physiology. J Neurochem, 121:4-27. |
| [18] | Verkhratsky A, Sofroniew MV, Messing A, deLanerolle NC, Rempe D, Rodriguez JJ, Nedergaard M (2012). Neurological diseases as primary gliopathies: a reassessment of neurocentrism. ASN Neuro, 4: e00082. |
| [19] | Olabarria M, Noristani HN, Verkhratsky A, Rodriguez JJ (2010). Concomitant astroglial atrophy and astrogliosis in a triple transgenic animal model of Alzheimer's disease. Glia, 58:831-838. |
| [20] | Simpson JE, Ince PG, Lace G, Forster G, Shaw PJ, Matthews F, Savva G, Brayne C, Wharton SB (2010). M.R.C. Cognitive Function Ageing Neuropathology Study Group, Astrocyte phenotype in relation to Alzheimer-type pathology in the ageing brain. Neurobiol Aging, 31:578-590. |
| [21] | Da Rocha-Souto B, Scotton TC, Coma M, Serrano-Pozo A, Hashimoto T, Sereno L, Rodriguez M, Sanchez B, Hyman BT, Gomez-Isla T (2011). Brain oligomeric beta-amyloid but not total amyloid plaque burden correlates with neuronal loss and astrocyte inflammatory response in amyloid precursor protein/tau transgenic mice. J Neuropathol Exp Neurol, 70:360-376. |
| [22] | Itagaki S, McGeer PL, Akiyama H, Zhu S, Selkoe D (1989). Relationship of microglia and astrocytes to amyloid deposits of Alzheimer disease. J Neuroimmunol, 24:173-182. |
| [23] | Abeti R, Abramov AY, Duchen MR (2011). Beta-amyloid activates PARP causing astrocytic metabolic failure and neuronal death. Brain, 134:1658-1672. |
| [24] | Abramov AY, Canevari L, Duchen MR (2004). Beta-amyloid peptides induce mitochondrial dysfunction and oxidative stress in astrocytes and death of neurons through activation of NADPH oxidase. J Neurosci, 24:565-575. |
| [25] | Allaman I, Gavillet M, Belanger M, Laroche T, Viertl D, Lashuel HA, Magistretti PJ (2010). Amyloid-beta aggregates cause alterations of astrocytic metabolic phenotype: impact on neuronal viability. J Neurosci, 30:3326-3338. |
| [26] | Johnstone M, Gearing AJ, Miller KM (1999). A central role for astrocytes in the inflammatory response to beta-amyloid: chemokines, cytokines and reactive oxygen species are produced. J Neuroimmunol, 93:182-193. |
| [27] | Van Eldik LJ, Thompson WL, Ralay Ranaivo H, Behanna HA, Martin Watterson D (2007). Glia proinflammatory cytokine upregulation as a therapeutic target for neurodegenerative diseases: function-based and target-based discovery approaches. Int Rev Neurobiol, 82:277-96. |
| [28] | Anisman H (2009). Cascading effects of stressors and inflammatory immune system activation: implications for major depressive disorder. J Psychiatry Neurosci, 34:4-20. |
| [29] | Gareau JR, Lima CD (2010). The SUMO pathway: emerging mechanisms that shape specificity, conjugation and recognition. Nat Rev Mol Cell Biol, 11: 861-871. |
| [30] | Martin S, Wilkinson KA, Nishimune A, Henley JM (2007). Emerging extranuclear roles of protein SUMOylation in neuronal function and dysfunction. Nat Rev Neurosci 8: 948-59. |
| [31] | Bohren KM, Gabbay KH, Owerbach D (2007). Affinity chromatography of native SUMO proteins using His-tagged recombinant UBC9 bound to Co2+-charged talon resin. Protein Expr Purif. 54: 289-94. |
| [32] | Dorval V, Fraser PE (2007). SUMO on the road to neurodegeneration. Biochim Biophys Acta, 1773: 694-706. |
| [33] | Lee L, Sakurai M, Matsuzaki S, Arancio O, Fraser P (2013). SUMO and Alzheimer's disease. Neuromolecular Med, 15: 720-36. |
| [34] | Silveirinha V, Stephens GJ, Cimarosti H (2013). Molecular targets underlying SUMO-mediated neuroprotection in brain ischemia. J Neurochem. 127: 580-91. |
| [35] | Dorval V, Fraser PE (2006). Small ubiquitin-like modifier (SUMO) modification of natively unfolded proteins tau and alpha-synuclein. J Biol Chem, 281: 9919-24. |
| [36] | McMillan LE, Brown JT, Henley JM, Cimarosti H (2011). Profiles of SUMO and ubiquitin conjugation in an Alzheimer's disease model. Neurosci Lett, 502: 201-8. |
| [37] | Olzscha H, Schermann SM, Woerner AC, Pinkert S, Hecht MH, Tartaglia GG, Vendruscolo M, Hayer-Hartl M, Hartl FU, Vabulas RM (2011). Amyloid-like aggregates sequester numerous metastable proteins with essential cellular functions. Cell, 144: 67-78. |
| [38] | Yun SM, Cho SJ, Song JC, Song SY, Jo SA, Jo C, Yoon K, Tanzi RE, Choi EJ, Koh YH (2013). SUMO1 modulates Aβ generation via BACE1 accumulation. Neurobiol Aging, 34:650-62. |
| [39] | Yang QG, Wang F, Zhang Q, Xu WR, Chen YP, Chen GH (2012). Correlation of increased hippocampal Sumo3 with spatial learning ability in old C57BL/6 mice. Neurosci Lett, 518:75-9. |
| [40] | Nisticò R, Ferraina C, Marconi V, Blandini F, Negri L, Egebjerg J, Feligioni M (2014). Age-related changes of protein SUMOylation balance in the AβPP Tg2576 mouse model of Alzheimer's disease. Frontiers in Pharmacology, 5: 1-9. |
| [41] | Li Y, Wang H, Wang S, Quon D, Liu YW, Cordell B (2003). Correction to 'Positive and negative regulation of APP amyloidogenesis by sumoylation'. Proc Natl Acad Sci USA 100: 259-264. |
| [42] | Dorval VMJ, Mazzella MJ, Mathews PM, Hay RT, Fraser PE (2007). Modulation of Abeta generation by small ubiquitin-like modifiers does not require conjugation to target proteins. Biochem J, 404: 309-16. |
| [43] | Zhang YQ, Sarge KD (2008). Sumoylation of amyloid precursor protein negatively regulates Abeta aggregate levels. Biochem Biophys Res Commun, 374: 673-8. |
| [44] | Takahashi KM, Ishida M, Komano H, Takahashi H (2008). SUMO-1 immunoreactivity co-localizes with phospho-Tau in APP transgenic mice but not in mutant Tau transgenic mice. Neurosci Lett, 441: 90-3. |
| [45] | Jennewein C1, Kuhn AM, Schmidt MV, Meilladec-Jullig V, von Knethen A, Gonzalez FJ, Brüne B (2008). Sumoylation of peroxisome proliferator-activated receptor gamma by apoptotic cells prevents lipopolysaccharide-induced NCoR removal from kappaB binding sites mediating transrepression of proinflammatory cytokines. J Immunol, 181:5646-52. |
| [46] | Schneider Aguirre R, Karpen SJ (2013). Inflammatory mediators increase SUMOylation of retinoid X receptor α in a c-Jun N-terminal kinase-dependent manner in human hepatocellular carcinoma cells. Mol Pharmacol, 84:218-26. |
| [47] | Akar CA, Feinstein DL. Modulation of inducible nitric oxide synthase expression by sumoylation(2009). J Neuroinflammation, 6:12. |
| [48] | Hoppe JB, Rattray M, Tu H, Salbego CG, Cimarosti H (2013). SUMO-1 conjugation blocks beta-amyloid-induced astrocyte reactivity. Neurosci Lett, 546:51-56. |
| [49] | Lee JH, Park SM, Kim OS, Lee CS, Woo JH, Park SJ, Joe E, Jou I (2009). Differential SUMOylation of LXRα and LXRβ mediates transrepression of STAT1 inflammatory signaling in IFN-γ-stimulated brain astrocytes. Mol Cell, 35:806-817. |
| [50] | Pascual-García M, Rué L, León T, Julve J, Carbó JM, Matalonga J, Auer H, Celada A, Escolà-Gil JC, Steffensen KR, Pérez-Navarro E, Valledor AF (2013). Reciprocal negative cross-talk between liver X receptors (LXRs) and STAT1: effects on IFN-γ-induced inflammatory responses and LXR-dependent gene expression. J Immunol, 190:6520-32. |
| [51] | Foran E, Bogush A, Goffredo M, Roncaglia P, Gustincich S, Pasinelli P, Trotti D (2011). Motor neuron impairment mediated by a sumoylated fragment of the glial glutamate transporter EAAT2. Glia, 59:1719-31. |
| [52] | Foran E, Rosenblum L, Bogush A, Pasinelli P, Trotti D (2014). Sumoylation of the astroglial glutamate transporter EAAT2 governs its intracellular compartmentalization. Glia, Epub ahead of print. |
| [53] | Riedel M, Goldbaum O, Wille M, Richter-Landsberg C (2011). Membrane lipid modification by docosahexaenoic acid (DHA) promotes the formation of α-synuclein inclusion bodies immunopositive for SUMO-1 in oligodendroglial cells after oxidative stress. J Mol Neurosci, 43:290-302. |
| [54] | Wong MB, Goodwin J, Norazit A, Meedeniya AC, Richter-Landsberg C, Gai WP, Pountney DL (2013). SUMO-1 is associated with a subset of lysosomes in glial protein aggregate diseases. Neurotox Res, 23:1-21. |
| [55] | Ahn K, Song JH, Kim DK, Park MH, Jo SA, Koh YH (2009). Ubc9 gene polymorphisms and late-onset Alzheimer's disease in the Korean population: a genetic association study. Neurosci Lett, 465: 272-5. |
| [56] | Fang H, Du X, Meng FT, Zhou JN (2011). SUMO negatively regulates BACE expression. Neuro Endocrinol Lett, 32: 313-6. |