| | | |
| --- | --- | --- |
| Orginal Article | | | |
The Effect of Aquaporin-4 Knockout on Interstitial Fluid Flow and the Structure of the Extracellular Space in the Deep Brain
Ze Teng1,2, Aibo Wang1,2, Peng Wang3, Rui Wang2, Wei Wang2, Hongbin Han1,2,*
1Department of Radiology, Peking University Third Hospital, Beijing 100191, China
2Beijing Key Lab. of Magnetic Resonance Imaging Technology, Beijing 100191, China
3Department of Orthopedics, Peking University Third Hospital, Beijing 100191, China
Abstract

It has been reported that aquaporin-4 (AQP4) deficiency impairs transportation between the cerebrospinal fluid and interstitial fluid (ISF) as well as the clearance of interstitial solutes in the superficial brain. However, the effect of AQP4 on ISF flow in the deep brain remains unclear. This study compared the brain ISF flow in the caudate nucleus and thalamus of normal rats (NO) and AQP4 knockout rats (KO) using tracer-based magnetic resonance imaging. The rate of brain ISF flow slowed to different degrees in the two regions of KO rats' brains. Compared with NO rats, the half-life of ISF in the thalamus of KO rats was significantly prolonged, with a corresponding decrease in the clearance coefficient. The tortuosity of the brain extracellular space (ECS) was unchanged in the thalamus of KO rats. In the caudate nucleus of KO rats, the volume fraction of the ECS and the diffusion coefficient were increased, with significantly decreased tortuosity; no significant changes in brain ISF flow were demonstrated. Combined with a change in the expression of glial fibrillary acidic protein and AQP4 in two brain regions, we found that the effect of AQP4 knockout on ISF flow and ECS structure in these two regions differed. This difference may be related to the distribution of astrocytes and the extent of AQP4 decline. This study provides evidence for the involvement of AQP4 in ISF transportation in the deep brain and provides a basis for the establishment of a pharmacokinetic model of the brain's interstitial pathway.

Keywords Aquaporin-4 interstitial fluid extracellular space tracer-based magnetic resonance imaging
Corresponding Authors: Han Hongbin
About author: These authors contributed equally to this work.
Issue Date: 29 September 2017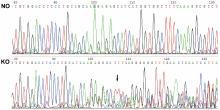 Figure 1.

Compared with NO rats, AQP4 KO rats showed a multimodal peak near the AQP4-T1 position (black arrow), indicating AQP4 gene deletion.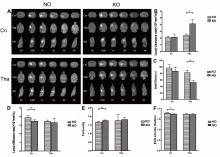 Figure 2.

(A) Interstitial fluid flow was visualized by tracer-based magnetic resonance imaging and is shown in sagittal, axial, and coronal views. The interstitial fluid in the caudate nucleus flowed to the prefrontal and parietal cortex and finally poured into the cerebrospinal fluid. Interstitial fluid in the thalamus was restricted within its anatomical region. (B-F) In the caudate nucleus, diffusion parameters and the volume fraction of the ECS were increased in the KO group and tortuosity was decreased, but no differences were found in the local clearance rates and half-life. In the thalamus, the local clearance rates in the KO group were less than those of the NO group, the half-life in the KO group was prolonged. No difference was found in the diffusion parameters, volume fraction, and tortuosity of ECS. The data are expressed as the mean±standard deviation (SD). n=6 rats per group, **P<0.05.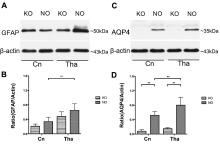 Figure 3.

(A, C) The expression of glial fibrillary acidic protein (GFAP) and aquaporin-4 (AQP4) in the thalamus was significantly higher than that in the caudate nucleus in the normal (NO) group. (B, D) AQP4 was weakly expressed in the caudate nucleus and thalamus in the AQP4 knockout (KO) group, whereas GFAP expression did not change significantly in either region. The data are expressed as the mean ± standard deviation (SD). n=6 rats per group, **P<0.05.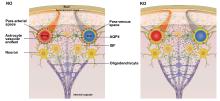 Figure 4.

In normal deep brain, ISF flows from the caudate nucleus to the cortex along myelinated fibers, whereas it is cleared from the brain along paravenous routes in the cortex. The flow of ISF is facilitated by AQP4-dependent astroglial water flux, which drives fluid dispersion into the subarachnoid CSF. In the brains of knockout rats, AQP4 deficiency led to obstruction of ISF clearance and accumulation of ISF in the cortex and caudate nucleus, resulting in a decrease in tortuosity and an increase in the volume fraction and molecular diffusion rate in the ECS within the caudate nucleus.
| | |
| --- | --- |
| [1] | Lei Y, Han H, Yuan F, Javeed A, Zhao Y (2017). The brain interstitial system: Anatomy, modeling, in vivo measurement, and applications. Prog Neurobiol, 157:230-246 |
| [2] | Iliff JJ, Wang M, Liao Y, Plogg BA, Peng W, Gundersen GA, et al. (2012). A paravascular pathway facilitates CSF flow through the brain parenchyma and the clearance of interstitial solutes, including amyloid beta. Sci Transl Med, 4: 147ra111 |
| [3] | Holter KE, Kehlet B, Devor A, Sejnowski TJ, Dale AM, Omholt SW, et al. (2017). Interstitial solute transport in 3D reconstructed neuropil occurs by diffusion rather than bulk flow. Proc Natl Acad Sci USA, 114: 9894-9899 |
| [4] | Kress BT, Iliff JJ, Xia M, Wang M, Wei HS, Zeppenfeld D, et al. (2014). Impairment of paravascular clearance pathways in the aging brain. Ann Neurol, 76: 845-861 |
| [5] | Xie L, Kang H, Xu Q, Chen MJ, Liao Y, Thiyagarajan M, et al. (2013). Sleep drives metabolite clearance from the adult brain. Science, 342: 373-377 |
| [6] | Lee H, Xie L, Yu M, Kang H, Feng T, Deane R, et al. (2015). The Effect of Body Posture on Brain Glymphatic Transport. J Neurosci, 35: 11034-11044 |
| [7] | Wolak DJ, Thorne RG (2013). Diffusion of macromolecules in the brain: implications for drug delivery. Mol Pharm, 10: 1492-1504 |
| [8] | Bedussi B, Naessens DM, de Vos J, Olde Engberink R, Wilhelmus MM, Richard E, et al. (2017). Enhanced interstitial fluid drainage in the hippocampus of spontaneously hypertensive rats. Sci Rep, 7: 744 |
| [9] | Nedergaard M (2013). Neuroscience. Garbage truck of the brain. Science, 340: 1529-1530 |
| [10] | Iliff JJ, Wang M, Zeppenfeld DM, Venkataraman A, Plog BA, Liao Y, et al. (2013). Cerebral arterial pulsation drives paravascular CSF-interstitial fluid exchange in the murine brain. J Neurosci, 33: 18190-18199 |
| [11] | Pollock H, Hutchings M, Weller RO, Zhang ET (1997). Perivascular spaces in the basal ganglia of the human brain: their relationship to lacunes. J Anat, 191( Pt 3): 337-346 |
| [12] | Yang S, Wang Y, Li K, Tang X, Zhang K, Shi C, et al. (2016). Extracellular space diffusion analysis in the infant and adult rat striatum using magnetic resonance imaging. Int J Dev Neurosci, 53: 1-7 |
| [13] | Ren R, Shi C, Cao J, Sun Y, Zhao X, Guo Y, et al. (2016). Neuroprotective Effects of A Standardized Flavonoid Extract of Safflower Against Neurotoxin-Induced Cellular and Animal Models of Parkinson's Disease. Sci Rep, 6: 22135 |
| [14] | Han H, Shi C, Fu Y, Zuo L, Lee K, He Q, et al. (2014). A novel MRI tracer-based method for measuring water diffusion in the extracellular space of the rat brain. IEEE J Biomed Health Inform, 18: 978-983 |
| [15] | Lv D, Li J, Li H, Fu Y, Wang W (2017). Imaging and Quantitative Analysis of the Interstitial Space in the Caudate Nucleus in a Rotenone-Induced Rat Model of Parkinson's Disease Using Tracer-based MRI. Aging Dis, 8: 1-6 |
| [16] | Shi C, Lei Y, Han H, Zuo L, Yan J, He Q, et al. (2015). Transportation in the Interstitial Space of the Brain Can Be Regulated by Neuronal Excitation. Sci Rep, 5: 17673 |
| [17] | Igarashi H, Tsujita M, Kwee IL, Nakada T (2014). Water influx into cerebrospinal fluid is primarily controlled by aquaporin-4, not by aquaporin-1: O-17 JJVCPE MRI study in knockout mice. Neuroreport, 25: 39-43 |
| [18] | Yao X, Hrabetova S, Nicholson C, Manley GT (2008). Aquaporin-4-deficient mice have increased extracellular space without tortuosity change. J Neurosci, 28: 5460-5464 |
| [19] | Tesson L, Usal C, Menoret S, Leung E, Niles BJ, Remy S, et al. (2011). Knockout rats generated by embryo microinjection of TALENs. Nat Biotechnol, 29: 695-696 |
| [20] | Sung YH, Baek IJ, Kim DH, Jeon J, Lee J, Lee K, et al. (2013). Knockout mice created by TALEN-mediated gene targeting. Nat Biotechnol, 31: 23-24 |
| [21] | Han H, Li K, Yan J, Zhu K, Fu Y (2012). An in vivo study with an MRI tracer method reveals the biophysical properties of interstitial fluid in the rat brain. Sci China Life Sci, 55: 782-787 |
| [22] | Tomura S, Nawashiro H, Otani N, Uozumi Y, Toyooka T, Ohsumi A, et al. (2011). Effect of decompressive craniectomy on aquaporin-4 expression after lateral fluid percussion injury in rats. J Neurotrauma, 28: 237-243 |
| [23] | Papadopoulos MC, Verkman AS (2013). Aquaporin water channels in the nervous system. Nat Rev Neurosci, 14: 265-277 |
| [24] | Nakada T, Kwee IL, Igarashi H, Suzuki Y (2017). Aquaporin-4 Functionality and Virchow-Robin Space Water Dynamics: Physiological Model for Neurovascular Coupling and Glymphatic Flow. Int J Mol Sci, 18 |
| [25] | Hubbard JA, Hsu MS, Seldin MM, Binder DK (2015). Expression of the Astrocyte Water Channel Aquaporin-4 in the Mouse Brain. ASN Neuro, 7 |
| [26] | Zhang C, Chen J, Lu H (2015). Expression of aquaporin-4 and pathological characteristics of brain injury in a rat model of traumatic brain injury. Mol Med Rep, 12: 7351-7357 |
| [27] | Tang H, Shao C, He J (2017). Down-regulated expression of aquaporin-4 in the cerebellum after status epilepticus. Cogn Neurodyn, 11: 183-188 |
| [28] | Kitaura H, Tsujita M, Huber VJ, Kakita A, Shibuki K, Sakimura K, et al. (2009). Activity-dependent glial swelling is impaired in aquaporin-4 knockout mice. Neurosci Res, 64: 208-212 |
| [29] | Haj-Yasein NN, Vindedal GF, Eilert-Olsen M, Gundersen GA, Skare O, Laake P, et al. (2011). Glial-conditional deletion of aquaporin-4 (Aqp4) reduces blood-brain water uptake and confers barrier function on perivascular astrocyte endfeet. Proc Natl Acad Sci U S A, 108: 17815-17820 |
| [30] | Nagelhus EA, Ottersen OP (2013). Physiological roles of aquaporin-4 in brain. Physiol Rev, 93: 1543-1562 |
| [31] | Wen H, Nagelhus EA, Amiry-Moghaddam M, Agre P, Ottersen OP, Nielsen S (1999). Ontogeny of water transport in rat brain: postnatal expression of the aquaporin-4 water channel. Eur J Neurosci, 11: 935-945 |
| [32] | Pavlin T, Nagelhus EA, Brekken C, Eyjolfsson EM, Thoren A, Haraldseth O, et al. (2017). Loss or Mislocalization of Aquaporin-4 Affects Diffusion Properties and Intermediary Metabolism in Gray Matter of Mice. Neurochem Res, 42: 77-91 |