| | | |
| --- | --- | --- |
| Original Article | | | |
Prospective Study of Glycated Hemoglobin and Trajectories of Depressive Symptoms: The China Health and Retirement Longitudinal Study
Haibin Li1,2, Anxin Wang1,2, Wei Feng1,2, Deqiang Zheng1,2, Qi Gao1,2, Lixin Tao1,2, Jin Guo3, Xiaonan Wang1,2, Xia Li4, Wei Wang5, Xiuhua Guo1,2,*
1Department of Epidemiology and Health Statistics, School of Public Health, Capital Medical University, Beijing, China.
2Beijing Municipal Key Laboratory of Clinical Epidemiology, Capital Medical University, Beijing, China.
3Greenwood Medical Company, 300 Highway Burwood, Melbourne, Melbourne, Victoria, Australia.
4Department of Mathematics and Statistics, La Trobe University, Victoria, Australia.
5Global Health and Genomics, School of Medical Sciences and Health, Edith Cowan University, Perth, Western Australia, Australia.
Abstract

The longitudinal association between glycated hemoglobin (HbA1c) and different courses of depressive symptoms is understudied. This study aimed to identify different trajectories of depressive symptoms and investigate the relation of HbA1c with the risk of increasing and high-stable depressive symptoms. In the China Health and Retirement Longitudinal Study, depressive symptoms were measured using the 10-item Center for Epidemiological Studies-Depression scale in three visits (years: 2011, 2013 and 2015) among 9804 participants (mean age 60.0 ± 9.0 years). Group-based trajectory modeling was used to identify trajectories of depressive symptoms. HbA1c was measured at baseline and categorized five groups according to the respective quintile. Multinomial logistic regression was fitted to examine this relationship. Four distinct trajectories of depressive symptoms were identified: low symptoms (n=6401, 65.29%); decreasing symptoms (n=1362, 13.89%); increasing symptoms (n=1452, 14.81%); and high symptoms (n=1452, 14.81%). Adjusting for demographic, health-related, and cognitive factors, the risk ratio (95% confidence interval) pertaining to the highest HbA1c (Quintile 5) for decreasing, increasing, and high symptoms of depression versus low symptoms was 1.01 (0.82-1.25), 1.12 (0.92-1.36), and 1.39 (1.04-1.86) compared with the lowest HbA1c (Quintile 1), respectively. We observed a J-shaped relationship between HbA1c and high depressive symptoms, with the lowest risk at a HbA1c concentration of 5.0%. In summary, in this large population-based cohort, high levels of glycated hemoglobin concentrations were associated with a higher risk of increasing and high-stable symptoms of depression.

Keywords Trajectory depressive symptoms glycated hemoglobin
Corresponding Authors: Guo Xiuhua
About author:

Currently address: Department of Neurology, Zhongshan Hospital, Fudan University, Shanghai, China

Issue Date: 14 March 2018

Table 1 Baseline Characteristics of the Study Participants According to the Quintile of Glycated Hemoglobin (HbA1c).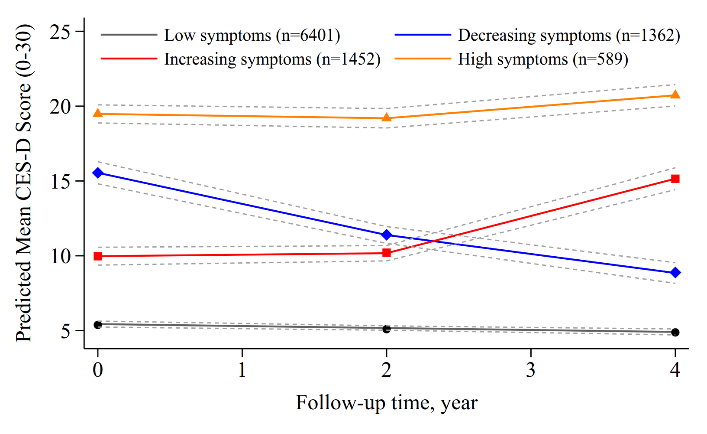 Figure 1. Trajectories of Depressive Symptoms from 2011-2015.

Table 2 Risk Ratios for the Association Between Quintile of Glycated Hemoglobin (HbA1c) and Risk of Trajectories of Depressive Symptoms *

Table 3 Risk of Incident Increasing and High Depressive Symptoms Associated with Glycated Hemoglobin Level.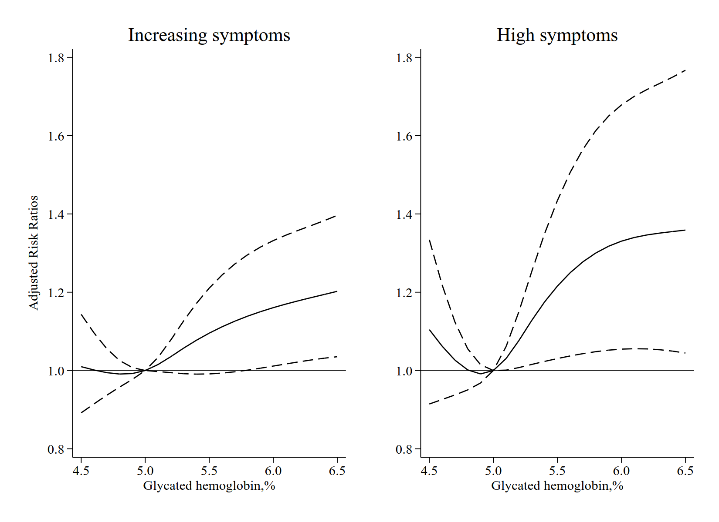 Figure 2.

Solid curve represents estimates of the risk ratios. The dashed lines represent pointwise 95% confidence intervals. HbA1c of 5% was used as the reference because it approximated the median values. The graphs are truncated at the 5th and 95th percentiles.
| | |
| --- | --- |
| [1] | Ferrari AJ, Charlson FJ, Norman RE, Patten SB, Freedman G, Murray CJ, et al. (2013). Burden of depressive disorders by country, sex, age, and year: findings from the global burden of disease study 2010. PLoS Med, 10:e1001547. |
| [2] | Zhang L, Xu Y, Nie HW, Zhang YD, Wu Y (2012). The prevalence of depressive symptoms among the older in China: a meta-analysis. International Journal of Geriatric Psychiatry, 27:900-906. |
| [3] | Hare DL, Toukhsati SR, Johansson P, Jaarsma T (2014). Depression and cardiovascular disease: a clinical review. Eur Heart J, 35:1365-1372. |
| [4] | Selvin E, Steffes MW, Zhu H, Matsushita K, Wagenknecht L, Pankow J, et al. (2010). Glycated hemoglobin, diabetes, and cardiovascular risk in nondiabetic adults. N Engl J Med, 362:800-811. |
| [5] | Mirza SS, Wolters FJ, Swanson SA, Koudstaal PJ, Hofman A, Tiemeier H, et al. (2016). 10-year trajectories of depressive symptoms and risk of dementia: a population-based study. Lancet Psychiatry, 3:628-635. |
| [6] | White J, Zaninotto P, Walters K, Kivimaki M, Demakakos P, Biddulph J, et al. (2016). Duration of depressive symptoms and mortality risk: the English Longitudinal Study of Ageing (ELSA). Br J Psychiatry, 208:337-342. |
| [7] | Carnethon MR, Biggs ML, Barzilay JI, Smith NL, Vaccarino V, Bertoni AG, et al. (2007). Longitudinal association between depressive symptoms and incident type 2 diabetes mellitus in older adults - The cardiovascular health study. Archives of Internal Medicine, 167:802-807. |
| [8] | Golden SH, Lazo M, Carnethon M, Bertoni AG, Schreiner PJ, Roux AVD, et al. (2008). Examining a bidirectional association between depressive symptoms and diabetes. Jama-Journal of the American Medical Association, 299:2751-2759. |
| [9] | Laake JPS, Stahl D, Amiel SA, Petrak F, Sherwood RA, Pickup JC, et al. (2014). The Association Between Depressive Symptoms and Systemic Inflammation in People With Type 2 Diabetes: Findings From the South London Diabetes Study. Diabetes Care, 37:2186-2192. |
| [10] | de Groot M, Anderson R, Freedland KE, Clouse RE, Lustman PJ (2001). Association of depression and diabetes complications: a meta-analysis. Psychosom Med, 63:619-630. |
| [11] | Knol MJ, Twisk JWR, Beekman ATF, Heine RJ, Snoek FJ, Pouwer F (2006). Depression as a risk factor for the onset of type 2 diabetes mellitus. A meta-analysis. Diabetologia, 49:837-845. |
| [12] | Rotella F, Mannucci E (2013). Depression as a Risk Factor for Diabetes: A Meta-Analysis of Longitudinal Studies. Journal of Clinical Psychiatry, 74:32-38. |
| [13] | Rotella F, Mannucci E (2013). Diabetes mellitus as a risk factor for depression. A meta-analysis of longitudinal studies. Diabetes Res Clin Pract, 99:98-104. |
| [14] | American Diabetes A (2013). Diagnosis and classification of diabetes mellitus. Diabetes Care, 36 Suppl 1:S67-74. |
| [15] | Maraldi C, Volpato S, Penninx BW, Yaffe K, Simonsick EM, Strotmeyer ES, et al. (2007). Diabetes mellitus, glycemic control, and incident depressive symptoms among 70-to 79-year-old persons. Arch of Intern Med, 167:1137-1144. |
| [16] | Hamer M, Batty GD, Kivimaki M (2011). Haemoglobin A1c, fasting glucose and future risk of elevated depressive symptoms over 2 years of follow-up in the English Longitudinal Study of Ageing. Psychol Med, 41:1889-1896. |
| [17] | Zhao YH, Hu YS, Smith JP, Strauss J, Yang GH (2014). Cohort Profile: The China Health and Retirement Longitudinal Study (CHARLS). Int J Epidemiol, 43:61-68. |
| [18] | Radloff LS (1977). The CES-D Scale A Self-Report Depression Scale for Research in the General Population. Applied Psychological Measurement, 1:385-401. |
| [19] | Chen HJ, Mui AC (2014). Factorial validity of the Center for Epidemiologic Studies Depression Scale short form in older population in China. International Psychogeriatrics, 26:49-57. |
| [20] | Chen C, Lu FC, Department of Disease Control Ministry of Health PRC (2004). The guidelines for prevention and control of overweight and obesity in Chinese adults. Biomed Environ Sci, 17 Suppl:1-36. |
| [21] | Yang F, Qian D, Hu D, Hou M, Chen S, Wang P, et al. (2016). Prevalence of cardiovascular disease risk factor clustering in Chinese adults. Clinical Trials & Regulatory Science in Cardiology, 15:1-6. |
| [22] | Levey AS, Stevens LA, Schmid CH, Zhang YL, Castro AF, 3rd, Feldman HI, et al. (2009). A new equation to estimate glomerular filtration rate. Ann Intern Med, 150:604-612. |
| [23] | Nagin DS, Tremblay RE (2001). Analyzing developmental trajectories of distinct but related behaviors: a group-based method. Psychol Methods, 6:18-34. |
| [24] | Nagin DS, Odgers CL (2010). Group-based trajectory modeling in clinical research. Annu Rev Clin Psychol, 6:109-138. |
| [25] | Jones BL, Nagin DS (2013). A Note on a Stata Plugin for Estimating Group-based Trajectory Models. Sociological Methods & Research, 42:608-613. |
| [26] | Desquilbet L, Mariotti F (2010). Dose-response analyses using restricted cubic spline functions in public health research. Statistics in Medicine, 29:1037-1057. |
| [27] | Bjorgvinsson T, Kertz SJ, Bigda-Peyton JS, McCoy KL, Aderka IM (2013). Psychometric properties of the CES-D-10 in a psychiatric sample. Assessment, 20:429-436. |
| [28] | Kaup AR, Byers AL, Falvey C, Simonsick EM, Satterfield S, Ayonayon HN, et al. (2016). Trajectories of Depressive Symptoms in Older Adults and Risk of Dementia. JAMA Psychiatry, 73:525-531. |
| [29] | Mirza SS, Ikram MA, Freak-Poli R, Hofman A, Rizopoulos D, Tiemeier H (2017). 12-year trajectories of depressive symptoms in community-dwelling older adults and the subsequent risk of death over 13 years. J Gerontol A Biol Sci Med Sci. |
| [30] | Aarts S, van den Akker M, van Boxtel MPJ, Jolles J, Winkens B, Metsemakers JFM (2009). Diabetes mellitus type II as a risk factor for depression: a lower than expected risk in a general practice setting. European Journal of Epidemiology, 24:641-648. |
| [31] | Ravona-Springer R, Heymann A, Schmeidler J, Moshier E, Guerrero-Berroa E, Soleimani L, et al. (2017). hemoglobin a1c variability predicts symptoms of depression in elderly individuals with type 2 diabetes. Diabetes Care, 40:1187-1193. |
| [32] | Aikens JE, Perkins DW, Lipton B, Piette JD (2009). Longitudinal analysis of depressive symptoms and glycemic control in type 2 diabetes. Diabetes Care, 32:1177-1181. |
| [33] | Kivimaki M, Tabak AG, Batty GD, Singh-Manoux A, Jokela M, Akbaraly TN, et al. (2009). Hyperglycemia, type 2 diabetes, and depressive symptoms: the British Whitehall II study. Diabetes Care, 32:1867-1869. |
| [34] | Georgiades A, Zucker N, Friedman KE, Mosunic CJ, Applegate K, Lane JD, et al. (2007). Changes in depressive symptoms and glycemic control in diabetes mellitus. Psychosom Med, 69:235-241. |
| [35] | Roy T, Lloyd CE (2012). Epidemiology of depression and diabetes: a systematic review. J Affect Disord, 142 Suppl: S8-21. |
| [36] | Ganguli M, Du Y, Dodge HH, Ratcliff GG, Chang CC (2006). Depressive symptoms and cognitive decline in late life: a prospective epidemiological study. Arch Gen Psychiatry, 63:153-160. |
| [37] | Newhouse P, Albert K (2015). Estrogen, Stress, and Depression: A Neurocognitive Model. JAMA Psychiatry, 72:727-729. |
| [38] | Pan A, Lucas M, Sun Q, van Dam RM, Franco OH, Manson JE, et al. (2010). Bidirectional Association Between Depression and Type 2 Diabetes Mellitus in Women. Archives of Internal Medicine, 170:1884-1891. |
| [39] | Taylor WD, Aizenstein HJ, Alexopoulos GS (2013). The vascular depression hypothesis: mechanisms linking vascular disease with depression. Molecular Psychiatry, 18:963-974. |
| [40] | Wrighten SA, Piroli GG, Grillo CA, Reagan LP (2009). A look inside the diabetic brain: Contributors to diabetes-induced brain aging. Biochim Biophys Acta, 1792:444-453. |
| [41] | Ye S, Muntner P, Shimbo D, Judd SE, Richman J, Davidson KW, et al. (2013). Behavioral mechanisms, elevated depressive symptoms, and the risk for myocardial infarction or death in individuals with coronary heart disease: the REGARDS (Reason for Geographic and Racial Differences in Stroke) study. J Am Coll Cardiol, 61:622-630. |
| [42] | Sonnega A, Faul JD, Ofstedal MB, Langa KM, Phillips JW, Weir DR (2014). Cohort Profile: the Health and Retirement Study (HRS). Int J Epidemiol, 43:576-585. |