Management of The Elderly Cancer Patients Complexity: The Radiation Oncology Potential
Giuseppe Colloca1,3,*, Luca Tagliaferri1, Beatrice Di Capua1,3, Maria Antonietta Gambacorta1, Vito Lanzotti1, Andrea Bellieni2,3, Silvio Monfardini4, Lodovico Balducci5, Roberto Bernabei2, William C. Cho6, Vincenzo Valentini1
1Fondazione Policlinico Universitario Agostino Gemelli IRCCS, UOC di Radioterapia, Dipartimento di Scienze Radiologiche, Radioterapiche ed Ematologiche, Roma, Italy.
2Istituto di Medicina Interna e Geriatria, Università Cattolica Sacro Cuore, Roma, Italy.
3GIOGER Gruppo italiano di Oncologia Geriatrica, Italy.
4Geriatric Oncology Program Istituto Palazzolo, Milano, Italy.
5Senior Adult Oncology Program Moffitt Cancer CenterTampa, USA
6Department of Clinical Oncology, Queen Elizabeth Hospital, Hong Kong.
Abstract

Radiation oncology has the potential to be an excellent option for the frail elderly cancer patients because of its limited systemic toxicities. It can be effective for curative, prophylactic, disease control or palliative purposes. Currently about 60% of all cancer patients undergoing active treatment at some point receive radiation treatment. However, though widely used, there are limited clinical trials strictly designed for the elderly. This paper will review the key points in the assessment and treatment of elderly cancer patient including quality of life, active life expectancy, cognitive performance, frailty, sarcopenia and how the new technologies can help to reach the key goal of maintaining autonomy and independence for the elderly cancer patient.

Keywords radiation oncology elderly cancer frailty quality of life sarcopenia complexity personalized treatment
Corresponding Authors: Giuseppe Colloca
Just Accepted Date: 19 November 2019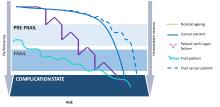 Figure 1. Comparison between successful aging, organ failure, fragility, cancer.

Table 1 Instrument used to perform geriatric assessment in oncological patients.

Table 2 Key points to assess before decision making in elderly cancer patients.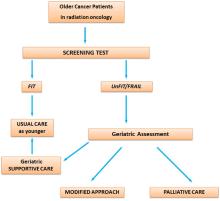 Figure 3. Flow Chart: Decision making in radiation oncology on elderly cancer patients. For supportive care we mean those cares focuse on preventing and treating symptoms or any complication due to cancer or therapies, during oncological treatment. For palliative care we mean a multidisciplinary approach dedicated to patients with life-threatening illness no longer treatable for cancer, that prevent and relief physical, psychosocial and spiritual sufferings.
| | |
| --- | --- |
| [1] | Smith BD, Smith GL, Hurria A, Hortobagyi GN, Buchholz TA (2009). Future of cancer incidence in the United States: burdens upon an aging, changing nation. J Clin Oncol, 27: 2758-65. |
| [2] | Colloca G, Santoro M, Gambassi G (2010). Age-related physiologic changes and perioperative management of elderly patients. Surg Oncol, 19:124-30. |
| [3] | López-Otín C, Blasco MA, Partridge L, Serrano M, Kroemer G (2013). The Hallmarks of Aging. Cell, 153:1194-1217. |
| [4] | Partridge L, Gems D (2007). Benchmarks for ageing studies. Nature, 450:165-7. |
| [5] | Franceschi C, Bonafè M, Valensin S, Olivieri F, De Luca M, Ottaviani E, et al. (2000). Inflamm-aging. An evolutionary perspective on immunosenescence. Ann N Y Acad Sci, 908:244-54. |
| [6] | Colloca G, Lattanzio F, Balducci L, Onder G, Ronconi G, Landi F, et al. (2015). Treating cancer and no-cancer pain in older and oldest old patients. Curr Pharm Des, 21(13):1706-14. |
| [7] | DuGoff EH, Canudas-Romo V, Buttorff C, Leff B, Anderson GF (2014). Multiple chronic conditions and life expectancy: a life table analysis. Med Care, 52:688-94. |
| [8] | Kotagal V, Langa KM, Plassman BL, Fisher GG, Giordani BJ, Wallace RB, et al. (2015). Factors associated with cognitive evaluations in the United States. Neurology, 84:64-71. |
| [9] | Lee M, Chodosh J (2009). Dementia and life expectancy: what do we know? J Am Med Dir Assoc, 10:466-71. |
| [10] | Cordell CB, Borson S, Boustani M, Chodosh J, Reuben D, Verghese J, et al. (2013). Alzheimer's Association recommendations for operationalizing the detection of cognitive impairment during the Medicare Annual Wellness Visit in a primary care setting. Alzheimers Dement, 9(2):141-50. |
| [11] | Bradford A, Kunik ME, Schulz P, Williams SP, Singh H (2009). Missed and delayed diagnosis of dementia in primary care: prevalence and contributing factors. Alzheimer Dis Assoc Disord, 23(4):306-14. |
| [12] | Wildiers H, Heeren P, Puts M, Topinkova E, Janssen-Heijnen ML, Extermann M, et al. (2014). International Society of Geriatric Oncology consensus on geriatric assessment in older patients with cancer. J Clin Oncol, 32(24):2595-603. |
| [13] | Walston J, Hadley EC, Ferrucci L, Guralnik JM, Newman AB, Studenski SA, et al. (2006). Research agenda for frailty in older adults: toward a better understanding of physiology and etiology: summary from the American Geriatrics Society/National Institute on Aging Research Conference on Frailty in Older Adults. J Am Geriatr Soc, 54(6):991-1001. |
| [14] | Hamerman D (1999). Toward an understanding of frailty. Ann Intern Med, 130:945-50. |
| [15] | Colloca G, Lattanzio F, Balducci L, Onder G, Ronconi G, Landi F, et al. (2015). Treating cancer and no-cancer pain in older and oldest old patients. Curr Pharm Des, 21(13):1706-14. |
| [16] | Walston JD, Bandeen-Roche K (2015). Frailty: a tale of two concepts. BMC Med, 13:185. |
| [17] | Song X, Mitnitski A, Rockwood K (2010). Prevalence and 10-year outcomes of frailty in older adults in relation to deficit accumulation. J Am Geriatr Soc, 58:681-7. |
| [18] | Balducci L, Colloca G, Cesari M, Gambassi G (2010). Assessment and treatment of elderly patients with cancer. Surg Oncol, 19:117-123. |
| [19] | Colloca G, Di Capua B, Bellieni A, Cesari M, Marzetti E, Valentini V, et al. (2018). Muscoloskeletal aging, sarcopenia and cancer. J Geriatr Oncol, 10(3):504-509. |
| [20] | Lancellotta V, Gyoergy K, Luca T, Elisabetta P, Agata R, Luca Set al. (2018). The role of personalized Interventional Radiotherapy (brachytherapy) in the management of older patients with non-melanoma skin cancer. J Geriatr Oncol, 10(3):514-517 |
| [21] | Lancellotta V, Kovács G, Tagliaferri L, Perrucci E, Colloca G, Valentini Vet al. (2018). Age Is Not a Limiting Factor in Interventional Radiotherapy (Brachytherapy) for Patients with Localized Cancer. Biomed Res Int, 2018:2178469 |
| [22] | Smith GL, Smith BD (2014). Radiation treatment in older patients: a framework for clinical decision making. J Clin Oncol, 32:2669-78. |
| [23] | Ahamad A, D'Souza W, Salehpour M, Iyer R, Tucker SL, Jhingran A, et al. (2005). Intensity-modulated radiation therapy after hysterectomy: comparison with conventional treatment and sensitivity of the normal-tissue-sparing effect to margin size. Int J Radiat Oncol Biol Phys, 62(4):1117-24. |
| [24] | Brixey CJ, Roeske JC, Lujan AE, Yamada SD, Rotmensch J, Mundt AJ (2002). Impact of intensity-modulated radiotherapy on acute hematologic toxicity in women with gynecologic malignancies. Int J Radiat Oncol Biol Phys, 54(5):1388-96. |
| [25] | Portelance L, Chao KS, Grigsby PW, Bennet H, Low D (2001). Intensity-modulated radiation therapy (IMRT) reduces small bowel, rectum, and bladder doses in patients with cervical cancer receiving pelvic and para-aortic irradiation. Int JRadiat Oncol Biol Phys, 51:261-6. |
| [26] | Mundt AJ, Mell LK, Roeske JC (2003). Preliminary analysis of chronic gastrointestinal toxicity in gynecology patients treated with intensity-modulated whole pelvic radiation therapy. Int J Radiat Oncol Biol Phys, 56:1354-60. |
| [27] | Gandhi AK, Sharma DN, Rath GK, Julka PK, Subramani V, Sharma S, et al. (2013). Early clinical outcomes and toxicity of intensity modulated versus conventional pelvic radiation therapy for locally advanced cervix carcinoma: a prospective randomized study. Int J Radiat Oncol Biol Phys, 87(3):542-8. |
| [28] | Marta GN, Silva V, de Andrade Carvalho H, de Arruda FF, Hanna SA, Gadia Ret al. (2014). Intensity-modulated radiation therapy for head and neck cancer: systematic review and meta-analysis. Radiother Oncol, 110:9-15. |
| [29] | Puts MT, Tapscott B, Fitch M, Howell D, Monette J, Wan-Chow-Wah D, et al. (2015). A systematic review of factors influencing older adults' decision to accept or decline cancer treatment. Cancer Treat Rev, 41:197-215. |
| [30] | Haviland JS, Owen R, Dewar JA, Agrawal RK, Barrett J, Dobbs J, et al. (2013). The UK Standardisation of Breast Radiotherapy (START) trials of radiotherapy hypofractionation for treatment of early breast cancer: 10-year follow-up results of two randomised controlled trials. Lancet Oncol 14:1086-94. |
| [31] | Haasbeek CJA, Lagerwaard FJ, Antonisse ME, Slotman BJ, Senan S (2010). Stage I nonsmall cell lung cancer in patients aged > or =75 years: outcomes after stereotactic radiotherapy. Cancer, 116:406-14. |
| [32] | Kim CH, Ling DC, Wegner RE, Flickinger JC, Heron DE, Zeh H, et al. (2013). Stereotactic body radiotherapy in the treatment of pancreatic adenocarcinoma in elderly patients. Radiat Oncol, 8:240. |
| [33] | Papamichael D, Audisio RA, Glimelius B, de Gramont A, Glynne-Jones R, Haller Det al. (2015). Treatment of colorectal cancer in older patients: International Society of Geriatric Oncology (SIOG) consensus recommendations 2013. Ann Oncol, 26:463-76. |
| [34] | Khakoo AY, Kassiotis CM, Tannir N, Plana JC, Halushka M, Bickford C, et al. (2008). Heart failure associated with sunitinib malate: a multitargeted receptor tyrosine kinase inhibitor. Cancer, 112:2500-8. |
| [35] | Malmström A, Grønberg BH, Marosi C, Stupp R, Frappaz D, Schultz H, et al. (2012). Temozolomide versus standard 6-week radiotherapy versus hypofractionated radiotherapy in patients older than 60 years with glioblastoma: the Nordic randomised, phase 3 trial. Lancet Oncol, 13:916-26 |
| [36] | Lo SS, Moffatt-Bruce SD, Dawson LA, Schwarz RE, Teh BS, Mayr NA, et al. (2011). The role of local therapy in the management of lung and liver oligometastases. Nat Rev Clin Oncol, 8:405-16. |
| [37] | Noel G, Bollet MA, Noel S, Feuvret L, Boisserie G, Tep B, et al. (2005). Linac stereotactic radiosurgery: an effective and safe treatment for elderly patients with brain metastases. Int J Radiat Oncol Biol Phys, 63:1555-61. |
| [38] | Kirova YM, Campana F, Savignoni A, Laki F, Muresan M, Dendale R, et al. (2009). Breast-conserving treatment in the elderly: long-term results of adjuvant hypofractionated and normofractionated radiotherapy. Int J Radiat Oncol Biol Phys, 75:76-81. |
| [39] | Whelan TJ, Pignol JP, Levine MN, Julian JA, MacKenzie R, Parpia S, et al. (2010). Long-term results of hypofractionated radiation therapy for breast cancer. N Engl J Med, 362:513-20. |
| [40] | Hoskin PJ, Bownes P (2006). Innovative technologies in radiation therapy: brachytherapy. Semin Radiat Oncol, 16:209-17. |
| [41] | Doniec JM, Schniewind B, Kovács G, Kahlke V, Loehnert M, Kremer B (2006). Multimodal therapy of anal cancer added by new endosonographic-guided brachytherapy. Surg Endosc, 20:673-8. |
| [42] | Tagliaferri L, Bussu F, Rigante M, Gambacorta MA, Autorino R, Mattiucci GC, et al. (2015). Endoscopy-guided brachytherapy for sinonasal and nasopharyngeal recurrences. Brachytherapy, 14:419-25 |
| [43] | Boldrini L, Cellini F, Manfrida S, Chiloiro G, Teodoli S, Cusumano D, et al. (2018). Use of Indirect Target Gating in Magnetic Resonance-guided Liver Stereotactic Body Radiotherapy: Case Report of an Oligometastatic Patient. Cureus ,10:e2292. |
| [44] | Cusumano D, Dhont J, Boldrini L, Chiloiro G, Teodoli S, Massaccesi M, et al. (2018). Predicting tumour motion during the whole radiotherapy treatment: a systematic approach for thoracic and abdominal lesions based on real time MR. Radiother Oncol, 129:456-462. |
| [45] | Bojaxhiu B, Ahlhelm F, Walser M, Placidi L, Kliebsch U, Mikroutsikos L, et al. (2018). Radiation Necrosis and White Matter Lesions in Pediatric Patients With Brain Tumors Treated With Pencil Beam Scanning Proton Therapy. Int J Radiat Oncol Biol Phys, 100:987-996. |
| [46] | Snider JW, Schneider RA, Poelma-Tap D, Stieb S, Murray FR, Placidi L, et al. (2018). Long-Term Outcomes and Prognostic Factors After Pencil-Beam Scanning Proton Radiation Therapy for Spinal Chordomas: A Large, Single-Institution Cohort. Int J Radiat Oncol Biol Phys, 101:226-233. |
| [47] | Placidi L, Bolsi A, Lomax AJ, Schneider RA, Malyapa R, Weber DC, et al. (2017). Effect of Anatomic Changes on Pencil Beam Scanned Proton Dose Distributions for Cranial and Extracranial Tumors. Int J Radiat Oncol Biol Phys, 97:616-623. |
| [48] | Placidi L, Togno M, Weber DC, Lomax AJ, Hrbacek J (2018). Range resolution and reproducibility of a dedicated phantom for proton PBS daily quality assurance. Z Med Phys, 28:310-317. |
| [49] | Nasi G, Cucciniello M, Guerrazzi C (2015). The performance of mHealth in cancer supportive care: a research agenda. J Med Internet Res, 17(1):39. |
| [50] | Brian Dolan (2013). 205 Hospital-branded Apps for Patients. MobiHealthNews, September 19. |
| [51] | Deshpande PR, Rajan S, Sudeepthi BL, Abdul Nazir CP (2011). Patient-reported outcomes: A new era in clinical research Title. Perspect Clin Res, 2:137-44. |
| [52] | C. Lee Ventola (2014). Mobile Devices and Apps for Health Care Professionals: Uses and Benefits. P T. 2014 May; 39(5): 356-364. |
| [53] | Tagliaferri L, Kovács G, Autorino R, Budrukkar A, Guinot JL, Hildebrand G, et al. (2016). ENT COBRA (Consortium for Brachytherapy Data Analysis): interdisciplinary standardized data collection system for head and neck patients treated with interventional radiotherapy (brachytherapy). J Contemp Brachytherapy, 8:336-43. |
| [54] | Valentini V, Maurizi F, Tagliaferri L, Balducci M, Cellini F, Gambacorta MA, et al. (2008). SPIDER: Managing Clinical Data of Cancer Patients Treated through a Multidisciplinary Approach by a Palm Based System. Ital J Public Health, 5(2). |
| [55] | Colloca G, Monfardini S (2017). A contribution to the future of geriatric oncology training: The SIOG Treviso advanced course. J Geriatr Oncol, 8(6):387-388. |