| | | |
| --- | --- | --- |
| Review | | | |
Parkinson Disease and Orthostatic Hypotension in the Elderly: Recognition and Management of Risk Factors for Falls
Peter A LeWitt1,*, Steve Kymes2, Robert A Hauser3
1Henry Ford Hospital and Wayne State University School of Medicine, West Bloomfield, MI 48322, USA
2Lundbeck, Deerfield, IL 60015, USA
3University of South Florida Parkinson's Disease and Movement Disorders Center, Parkinson Foundation Center of Excellence, Tampa, FL 33613, USA
Abstract

Parkinson disease (PD) is often associated with postural instability and gait dysfunction that can increase the risk for falls and associated consequences, including injuries, increased burden on healthcare resources, and reduced quality of life. Patients with PD have nearly twice the risk for falls and associated bone fractures compared with their general population counterparts of similar age. Although the cause of falls in patients with PD may be multifactorial, an often under-recognized factor is neurogenic orthostatic hypotension (nOH). nOH is a sustained decrease in blood pressure upon standing whose symptomology can include dizziness/lightheadedness, weakness, fatigue, and syncope. nOH is due to dysfunction of the autonomic nervous system compensatory response to standing and is a consequence of the neurodegenerative processes of PD. The symptoms associated with orthostatic hypotension (OH)/nOH can increase the risk of falls, and healthcare professionals may not be aware of the real-world clinical effect of nOH, the need for routine screening, or the value of early diagnosis of nOH when treating elderly patients with PD. nOH is easily missed and, importantly, healthcare providers may not realize that there are effective treatments for nOH symptoms that could help lessen the fall risk resulting from the condition. This review discusses the burden of, and key risk factors for, falls among patients with PD, with a focus on practical approaches for the recognition, assessment, and successful management of OH/nOH. In addition, insights are provided as to how fall patterns can suggest fall etiology, thereby influencing the choice of intervention.

Keywords elderly falls neurodegeneration neurogenic orthostatic hypotension Parkinson disease treatment
Corresponding Authors: LeWitt Peter A
About author:

These authors contributed equally to this work.

Just Accepted Date: 03 October 2019 Issue Date: 13 May 2020
Cite this article:
LeWitt Peter A,Kymes Steve,Hauser Robert A. Parkinson Disease and Orthostatic Hypotension in the Elderly: Recognition and Management of Risk Factors for Falls[J]. Aging and disease, 2020, 11(3): 679-691.
URL:
http://www.aginganddisease.org/EN/10.14336/AD.2019.0805
OR

Table 1 Causes of OH and nOH [24-26].

Table 2 Symptoms of OH and nOH [13,24,26,27]*.

Table 3 Screening Questions for Suspected OH/nOH [26].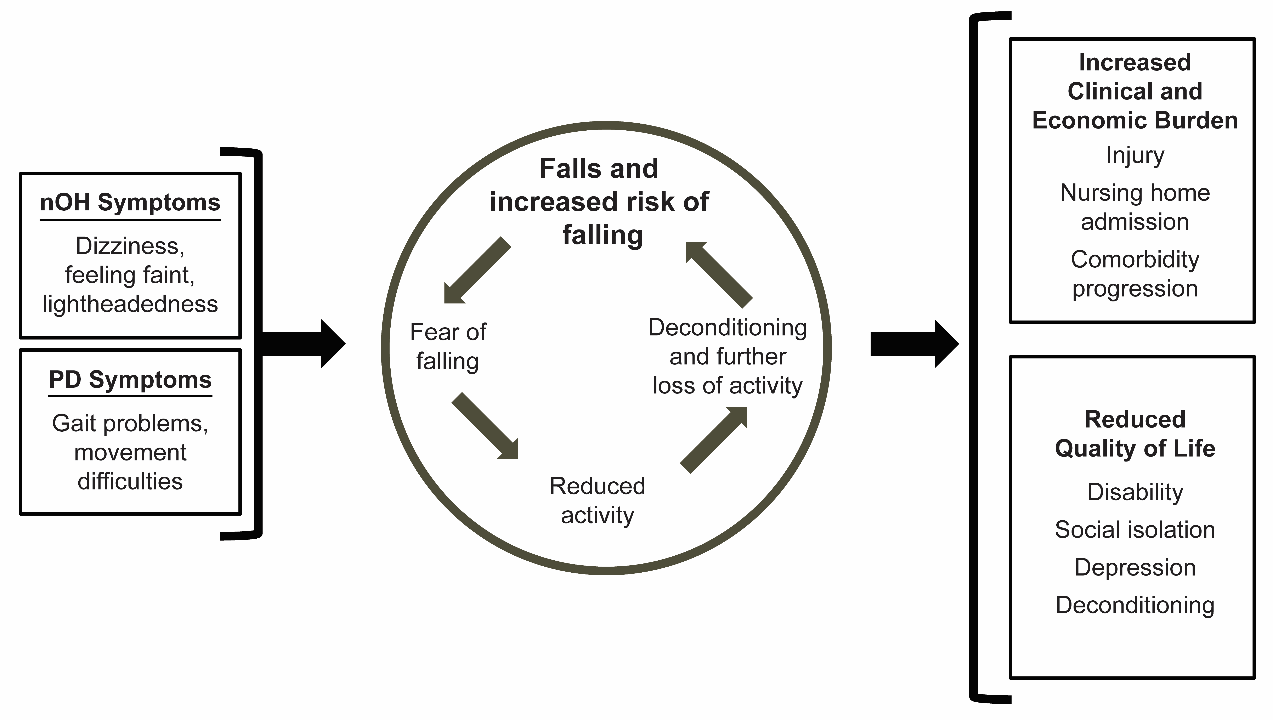 Figure 1. Impact of falls and fall risk in patients with PD and nOH. nOH=neurogenic orthostatic hypotension; PD=Parkinson disease [36,55-57].

Table 4 Non-pharmacologic Interventions That May Reduce OH/nOH Symptoms or General Fall Risk in PD.

Table 5 Pharmacologic Treatments for nOH/OH.
| | |
| --- | --- |
| [1] | World Health Organization. Neurological disorders: public health challenges. Available at: www.who.int/mental_health/neurology/neurodiso/en/. Accessed August 7, 2019. |
| [2] | Pringsheim T, Jette N, Frolkis A, et al (2014). The prevalence of Parkinson's disease: a systematic review and meta-analysis. Mov Disord, 29(13):1583-90. |
| [3] | Kowal SL, Dall TM, Chakrabarti R, et al (2013). The current and projected economic burden of Parkinson's disease in the United States. Mov Disord, 28(3):311-8. |
| [4] | Kalilani L, Asgharnejad M, Palokangas T, et al (2016). Comparing the incidence of falls/fractures in Parkinson's disease patients in the US population. PLoS One, 11(9):e0161689. |
| [5] | Canning CG, Paul SS, Nieuwboer A (2014). Prevention of falls in Parkinson's disease: a review of fall risk factors and the role of physical interventions. Neurodegener Dis Manag, 4(3):203-21. |
| [6] | Wood BH, Bilclough JA, Bowron A, et al (2002). Incidence and prediction of falls in Parkinson's disease: a prospective multidisciplinary study. J Neurol Neurosurg Psychiatry, 72(6):721-5. |
| [7] | Allcock LM, Rowan EN, Steen IN, et al (2009). Impaired attention predicts falling in Parkinson's disease. Parkinsonism Relat Disord, 15(2):110-5. |
| [8] | Almeida LR, Valenca GT, Negreiros NN, et al (2014). Recurrent falls in people with Parkinson's disease without cognitive impairment: focusing on modifiable risk factors. Parkinsons Dis, 2014:432924. |
| [9] | Ashburn A, Stack E, Pickering RM, et al (2001). A community-dwelling sample of people with Parkinson's disease: characteristics of fallers and non-fallers. Age Ageing, 30(1):47-52. |
| [10] | Latt MD, Lord SR, Morris JG, et al (2009). Clinical and physiological assessments for elucidating falls risk in Parkinson's disease. Mov Disord, 24(9):1280-9. |
| [11] | Paul SS, Canning CG, Sherrington C, et al (2013). Three simple clinical tests to accurately predict falls in people with Parkinson's disease. Mov Disord, 28(5):655-62. |
| [12] | Rudzinska M, Bukowczan S, Stozek J, et al (2013). Causes and consequences of falls in Parkinson disease patients in a prospective study. Neurol Neurochir Pol, 47(5):423-30. |
| [13] | Freeman R, Wieling W, Axelrod FB, et al (2011). Consensus statement on the definition of orthostatic hypotension, neurally mediated syncope and the postural tachycardia syndrome. Clin Auton Res, 21(2):69-72. |
| [14] | McDonald C, Pearce M, Kerr SR, et al (2017). A prospective study of the association between orthostatic hypotension and falls: definition matters. Age Ageing, 46(3):439-45. |
| [15] | Ooi WL, Hossain M, Lipsitz LA (2000). The association between orthostatic hypotension and recurrent falls in nursing home residents. Am J Med, 108(2):106-11. |
| [16] | Allcock LM, Ullyart K, Kenny RA, et al (2004). Frequency of orthostatic hypotension in a community based cohort of patients with Parkinson's disease. J Neurol Neurosurg Psychiatry, 75(10):1470-1. |
| [17] | Senard JM, Rai S, Lapeyre-Mestre M, et al (1997). Prevalence of orthostatic hypotension in Parkinson's disease. J Neurol Neurosurg Psychiatry, 63(5):584-9. |
| [18] | Fereshtehnejad SM, Lokk J (2014). Orthostatic hypotension in patients with Parkinson's disease and atypical parkinsonism. Parkinsons Dis, 2014:475854. |
| [19] | Freeman R, Abuzinadah AR, Gibbons C, et al (2018). Orthostatic hypotension: JACC state-of-the-art review. J Am Coll Cardiol, 72(11):1294-309. |
| [20] | Velseboer DC, de Haan RJ, Wieling W, et al (2011). Prevalence of orthostatic hypotension in Parkinson's disease: a systematic review and meta-analysis. Parkinsonism Relat Disord, 17(10):724-9. |
| [21] | Consensus Committee of the American Autonomic Society and the American Academy of Neurology (1996). Consensus statement on the definition of orthostatic hypotension, pure autonomic failure, and multiple system atrophy. The Consensus Committee of the American Autonomic Society and the American Academy of Neurology. Neurology, 46(5):1470. |
| [22] | Palma JA, Gomez-Esteban JC, Norcliffe-Kaufmann L, et al (2015). Orthostatic hypotension in Parkinson disease: how much you fall or how low you go? Mov Disord, 30(5):639-45. |
| [23] | Merola A, Romagnolo A, Rosso M, et al (2016). Orthostatic hypotension in Parkinson's disease: does it matter if asymptomatic? Parkinsonism Relat Disord, 33:65-71. |
| [24] | Jones PK, Shaw BH, Raj SR (2015). Orthostatic hypotension: managing a difficult problem. Expert Rev Cardiovasc Ther, 13(11):1263-76. |
| [25] | Goldstein DS, Sharabi Y (2009). Neurogenic orthostatic hypotension: a pathophysiological approach. Circulation, 119(1):139-46. |
| [26] | Gibbons CH, Schmidt P, Biaggioni I, et al (2017). The recommendations of a consensus panel for the screening, diagnosis, and treatment of neurogenic orthostatic hypotension and associated supine hypertension. J Neurol, 264(8):1567-82. |
| [27] | Kuritzky L, Espay AJ, Gelblum J, et al (2015). Diagnosing and treating neurogenic orthostatic hypotension in primary care. Postgrad Med, 127(7):702-15. |
| [28] | Weinberg AD, Minaker KL (1995). Dehydration. Evaluation and management in older adults. Council on Scientific Affairs, American Medical Association. JAMA, 274(19):1552-6. |
| [29] | Calne DB, Brennan J, Spiers AS, et al (1970). Hypotension caused by L-dopa. Br Med J, 1(5694):474-5. |
| [30] | Jankovic J, Stacy M (2007). Medical management of levodopa-associated motor complications in patients with Parkinson's disease. CNS Drugs, 21(8):677-92. |
| [31] | Dewey RB Jr., (2004). Management of motor complications in Parkinson's disease. Neurology, 62(6 suppl 4):S3-7. |
| [32] | Sclater A, Alagiakrishnan K (2004). Orthostatic hypotension. A primary care primer for assessment and treatment. Geriatrics, 59(8):22-7. |
| [33] | Shibao C, Lipsitz LA, Biaggioni I (2013). ASH position paper: evaluation and treatment of orthostatic hypotension. J Clin Hypertens (Greenwich), 15(3):147-53. |
| [34] | Maule S, Papotti G, Naso D, et al (2007). Orthostatic hypotension: evaluation and treatment. Cardiovasc Hematol Disord Drug Targets, 7(1):63-70. |
| [35] | Shibao C, Grijalva CG, Raj SR, et al (2007). Orthostatic hypotension-related hospitalizations in the United States. Am J Med, 120(11):975-80. |
| [36] | Voermans NC, Snijders AH, Schoon Y, et al (2007). Why old people fall (and how to stop them). Pract Neurol, 7(3):158-71. |
| [37] | Lahrmann H, Cortelli P, Hilz M, et al (2006). EFNS guidelines on the diagnosis and management of orthostatic hypotension. Eur J Neurol, 13(9):930-6. |
| [38] | Juraschek SP, Daya N, Rawlings AM, et al (2017). Association of history of dizziness and long-term adverse outcomes with early vs later orthostatic hypotension assessment times in middle-aged adults. JAMA Intern Med, 177(9):1316-23. |
| [39] | Norcliffe-Kaufmann L, Kaufmann H, Palma JA, et al (2018). Orthostatic heart rate changes in patients with autonomic failure caused by neurodegenerative synucleinopathies. Ann Neurol, 83(3):522-31. |
| [40] | Freeman R (2008). Clinical practice. Neurogenic orthostatic hypotension. N Engl J Med, 358(6):615-24. |
| [41] | Milazzo V, Di Stefano C, Vallelonga F, et al (2018). Reverse blood pressure dipping as marker of dysautonomia in Parkinson disease. Parkinsonism Relat Disord, 56:82-7. |
| [42] | Goldstein DS, Holmes C, Sharabi Y, et al (2003). Plasma levels of catechols and metanephrines in neurogenic orthostatic hypotension. Neurology, 60(8):1327-32. |
| [43] | Pressley JC, Louis ED, Tang MX, et al (2003). The impact of comorbid disease and injuries on resource use and expenditures in parkinsonism. Neurology, 60(1):87-93. |
| [44] | Paul SS, Harvey L, Canning CG, et al (2017). Fall-related hospitalization in people with Parkinson's disease. Eur J Neurol, 24(3):523-9. |
| [45] | Huang YF, Cherng YG, Hsu SP, et al (2015). Risk and adverse outcomes of fractures in patients with Parkinson's disease: two nationwide studies. Osteoporos Int, 26(6):1723-32. |
| [46] | Noyes K, Liu H, Li Y, et al (2006). Economic burden associated with Parkinson's disease on elderly Medicare beneficiaries. Mov Disord, 21(3):362-72. |
| [47] | Davis JC, Robertson MC, Ashe MC, et al (2010). International comparison of cost of falls in older adults living in the community: a systematic review. Osteoporos Int, 21(8):1295-306. |
| [48] | Burns ER, Stevens JA, Lee R (2016). The direct costs of fatal and non-fatal falls among older adults - United States. J Safety Res, 58:99-103. |
| [49] | Wielinski CL, Erickson-Davis C, Wichmann R, et al (2005). Falls and injuries resulting from falls among patients with Parkinson's disease and other parkinsonian syndromes. Mov Disord, 20(4):410-5. |
| [50] | Desboeuf K, Grau M, Riche F, et al (2006). Prevalence and costs of parkinsonian syndromes associated with orthostatic hypotension. Therapie, 61(2):93-9. |
| [51] | Francois C, Biaggioni I, Shibao C, et al (2017). Fall-related healthcare use and costs in neurogenic orthostatic hypotension with Parkinson's disease. J Med Econ, 20(5):525-32. |
| [52] | Merola A, Sawyer RP, Artusi CA, et al (2017). Orthostatic hypotension in Parkinson disease: impact on health care utilization. Parkinsonism Relat Disord, 47:45-9. |
| [53] | Lindholm B, Hagell P, Hansson O, et al (2014). Factors associated with fear of falling in people with Parkinson's disease. BMC Neurol, 14:19. |
| [54] | Bryant MS, Rintala DH, Hou JG, et al (2015). Relationship of falls and fear of falling to activity limitations and physical inactivity in Parkinson's disease. J Aging Phys Act, 23(2):187-93. |
| [55] | Mak MK, Pang MY (2009). Fear of falling is independently associated with recurrent falls in patients with Parkinson's disease: a 1-year prospective study. J Neurol, 256(10):1689-95. |
| [56] | Allen NE, Schwarzel AK, Canning CG (2013). Recurrent falls in Parkinson's disease: a systematic review. Parkinsons Dis, 2013:906274. |
| [57] | Bloem BR, van Vugt JP, Beckley DJ (2001). Postural instability and falls in Parkinson's disease. Adv Neurol, 87:209-23. |
| [58] | Kader M, Iwarsson S, Odin P, et al (2016). Fall-related activity avoidance in relation to a history of falls or near falls, fear of falling and disease severity in people with Parkinson's disease. BMC Neurol, 16:84. |
| [59] | Rascol O, Perez-Lloret S, Damier P, et al (2015). Falls in ambulatory non-demented patients with Parkinson's disease. J Neural Transm, 122:1447-55. |
| [60] | Schrag A, Jahanshahi M, Quinn N (2000). What contributes to quality of life in patients with Parkinson's disease? J Neurol Neurosurg Psychiatry, 69(3):308-12. |
| [61] | Voss TS, Elm JJ, Wielinski CL, et al (2012). Fall frequency and risk assessment in early Parkinson's disease. Parkinsonism Relat Disord, 18(7):837-41. |
| [62] | Magerkurth C, Schnitzer R, Braune S (2005). Symptoms of autonomic failure in Parkinson's disease: prevalence and impact on daily life. Clin Auton Res, 15(2):76-82. |
| [63] | Hausdorff JM, Doniger GM, Springer S, et al (2006). A common cognitive profile in elderly fallers and in patients with Parkinson's disease: the prominence of impaired executive function and attention. Exp Aging Res, 32(4):411-29. |
| [64] | Pickering RM, Grimbergen YA, Rigney U, et al (2007). A meta-analysis of six prospective studies of falling in Parkinson's disease. Mov Disord, 22(13):1892-1900. |
| [65] | Hiorth YH, Larsen JP, Lode K, et al (2014). Natural history of falls in a population-based cohort of patients with Parkinson's disease: an 8-year prospective study. Parkinsonism Relat Disord, 20(10):1059-64. |
| [66] | Romagnolo A, Zibetti M, Merola A, et al (2019). Cardiovascular autonomic neuropathy and falls in Parkinson disease: a prospective cohort study. J Neurol, 266(1):85-91. |
| [67] | Gray P, Hildebrand K (2000). Fall risk factors in Parkinson's disease. J Neurosci Nurs, 32(4):222-8. |
| [68] | Matinolli M, Korpelainen JT, Korpelainen R, et al (2009). Orthostatic hypotension, balance and falls in Parkinson's disease. Mov Disord, 24(5):745-51. |
| [69] | Mol A, Bui Hoang PTS, Sharmin S, et al (2019). Orthostatic hypotension and falls in older adults: a systematic review and meta-analysis. J Am Med Dir A, 20(5):589-597 |
| [70] | François C, Shibao CA, Biaggioni I, et al (2019). Six-month use of droxidopa for neurogenic orthostatic hypotension. Mov Disord Clin Pract, 6(3):235-42. |
| [71] | Alexandre TS, Meira DM, Rico NC, et al (2012). Accuracy of Timed Up and Go Test for screening risk of falls among community-dwelling elderly. Rev Bras Fisioter, 16(5):381-8. |
| [72] | Rossi-Izquierdo M, Basta D, Rubio-Rodriguez JP, et al (2014). Is posturography able to identify fallers in patients with Parkinson's disease? Gait Posture, 40(1):53-7. |
| [73] | Duncan RP, Leddy AL, Cavanaugh JT, et al (2013). Comparative utility of the BESTest, mini-BESTest, and brief-BESTest for predicting falls in individuals with Parkinson disease: a cohort study. Phys Ther, 93(4):542-50. |
| [74] | Rudzinska M, Bukowczan S, Stozek J, et al (2013). The incidence and risk factors of falls in Parkinson disease: prospective study. Neurol Neurochir Pol, 47(5):431-7. |
| [75] | Nonnekes J, Goselink R, Weerdesteyn V, et al (2015). The retropulsion test: a good evaluation of postural instability in Parkinson's disease? J Parkinsons Dis, 5(1):43-7. |
| [76] | Lindholm B, Hagell P, Hansson O, et al (2015). Prediction of falls and/or near falls in people with mild Parkinson's disease. PLoS One, 10(1):e0117018. |
| [77] | Janssens J, Malfroid K, Nyffeler T, et al (2014). Application of LSVT BIG intervention to address gait, balance, bed mobility, and dexterity in people with Parkinson disease: a case series. Phys Ther, 94(7):1014-23. |
| [78] | Ebersbach G, Grust U, Ebersbach A, et al (2015). Amplitude-oriented exercise in Parkinson's disease: a randomized study comparing LSVT-BIG and a short training protocol. J Neural Transm (Vienna), 122(2):253-6. |
| [79] | Palma JA, Kaufmann H (2017). Epidemiology, diagnosis, and management of neurogenic orthostatic hypotension. Mov Disord Clin Pract, 4(3):298-308. |
| [80] | Arbique D, Cheek D, Welliver M, et al (2014). Management of neurogenic orthostatic hypotension. J Am Med Dir Assoc, 15(4):234-9. |
| [81] | Jordan J, Fanciulli A, Tank J, et al (2019). Management of supine hypertension in patients with neurogenic orthostatic hypotension: scientific statement of the American Autonomic Society, European Federation of Autonomic Societies, and the European Society of Hypertension. J Hypertens, 37(8):1541-6. |
| [82] | Espay AJ, LeWitt PA, Hauser RA, et al (2016). Neurogenic orthostatic hypotension and supine hypertension in Parkinson's disease and related synucleinopathies: prioritisation of treatment targets. Lancet Neurol, 15(9):954-66. |
| [83] | Scott IA, Hilmer SN, Le Couteur DG (2019). Going Beyond the Guidelines in Individualising the Use of Antihypertensive Drugs in Older Patients. Drugs Aging, 36(8):675-85. |
| [84] | Hohler AD, Amariei DE, Katz DI, et al (2012). Treating orthostatic hypotension in patients with Parkinson's disease and atypical parkinsonism improves function. J Parkinsons Dis, 2(3):235-40. |
| [85] | Acarer A, Karapolat H, Celebisoy N, et al (2015). Is customized vestibular rehabilitation effective in patients with Parkinson's? NeuroRehabilitation, 37(2):255-62. |
| [86] | Kegelmeyer DA, Parthasarathy S, Kostyk SK, et al (2013). Assistive devices alter gait patterns in Parkinson disease: advantages of the four-wheeled walker. Gait Posture, 38(1):20-4. |
| [87] | Mills PB, Fung CK, Travlos A, et al (2015). Nonpharmacologic management of orthostatic hypotension: a systematic review. Arch Phys Med Rehabil, 96(2):366-75. |
| [88] | Smeenk HE, Koster MJ, Faaij RA, et al (2014). Compression therapy in patients with orthostatic hypotension: a systematic review. Neth J Med, 72(2):80-5. |
| [89] | Newton JL, Frith J (2018). The efficacy of nonpharmacologic intervention for orthostatic hypotension associated with aging. Neurology, 91(7):e652-e6. |
| [90] | ProAmatine® (midodrine hydrochloride). Full Prescribing Information, Shire US Inc., Lexington, MA, 2017. |
| [91] | NORTHERA® (droxidopa). Full Prescribing Information, Lundbeck NA Ltd, Deerfield, IL, 2017. |
| [92] | Goldstein DS (2006). L-dihydroxyphenylserine (L-DOPS): a norepinephrine prodrug. Cardiovasc Drug Rev, 24(3-4):189-203. |
| [93] | Wright RA, Kaufmann HC, Perera R, et al (1998). A double-blind, dose-response study of midodrine in neurogenic orthostatic hypotension. Neurology, 51(1):120-4. |
| [94] | Low PA, Gilden JL, Freeman R, et al (1997). Efficacy of midodrine vs placebo in neurogenic orthostatic hypotension. A randomized, double-blind multicenter study. Midodrine Study Group. JAMA, 277(13):1046-51. |
| [95] | Biaggioni I, Arthur Hewitt L, Rowse GJ, et al (2017). Integrated analysis of droxidopa trials for neurogenic orthostatic hypotension. BMC Neurol, 17(1):90. |
| [96] | Hauser RA, Heritier S, Rowse GJ, et al (2016). Droxidopa and reduced falls in a trial of Parkinson patients with neurogenic orthostatic hypotension. Clin Neuropharmacol, 39(5):220-6. |
| [97] | Isaacson S, Francois C, Peng G, et al. Effect of droxidopa on fear of falling. Presented at: 19th International Congress of Parkinson's Disease and Movement Disorders, June 14-18, 2015; San Diego, CA. |
| [98] | Zhao S, Cheng R, Zheng J, et al (2015). A randomized, double-blind, controlled trial of add-on therapy in moderate-to-severe Parkinson's disease. Parkinsonism Relat Disord, 21(10):1214-8. |
| [99] | John Wiley & Sons. Levels of evidence. Available at: https://www.essentialevidenceplus.com/product/ebm_loe.cfm?show=grade. Accessed August 7, 2019. |