| | | |
| --- | --- | --- |
| Review | | | |
COVID 19 - Clinical Picture in the Elderly Population: A Qualitative Systematic Review
Neumann-Podczaska Agnieszka1,*, Al-Saad Salwan R1, Karbowski Lukasz M1, Chojnicki Michal2,3, Tobis Slawomir4, Wieczorowska-Tobis Katarzyna1,5
1Geriatrics Unit, Department of Palliative Medicine, Poznan University of Medical Sciences, Poznan, Poland.
2Department of Biology and Environmental Protection, Poznan University of Medical Sciences, Poznan, Poland.
3Department of Infectious Diseases, Jozef Strus Hospital, Poznan, Poland
4Occupational Therapy Unit, Geriatrics and Gerontology, Poznan University of Medical Sciences, Poznan, Poland
5Geriatric Outpatient Clinic, University Hospital of Lord's Transfiguration, Poznan, Poland.
Abstract

The SARS-CoV-2 tendency to affect the older individuals more severely, raises the need for a concise summary isolating this age population. Analysis of clinical features in light of most recently published data allows for improved understanding, and better clinical judgement. A thorough search was performed to collect all articles published from 1st of January to 1st of June 2020, using the keywords COVID-19 and SARS-CoV-2 followed by the generic terms elderly, older adults or older individuals. The quality assessment of studies and findings was performed by an adaptation of the STROBE statement and CERQual approach. Excluding duplicates, a total of 1598 articles were screened, of which 20 studies were included in the final analysis, pertaining to 4965 older COVID-19 patients (≥60 years old). Variety in symptoms was observed, with fever, cough, dyspnea, fatigue, or sputum production being the most common. Prominent changes in laboratory findings consistently indicated lymphopenia and inflammation and in some cases organ damage. Radiological examination reveals ground glass opacities with occasional consolidations, bilaterally, with a possible peripheral tendency. An evident fraction of the elderly population (25.7%) developed renal injury or impairment as a complication. Roughly 71.4% of the older adults require supplementary oxygen, while invasive mechanical ventilation was required in almost a third of the reported hospitalized older individuals. In this review, death occurred in 20.0% of total patients with a recorded outcome (907/4531). Variability in confidence of findings is documented. Variety in symptom presentation is to be expected, and abnormalities in laboratory findings are present. Risk for mortality is evident, and attention to the need for supplementary oxygen and possible mechanical ventilation is advised. Further data is required isolating this age population. Presented literature may allow for the construction of better predictive models of COVID-19 in older populations.

Keywords COVID-19 SARS-CoV-2 elderly older individuals clinical features
Corresponding Authors: Neumann-Podczaska Agnieszka
About author:

These authors contributed equally to this work.

Just Accepted Date: 03 July 2020 Issue Date: 30 July 2020
Cite this article:
Neumann-Podczaska Agnieszka,Al-Saad Salwan R,Karbowski Lukasz M, et al. COVID 19 - Clinical Picture in the Elderly Population: A Qualitative Systematic Review[J]. Aging and disease, 2020, 11(4): 988-1008.
URL:
http://www.aginganddisease.org/EN/10.14336/AD.2020.0620
OR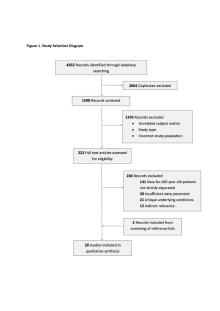 Figure 1. Study Selection Diagram.

Table 1 Symptoms, Comorbidities, Radiological Findings, and Outcome.

Table 2 Laboratory Findings.

Table 3 Complications and Treatment.

Table 4 Summary Table.

Table 5 CERQual assessment of Review Findings.
| | |
| --- | --- |
| [1] | Nguyen S, Major K, Cochet C, et al (2020). COVID-19 infection in the elderly in French-speaking Switzerland: an inventory of beliefs, convictions and certainties. Rev Med Suisse, 16(691-2): 835-838. |
| [2] | Sun Q, Qiu H, Huang M, et al (2020). Lower mortality of COVID-19 by early recognition and intervention: experience from Jiangsu province. Ann Intensive Care, 10(33). |
| [3] | Wang D, Hu B, Hu C, et al (2020). Clinical characteristics of 138 hospitalized patients with 2019 novel coronavirus-infected pneumonia in Wuhan, China. JAMA Netw Open, 323(11): 1061-1069. |
| [4] | Huang C, Wang Y, Li X, et al (2020). Clinical features of patients infected with 2019 novel coronavirus in Wuhan, China. Lancet, 395: 497-506. |
| [5] | Bialek S, Boundy E, Bowen V, et al (2020). Severe outcomes among patients with coronavirus disease 2019 (COVID-19) - United States, February 12 - March 16, 2020. MMWR Morb Mortal Wkly Rep, 69(12): 343-346. |
| [6] | Wu JT, Leung K, Bushman M, et al (2020). Estimating clinical severity of COVID-19 from the transmission dynamics in Wuhan, China. Nat Med, 26: 506-510. |
| [7] | Stroup DF (2008). Meta-analysis of observational studies in epidemiology a proposal for reporting. JAMA Netw Open, 283(15). |
| [8] | von Elm E, Altman DG, Egger M, et al (2007). The strengthening the reporting of observational studies in epidemiology (STROBE) statement: guidelines for reporting observational studies. Lancet, 370(9596): 1453-1457. |
| [9] | Lewin S, Glenton C, Munthe-Kaas H, et al (2015). Using qualitative evidence in decision making for health and social interventions: an approach to assess confidence in findings from qualitative evidence syntheses (GRADE-CERQual). PLoS Med, 12(10): e1001895. |
| [10] | Wang L, He W, Yu X, et al (2020). Coronavirus disease 2019 in elderly patients: characteristics and prognostic factors based on 4-week follow-up. J Infect Prev, 80(6): 639-645. |
| [11] | Zhu X, Yuan W, Huang K, et al (2020). Clinical features and short-term outcomes of 114 elderly patients with COVID-19 in Wuhan, China: a single-center, retrospective, observational study. Lancet, in press. |
| [12] | Lian J, Jin X, Hao S, et al (2020). Analysis of epidemiological and clinical features in older patients with corona virus disease 2019 (COVID-19) out of Wuhan. Arch Clin Infect Dis, ciaa242. |
| [13] | Cheng B, Guo T-M, Tong Y et al (2020). Clinical features predicting mortality risk in older patients with COVID-19. Lancet, in press. |
| [14] | Chen T, Dai Z, Mo P, et al (2020). Clinical characteristics and outcomes of older patients with coronavirus disease 2019 (COVID-19) in Wuhan, China (2019): a single-centered, retrospective study. J Gerontol A Biol Sci Med Sci, in press. |
| [15] | Liu K, Chen Y, Lin R, Han K (2020). Clinical features of COVID-19 in elderly patients: a comparison with young and middle-aged patients. J Infect Dis, 80(6): e14-e18. |
| [16] | Godaert L, Proye E, Demoustier-Tampere D, et al (2020). Clinical characteristics of older patients: the experience of a geriatric short-stay unit dedicated to patients with COVID-19 in France. J Infect Dis, 81(1): e93-e94. |
| [17] | Liu Y, Yang Y, Zhang C et al (2020). Clinical and biochemical indexes from 2019-nCoV infected patients linked to viral loads and lung injury. J Zhejiang Univ Sci B, 63(3): 364-374. |
| [18] | Mi B, Chen L, Xiong Y, et al (2020). Characteristics and early prognosis of COVID-19 infection in fracture patients. J Bone Joint Surg Am, 102(9):750-758. |
| [19] | Niu S, Tian S, Lou J, et al (2020). Clinical characteristics of older patients infected with COVID-19: a descriptive study. Arch Gerontol Geriatr, 89:104058. |
| [20] | Kerpel A, Nissan N, Klug M, et al (2020). Imaging findings in four COVID-19 patients. Isr Med Assoc J, 22(4): 214-215. |
| [21] | Grasselli G, Zangrillo A, Zanella A, et al (2020). Baseline characteristics and outcomes of 1591 patients infected with SARS-CoV-2 admitted to ICUs of the Lombardy Region, Italy. JAMA Netw Open, 323(16): 1574-1581. |
| [22] | Zhu T, Wang Y, Zhou S, et al (2020). A comparative study of chest computed tomography features in young and older adults with corona virus disease (COVID-19). J Thorac Imaging, in press. |
| [23] | Chen Z, Fan H, Cai J, et al (2020). High-resolution computed tomography manifestations of COVID-19 infections in patients of different ages. Eur J Radiol, 126: 108972. |
| [24] | Guo T, Shen Q, Guo W, et al (2020). Clinical characteristics of elderly patients with COVID-19 in Hunan Province, China: a multicenter, retrospective study. J Gerontol A Biol Sci Med Sci, 0304-324X:1-9. |
| [25] | Sun H, Ning R, Tao Y, et al (2020). Risk factors for mortality in 244 older adults with COVID-19 in Wuhan, China: a retrospective study. J Am Geriatr Soc, 68: E19-E23. |
| [26] | Bruno G, Perelli S, Fabrizio C, Buccoliero GB (2020). Short-term outcomes in individuals aged 75 or older with severe coronavirus disease (COVID-19): first observations from an infectious disease unit in Southern Italy. J Infect Dis, S0163-4453(20): 30301-30307. |
| [27] | Gold JAW (2020). Characteristics and clinical outcomes of adult patients hospitalized with COVID-19 — Georgia, March 2020. MMWR Morb Mortal Wkly Rep, 69(18): 545-550. |
| [28] | Yuan Y, Wang N, Ou X (2020). Caution should be exercised for the detection of SARS-CoV-2, especially in the elderly. J Med Virol, 2020: 1-8. |
| [29] | Richardson S, Hirsch JS, Narasimhan M, et al (2020). Presenting characteristics, comorbidities, and outcomes among 5700 patients hospitalized with COVID-19 in the New York city area. JAMA Netw Open, 323(20): 2052-2059. |
| [30] | Walter L, McGregor A (2020). Sex-and gender-specific observations and implications for COVID-19. West J Emerg Med, 21(3): 507-509. |
| [31] | Iwabuchi K, Yoshie K, Kurakami Y, et al (2020). Therapeutic potential of ciclesonide inahalation for COVID-19 pneumonia: report of three cases. J Infect Chemother, 26(6): 625-632. |
| [32] | Schiffrin EL, Flack JM, Ito S, et al (2020). Hypertension and COVID-19. Am J Hypertens, 33(5): 373-374. |
| [33] | Mehra MR, Desai SS, Kuy S, et al (2020). Cardiovascular disease, drug therapy, and mortality in COVID-19. N Engl J Med, 382: e102. |
| [34] | Lippi G, Henry BM (2020). Chronic obstructive pulmonary disease is associated with severe coronavirus disease 2019 (COVID-19). Respir Med, 167:105941. |
| [35] | Fillenbaum GG, Pieper CF, Cohen HJ, et al (2020). Comorbidity of five chronic health conditions in elderly community residents: determinants and impact on mortality. J Gerontol A Biol Sci Med Sci, 55(2): M84-M89. |
| [36] | Naicker S, Yang C-W, Hwang S-J, et al (2020). The novel coronavirus 2019 epidemic and kidneys. Kidney Int, 97(5): 824-828. |
| [37] | Vanmassenhove J, Kielstein J, Jorres A, Biesen WV (2020). Management of patients at risk of acute kidney injury. Lancet, 389(10084): 2139-2151. |
| [38] | Zhang J, Litvinova M, Wang W, et al (2020). Evolving epidemiology and transmission dynamics of coronavirus disease 2019 outside Hubei province, China: a descriptive and modelling study. Lancet Infect Dis, 2020: 1-10. |
| [39] | Fan C, Li K, Ding Y, et al (2020). ACE2 expression in kidney and testis may cause kidney and testis damage after 2019-nCoV infection. medRxiv, in press. |
| [40] | Lai CC, Wang JH, Ko WC, et al (2020). COVID-19 in long-term care facilities: an upcoming threat that cannot be ignored. J Microbiol Immunol, 53(3): 444-446. |