| | | |
| --- | --- | --- |
| Review | | | |
A Comprehensive Summary of the Knowledge on COVID-19 Treatment
Yu Peng1, Hongxun Tao1, Senthil Kumaran Satyanarayanan1, Kunlin Jin2,*, Huanxing Su1,*
1State Key Laboratory of Quality Research in Chinese Medicine, Institute of Chinese Medical Sciences, University of Macau, Macao, China.
2Department of Pharmacology and Neuroscience, University of North Texas Health Science Center, Fort Worth, TX 76107, USA.
Abstract

Currently, the world is challenged by the coronavirus disease 2019 (COVID-19) pandemic. Epidemiologists and researchers worldwide are invariably trying to understand and combat this precarious new disease. Scrutinizing available drug options and developing potential new drugs are urgent needs to subdue this pandemic. Several intervention strategies are being considered and handled worldwide with limited success, and many drug candidates are yet in the trial phase. Despite these limitations, the development of COVID-19 treatment strategies has been accelerated to improve the clinical outcome of patients with COVID-19, and some countries have efficiently kept it under control. Recently, the use of natural and traditional medicine has also set the trend in coronavirus treatment. This review aimed to discuss the prevailing COVID-19 treatment strategies available globally by examining their efficacy, potential mechanisms, limitations, and challenges in predicting a future potential treatment candidate and bridging them with the effective traditional Chinese medicine (TCM). The findings might enrich the knowledge on traditional alternative medication and its complementary role with Western medicine in managing the COVID-19 epidemic.

Keywords COVID-19 treatment Chinese Medicine strategies
Corresponding Authors: Jin Kunlin,Su Huanxing
About author:

these authors equally contributed this work.

Just Accepted Date: 06 December 2020 Issue Date: 11 January 2021

Table 1 Pathogenetic, epidemiological and clinical characteristics of SARS-CoV-2, SARS-CoV and MERS-CoV.

Table 2 Combined use of different treatments in COVID19.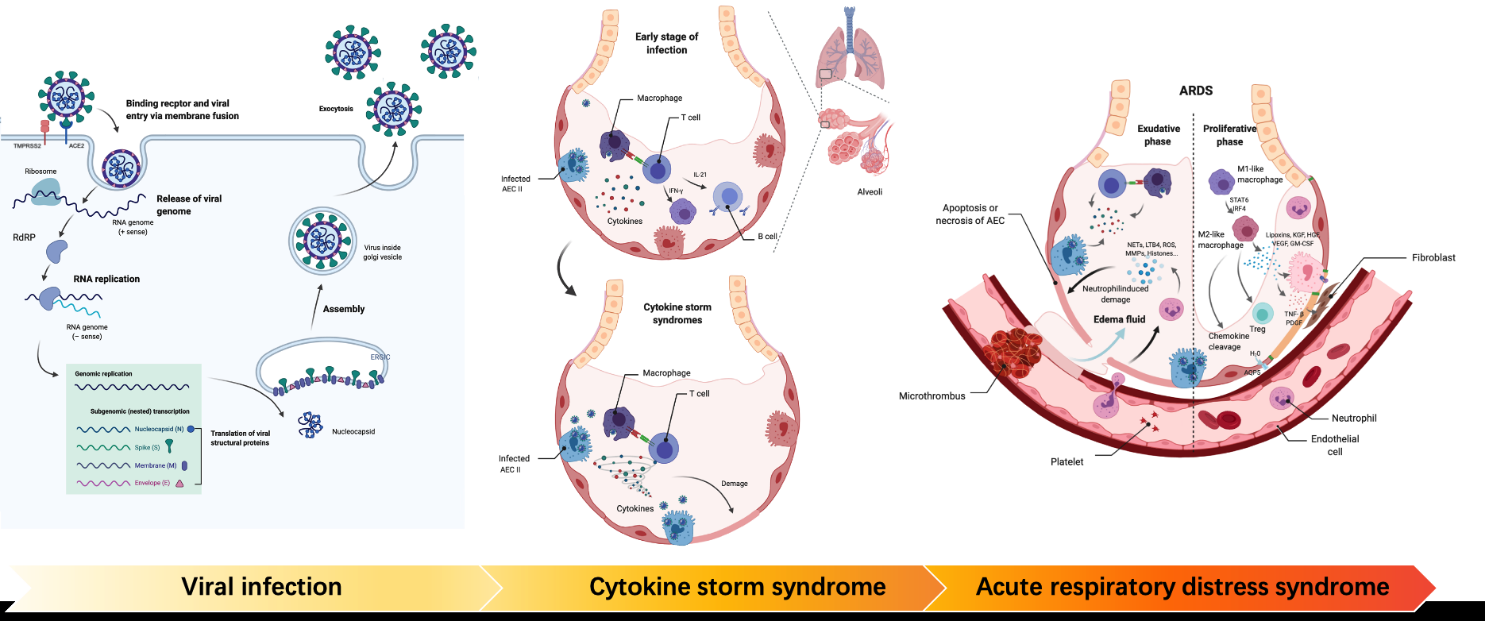 Figure 1. The development of COVID19. Viral infection: TMPRSS2 cleaves the S protein of SARS-CoV-2; The RBD on the S1 subunit binds to ACE2 on the cell surface. Following entry into the cell, viral RNA is released and combined with RdRp to synthesize a full-length negative-strand RNA as an RNA replication template. After translation, structural proteins are localized to the inner membrane of Golgi for assembly. Cytokine storm syndrome: The immune system is over-activated, followed by the overproduction of multiple inflammatory factors. Multiple immune cells are recruited. As a result, healthy cells are damaged by overactive immune response. Acute respiratory distress syndrome: In the exudative phase, macrophages are activated and release pro-inflammatory mediators, which leads to the aggregation of neutrophils and monocytes. Activated neutrophils induce further damage. The injury leads to loss of barrier function and fluid accumulation in the interstitium and alveoli. In the proliferative period, the tissue homeostasis is recovered.

Table 3 Prescription for COVID-19 recommended by Chinese medicine.

Table 4 Commercial Chinese medicine preparations and herb supplement in treatment of COVID19.
| | |
| --- | --- |
| [1] | World Health Organization (2020). Statement on the second meeting of the International Health Regulations (2005) Emergency Committee regarding the outbreak of novel coronavirus (2019-nCoV). |
| [2] | Chan-Yeung M, Xu RH (2003). SARS: epidemiology. Respirology, 8 Suppl:S9-14. |
| [3] | Al-Omari A, Rabaan AA, Salih S, Al-Tawfiq JA, Memish ZA (2019). MERS coronavirus outbreak: Implications for emerging viral infections. Diagn Microbiol Infect Dis, 93:265-285. |
| [4] | Lu R, Zhao X, Li J, Niu P, Yang B, Wu H, et al. (2020). Genomic characterisation and epidemiology of 2019 novel coronavirus: implications for virus origins and receptor binding. Lancet, 395:565-574. |
| [5] | Jaimes JA, André NM, Chappie JS, Millet JK, Whittaker GR (2020). Phylogenetic Analysis and Structural Modeling of SARS-CoV-2 Spike Protein Reveals an Evolutionary Distinct and Proteolytically Sensitive Activation Loop. J Mol Biol, 432:3309-3325. |
| [6] | Li W, Moore MJ, Vasilieva N, Sui J, Wong SK, Berne MA, et al. (2003). Angiotensin-converting enzyme 2 is a functional receptor for the SARS coronavirus. Nature, 426:450-454. |
| [7] | Tang JW, To KF, Lo AW, Sung JJ, Ng HK, Chan PK (2007). Quantitative temporal-spatial distribution of severe acute respiratory syndrome-associated coronavirus (SARS-CoV) in post-mortem tissues. J Med Virol, 79:1245-1253. |
| [8] | Hamming I, Timens W, Bulthuis ML, Lely AT, Navis G, van Goor H (2004). Tissue distribution of ACE2 protein, the functional receptor for SARS coronavirus. A first step in understanding SARS pathogenesis. J Pathol, 203:631-637. |
| [9] | To KF, Lo AW (2004). Exploring the pathogenesis of severe acute respiratory syndrome (SARS): the tissue distribution of the coronavirus (SARS-CoV) and its putative receptor, angiotensin-converting enzyme 2 (ACE2). J Pathol, 203:740-743. |
| [10] | Shafique L, Ihsan A, Liu Q (2020). Evolutionary trajectory for the emergence of novel coronavirus SARS-CoV-2. Pathogens, 9:240. |
| [11] | Rahimi A, Mirzazadeh A, Tavakolpour S (2020). Genetics and genomics of SARS-CoV-2: A review of the literature with the special focus on genetic diversity and SARS-CoV-2 genome detection. Genomics. |
| [12] | Liu S, Shen J, Fang S, Li K, Liu J, Yang L, et al. (2020). Genetic spectrum and distinct evolution patterns of SARS-CoV-2. Front Microbiol, 11:2390. |
| [13] | Korber B, Fischer WM, Gnanakaran S, Yoon H, Theiler J, Abfalterer W, et al. (2020). Tracking changes in SARS-CoV-2 Spike: evidence that D614G increases infectivity of the COVID-19 virus. Cell, 182:812-827.e819. |
| [14] | Peng X, Xu X, Li Y, Cheng L, Zhou X, Ren B (2020). Transmission routes of 2019-nCoV and controls in dental practice. Int J Oral Sci, 12:9. |
| [15] | Wan Y, Shang J, Graham R, Baric RS, Li F (2020). Receptor Recognition by the Novel Coronavirus from Wuhan: an Analysis Based on Decade-Long Structural Studies of SARS Coronavirus. J Virol, 94. |
| [16] | Rockx B, Kuiken T, Herfst S, Bestebroer T, Lamers MM, Oude Munnink BB, et al. (2020). Comparative pathogenesis of COVID-19, MERS, and SARS in a nonhuman primate model. Science, 368:1012-1015. |
| [17] | Huang C, Wang Y, Li X, Ren L, Zhao J, Hu Y, et al. (2020). Clinical features of patients infected with 2019 novel coronavirus in Wuhan, China. Lancet, 395:497-506. |
| [18] | Chen N, Zhou M, Dong X, Qu J, Gong F, Han Y, et al. (2020). Epidemiological and clinical characteristics of 99 cases of 2019 novel coronavirus pneumonia in Wuhan, China: a descriptive study. Lancet, 395:507-513. |
| [19] | Xu XW, Wu XX, Jiang XG, Xu KJ, Ying LJ, Ma CL, et al. (2020). Clinical findings in a group of patients infected with the 2019 novel coronavirus (SARS-Cov-2) outside of Wuhan, China: retrospective case series. BMJ, 368:m606. |
| [20] | Team C-NIRS (2020). COVID-19, Australia: Epidemiology Report 2 (Reporting week ending 19:00 AEDT 8 February 2020). Commun Dis Intell (2018), 44. |
| [21] | Lu CW, Liu XF, Jia ZF (2020). 2019-nCoV transmission through the ocular surface must not be ignored. Lancet, 395:e39. |
| [22] | van Doremalen N, Bushmaker T, Morris DH, Holbrook MG, Gamble A, Williamson BN, et al. (2020). Aerosol and Surface Stability of SARS-CoV-2 as Compared with SARS-CoV-1. N Engl J Med, 382:1564-1567. |
| [23] | Cai J, Sun W, Huang J, Gamber M, Wu J, He G (2020). Indirect Virus Transmission in Cluster of COVID-19 Cases, Wenzhou, China, 2020. Emerg Infect Dis, 26. |
| [24] | He X, Lau EHY, Wu P, Deng X, Wang J, Hao X, et al. (2020). Temporal dynamics in viral shedding and transmissibility of COVID-19. Nature Medicine, 26:672-675. |
| [25] | Rothe C, Schunk M, Sothmann P, Bretzel G, Froeschl G, Wallrauch C, et al. (2020). Transmission of 2019-nCoV Infection from an Asymptomatic Contact in Germany. N Engl J Med, 382:970-971. |
| [26] | Gu J, Han B, Wang J (2020). COVID-19: Gastrointestinal Manifestations and Potential Fecal-Oral Transmission. Gastroenterology, 158:1518-1519. |
| [27] | Qiao J (2020). What are the risks of COVID-19 infection in pregnant women? Lancet, 395:760-762. |
| [28] | Sampathkumar P, Temesgen Z, Smith TF, Thompson RL (2003). SARS: epidemiology, clinical presentation, management, and infection control measures. Mayo Clin Proc, 78:882-890. |
| [29] | Rajakaruna SJ, Liu WB, Ding YB, Cao GW (2017). Strategy and technology to prevent hospital-acquired infections: Lessons from SARS, Ebola, and MERS in Asia and West Africa. Mil Med Res, 4:32. |
| [30] | van Doremalen N, Bushmaker T, Morris DH, Holbrook MG, Gamble A, Williamson BN, et al. (2020). Aerosol and Surface Stability of SARS-CoV-2 as Compared with SARS-CoV-1. N Engl J Med, 382:1564-1567. |
| [31] | Yin Y, Wunderink RG (2018). MERS, SARS and other coronaviruses as causes of pneumonia. Respirology, 23:130-137. |
| [32] | Yang X, Yu Y, Xu J, Shu H, Xia J, Liu H, et al. (2020). Clinical course and outcomes of critically ill patients with SARS-CoV-2 pneumonia in Wuhan, China: a single-centered, retrospective, observational study. Lancet Respir Med, 8:475-481. |
| [33] | Ashour HM, Elkhatib WF, Rahman MM, Elshabrawy HA (2020). Insights into the Recent 2019 Novel Coronavirus (SARS-CoV-2) in Light of Past Human Coronavirus Outbreaks. Pathogens, 9:186. |
| [34] | Azhar EI, Hui DSC, Memish ZA, Drosten C, Zumla A (2019). The Middle East Respiratory Syndrome (MERS). Infect Dis Clin North Am, 33:891-905. |
| [35] | Li Q, Guan X, Wu P, Wang X, Zhou L, Tong Y, et al. (2020). Early Transmission Dynamics in Wuhan, China, of Novel Coronavirus-Infected Pneumonia. N Engl J Med, 382:1199-1207. |
| [36] | Prompetchara E, Ketloy C, Palaga T (2020). Immune responses in COVID-19 and potential vaccines: Lessons learned from SARS and MERS epidemic. Asian Pac J Allergy Immunol, 38:1-9. |
| [37] | Zhao S, Lin Q, Ran J, Musa SS, Yang G, Wang W, et al. (2020). Preliminary estimation of the basic reproduction number of novel coronavirus (2019-nCoV) in China, from 2019 to 2020: A data-driven analysis in the early phase of the outbreak. Int J Infect Dis, 92:214-217. |
| [38] | Chan KS, Zheng JP, Mok YW, Li YM, Liu YN, Chu CM, et al. (2003). SARS: prognosis, outcome and sequelae. Respirology, 8 Suppl:S36-40. |
| [39] | Arabi YM, Al-Omari A, Mandourah Y, Al-Hameed F, Sindi AA, Alraddadi B, et al. (2017). Critically Ill Patients With the Middle East Respiratory Syndrome: A Multicenter Retrospective Cohort Study. Crit Care Med, 45:1683-1695. |
| [40] | Chen J, Qi T, Liu L, Ling Y, Qian Z, Li T, et al. (2020). Clinical progression of patients with COVID-19 in Shanghai. China J Infect, 80:e1-e6. |
| [41] | Liu J, Zheng X, Tong Q, Li W, Wang B, Sutter K, et al. (2020). Overlapping and discrete aspects of the pathology and pathogenesis of the emerging human pathogenic coronaviruses SARS-CoV, MERS-CoV, and 2019-nCoV. J Med Virol, 92:491-494. |
| [42] | Su YJ, Lai YC (2020). Comparison of clinical characteristics of coronavirus disease (COVID-19) and severe acute respiratory syndrome (SARS) as experienced in Taiwan. Travel Med Infect Dis, 36:101625. |
| [43] | Nassar MS, Bakhrebah MA, Meo SA, Alsuabeyl MS, Zaher WA (2018). Middle East Respiratory Syndrome Coronavirus (MERS-CoV) infection: epidemiology, pathogenesis and clinical characteristics. Eur Rev Med Pharmacol Sci, 22:4956-4961. |
| [44] | Mo P, Xing Y, Xiao Y, Deng L, Zhao Q, Wang H, et al. (2020). Clinical characteristics of refractory COVID-19 pneumonia in Wuhan, China Clin Infect Dis. |
| [45] | Matsuyama R, Nishiura H, Kutsuna S, Hayakawa K, Ohmagari N (2016). Clinical determinants of the severity of Middle East respiratory syndrome (MERS): a systematic review and meta-analysis. BMC Public Health, 16:1203. |
| [46] | Ho W (2003). Guideline on management of severe acute respiratory syndrome (SARS). Lancet, 361:1313-1315. |
| [47] | Zhong NS (2003). Infectious severe acute respiratory syndrome (SARS) diagnosis and treatment protocol. Zhonghua Yi Xue Za Zhi, 83:1731-1752. |
| [48] | Zumla A, Hui DS, Perlman S (2015). Middle East respiratory syndrome. Lancet, 386:995-1007. |
| [49] | National Health Commission of the PRC (2020). Diagnosis and Treatment Protocol for Novel Coronavirus Pneumonia (Trial Version 8). |
| [50] | Killerby ME, Biggs HM, Midgley CM, Gerber SI, Watson JT (2020). Middle East Respiratory Syndrome Coronavirus Transmission. Emerg Infect Dis, 26:191-198. |
| [51] | Mahase E (2020). Coronavirus covid-19 has killed more people than SARS and MERS combined, despite lower case fatality rate. BMJ, 368:m641. |
| [52] | Wölfel R, Corman VM, Guggemos W, Seilmaier M, Zange S, Müller MA, et al. (2020). Virological assessment of hospitalized patients with COVID-2019. Nature, 581:465-469. |
| [53] | Liu Y, Ning Z, Chen Y, Guo M, Liu Y, Gali NK, et al. (2020). Aerodynamic Characteristics and RNA Concentration of SARS-CoV-2 Aerosol in Wuhan Hospitals during COVID-19 Outbreak. bioRxiv. |
| [54] | National Health Commission of the PRC. 2020. Health Management Protocol for Discharged COVID-19 patient. |
| [55] | National Health Commission of the PRC. 2020. Prevention and Control (IPC) for Novel Coronavirus (COVID-19)(Trial Version 6). |
| [56] | Zumla A, Hui DS, Azhar EI, Memish ZA, Maeurer M (2020). Reducing mortality from 2019-nCoV: host-directed therapies should be an option. Lancet, 395:e35-e36. |
| [57] | Hoffmann M, Kleine-Weber H, Schroeder S, Krüger N, Herrler T, Erichsen S, et al. (2020). SARS-CoV-2 Cell Entry Depends on ACE2 and TMPRSS2 and Is Blocked by a Clinically Proven Protease Inhibitor. Cell, 181:271-280.e278. |
| [58] | Ou X, Liu Y, Lei X, Li P, Mi D, Ren L, et al. (2020). Characterization of spike glycoprotein of SARS-CoV-2 on virus entry and its immune cross-reactivity with SARS-CoV. Nat Commun, 11:1-12. |
| [59] | Wang Y, Anirudhan V, Du R, Cui Q, Rong L (2020). RNA-dependent RNA polymerase of SARS-CoV-2 as a therapeutic target. J Med Virol. |
| [60] | Azkur AK, Akdis M, Azkur D, Sokolowska M, Veen W, Brüggen MC, et al. (2020). Immune response to SARS-CoV-2 and mechanisms of immunopathological changes in COVID-19. Allergy, 75:1564-1581. |
| [61] | Schaecher SR, Diamond MS, Pekosz A (2008). The Transmembrane Domain of the Severe Acute Respiratory Syndrome Coronavirus ORF7b Protein Is Necessary and Sufficient for Its Retention in the Golgi Complex. J Virol, 82:9477-9491. |
| [62] | South AM, Tomlinson L, Edmonston D, Hiremath S, Sparks MA (2020). Controversies of renin-angiotensin system inhibition during the COVID-19 pandemic. Nat Rev Nephrol, 16:305-307. |
| [63] | de Abajo FJ, Rodriguez-Martin S, Lerma V, Mejia-Abril G, Aguilar M, Garcia-Luque A, et al. (2020). Use of renin-angiotensin-aldosterone system inhibitors and risk of COVID-19 requiring admission to hospital: a case-population study. Lancet, 395:1705-1714. |
| [64] | Zhou Y, Vedantham P, Lu K, Agudelo J, Carrion R, Nunneley JW, et al. (2015). Protease inhibitors targeting coronavirus and filovirus entry. Antiviral Res, 116:76-84. |
| [65] | Hoffmann M, Schroeder S, Kleine-Weber H, Müller MA, Drosten C, Pöhlmann S (2020). Nafamostat Mesylate Blocks Activation of SARS-CoV-2: New Treatment Option for COVID-19. Antimicrob Agents Chemother, 64. |
| [66] | Dong L, Hu S, Gao J (2020). Discovering drugs to treat coronavirus disease 2019 (COVID-19). Drug Discov Ther, 14:58-60. |
| [67] | Clerkin KJ, Fried JA, Raikhelkar J, Sayer G, Griffin JM, Masoumi A, et al. (2020). Coronavirus Disease 2019 (COVID-19) and Cardiovascular Disease. Circulation, 141:1648-1655. |
| [68] | Azouz NP, Klingler AM, Rothenberg ME (2020). Alpha 1 Antitrypsin is an Inhibitor of the SARS-CoV-2-Priming Protease TMPRSS2. Preprint from bioRxiv. |
| [69] | Lin B, Ferguson C, White JT, Wang S, Vessella R, True LD, et al. (1999). Prostate-localized and androgen-regulated expression of the membrane-bound serine protease TMPRSS2. Cancer Res, 59:4180-4184. |
| [70] | Montopoli M, Zumerle S, Vettor R, Rugge M, Zorzi M, Catapano CV, et al. (2020). Androgen-deprivation therapies for prostate cancer and risk of infection by SARS-CoV-2: a population-based study (N = 4532). Ann Oncol, 31:1040-1045. |
| [71] | Wang K, Chen W, Zhou Y-S, Lian J-Q, Zhang Z, Du P, et al. (2020). SARS-CoV-2 invades host cells via a novel route: CD147-spike protein. bioRxiv. |
| [72] | Bian H, Zheng Z-H, Wei D, Zhang Z, Kang W-Z, Hao C-Q, et al. (2020). Meplazumab treats COVID-19 pneumonia: an open-labelled, concurrent controlled add-on clinical trial. medRxiv. |
| [73] | Boriskin YS, Pecheur EI, Polyak SJ (2006). Arbidol: a broad-spectrum antiviral that inhibits acute and chronic HCV infection. Virol J, 3:56. |
| [74] | Vankadari N (2020). Arbidol: A potential antiviral drug for the treatment of SARS-CoV-2 by blocking trimerization of the spike glycoprotein. Int J Antimicrob Agents, 56:105998. |
| [75] | Glushkov RG, Gus'kova TA, Krylova L, Nikolaeva IS (1999). [Mechanisms of arbidole's immunomodulating action]. Vestn Ross Akad Med Nauk: 36-40. |
| [76] | Li J, Fan JG (2020). Characteristics and Mechanism of Liver Injury in 2019 Coronavirus Disease. J Clin Transl Hepatol, 8:13-17. |
| [77] | Wang M, Cao R, Zhang L, Yang X, Liu J, Xu M, et al. (2020). Remdesivir and chloroquine effectively inhibit the recently emerged novel coronavirus (2019-nCoV) in vitro. Cell Res, 30:269-271. |
| [78] | Kono M, Tatsumi K, Imai AM, Saito K, Kuriyama T, Shirasawa H (2008). Inhibition of human coronavirus 229E infection in human epithelial lung cells (L132) by chloroquine: involvement of p38 MAPK and ERK. Antiviral Res, 77:150-152. |
| [79] | Self WH, Semler MW, Leither LM, Casey JD, Angus DC, Brower RG, et al. (2020). Effect of Hydroxychloroquine on Clinical Status at 14 Days in Hospitalized Patients With COVID-19: A Randomized Clinical Trial. JAMA. |
| [80] | Torjesen I (2020). Covid-19: Hydroxychloroquine does not benefit hospitalised patients, UK trial finds. BMJ, 369. |
| [81] | Gupta A, Malviya A (2020). Chloroquine and hydroxychloroquine for COVID-19: time to close the chapter. Postgrad Med J. |
| [82] | Yuen K-Y, Au W-K, Sit K-Y, Zhang AJ, Chan IH-Y, To KK-W, et al. (2020). Comparative Replication and Immune Activation Profiles of SARS-CoV-2 and SARS-CoV in Human Lungs: An Ex Vivo Study With Implications for the Pathogenesis of COVID-19. Clin Infect Dis, 71:1400-1409 |
| [83] | Wang Q, Wu J, Wang H, Gao Y, Liu Q, Mu A, et al. (2020). Structural Basis for RNA Replication by the SARS-CoV-2 Polymerase. Cell, 182:417-428.e413. |
| [84] | Gao Y, Yan L, Huang Y, Liu F, Zhao Y, Cao L, et al. (2020). Structure of the RNA-dependent RNA polymerase from COVID-19 virus. Science, 368:779-782. |
| [85] | Elfiky AA (2020). Ribavirin, Remdesivir, Sofosbuvir, Galidesivir, and Tenofovir against SARS-CoV-2 RNA dependent RNA polymerase (RdRp): A molecular docking study. Life Sci, 258:118350. |
| [86] | Nimgampalle M, Devanathan V, Saxena A (2020). Screening of Chloroquine, Hydroxychloroquine and its derivatives for their binding affinity to multiple SARS-CoV-2 protein drug targets. J Biomol Struct Dyn, 1-13. |
| [87] | Holshue ML, DeBolt C, Lindquist S, Lofy KH, Wiesman J, Bruce H, et al. (2020). First Case of 2019 Novel Coronavirus in the United States. N Engl J Med, 382:929-936. |
| [88] | Grein J, Ohmagari N, Shin D, Diaz G, Asperges E, Castagna A, et al. (2020). Compassionate Use of Remdesivir for Patients with Severe Covid-19. N Engl J Med, 382:2327-2336. |
| [89] | The First Affiliated Hospital, Zhejiang University School of Medicine. 2020. Handbook of COVID-19 Prevention and Treatment. |
| [90] | Omrani AS, Saad MM, Baig K, Bahloul A, Abdul-Matin M, Alaidaroos AY, et al. (2014). Ribavirin and interferon alfa-2a for severe Middle East respiratory syndrome coronavirus infection: a retrospective cohort study. Lancet Infect Dis, 14:1090-1095. |
| [91] | Stockman LJ, Bellamy R, Garner P (2006). SARS: systematic review of treatment effects. PLoS Med, 3:e343. |
| [92] | Rathnayake AD, Zheng J, Kim Y, Perera KD, Mackin S, Meyerholz DK, et al. (2020). 3C-like protease inhibitors block coronavirus replication in vitro and improve survival in MERS-CoV-infected mice. Sci Transl Med, 12:eabc5332 |
| [93] | Shu T, Huang M, Wu D, Ren Y, Zhang X, Han Y, et al. (2020). SARS-Coronavirus-2 Nsp13 Possesses NTPase and RNA Helicase Activities That Can Be Inhibited by Bismuth Salts. Virol Sin, 35:321-329. |
| [94] | Shi Y, Wang Y, Shao C, Huang J, Gan J, Huang X, et al. (2020). COVID-19 infection: the perspectives on immune responses. Cell Death Differ, 27:1451-1454. |
| [95] | Lythgoe MP, Middleton P (2020). Ongoing Clinical Trials for the Management of the COVID-19 Pandemic. Trends Pharmacol Sci, 41:363-382 |
| [96] | Shahabi nezhad F, Mosaddeghi P, Negahdaripour M, Dehghani Z, Farahmandnejad M, Moghadami M, et al. (2020). Therapeutic Approaches for COVID-19 Based on the Dynamics of Interferon-mediated Immune Responses. Preprints. |
| [97] | Ayoub B (2020). COVID-19 vaccination clinical trials should consider multiple doses of BCG. Pharmazie, 75:159-159. |
| [98] | McGonagle D, Sharif K, O'Regan A, Bridgewood C (2020). The Role of Cytokines including Interleukin-6 in COVID-19 induced Pneumonia and Macrophage Activation Syndrome-Like Disease. Autoimmun Rev, 19:102537. |
| [99] | Jones LH, Bunnage ME (2017). Applications of chemogenomic library screening in drug discovery. Nat Rev Drug Discov, 16:285-296. |
| [100] | Dong L, Hu S, Gao J (2020). Discovering drugs to treat coronavirus disease 2019 (COVID-19). Drug Discov Ther, 14:58-60. |
| [101] | Mollica V, Rizzo A, Massari F (2020). The pivotal role of TMPRSS2 in coronavirus disease 2019 and prostate cancer. Future Oncol, 16:2029-2033. |
| [102] | National Health Commission of the PRC. 2020. Diagnosis and Treatment Protocol for Novel Coronavirus Pneumonia (Trial Version 7). |
| [103] | Prajapat M, Sarma P, Shekhar N, Avti P, Sinha S, Kaur H, et al. (2020). Drug targets for corona virus: A systematic review. Indian J Pharmacol, 52:56-65. |
| [104] | Zhou D, Dai SM, Tong Q (2020). COVID-19: a recommendation to examine the effect of hydroxychloroquine in preventing infection and progression. J Antimicrob Chemother. |
| [105] | Lai CC, Shih TP, Ko WC, Tang HJ, Hsueh PR (2020). Severe acute respiratory syndrome coronavirus 2 (SARS-CoV-2) and coronavirus disease-2019 (COVID-19): The epidemic and the challenges. Int J Antimicrob Agents, 55:105924. |
| [106] | Zou Quanming LH, Zeng Hao (2020). Current status and counter measures for development of drugs to treat coronavirus disease 2019. J Third Mil Med Univ, 42:5. |
| [107] | Elfiky AA (2020). Ribavirin, Remdesivir, Sofosbuvir, Galidesivir, and Tenofovir against SARS-CoV-2 RNA dependent RNA polymerase (RdRp): A molecular docking study. Life Sci, 253:117592. |
| [108] | Ekins S, Lane TR, Madrid PB (2020). Tilorone: a Broad-Spectrum Antiviral Invented in the USA and Commercialized in Russia and beyond. Pharm Res, 37:1-8. |
| [109] | Liu X, Li Z, Liu S, Chen Z, Zhao Z, Huang Y-y, et al. (2020). Therapeutic effects of dipyridamole on COVID-19 patients with coagulation dysfunction. medRxiv. |
| [110] | Johns Hopkins ABX Guide. 2020. Coronavirus COVID-19 (SARS-CoV-2). |
| [111] | Huang A, Xue Tang, Huimin Wu, Jun Zhang, Wanqi Wang, Zhiwei Wang, Li Song, Min-an Zhai, Lihui Zhao, Hailong Yang, Xiaohui Ma, Shuiping Zhou, Jinyong Cai (2020). Virtual Screening and Molecular Dynamics on Blockage of Key Drug Targets as Treatment for COVID-19 Caused by SARS-CoV-2. Preprints. |
| [112] | Vautrin A, Manchon L, Garcel A, Campos N, Lapasset L, Laaref AM, et al. (2019). Both anti-inflammatory and antiviral properties of novel drug candidate ABX464 are mediated by modulation of RNA splicing. Sci Rep, 9:1-15. |
| [113] | Izzedine H, Jhaveri KD, Perazella MA (2020). COVID-19 therapeutic options for patients with kidney disease. Kidney Int, 97:1297-1298. |
| [114] | Wu C-J, Jan J-T, Chen C-M, Hsieh H-P, Hwang D-R, Liu H-W, et al. (2004). Inhibition of Severe Acute Respiratory Syndrome Coronavirus Replication by Niclosamide. Antimicrob Agents Chemother, 48:2693-2696. |
| [115] | Sheahan TP, Sims AC, Zhou S, Graham RL, Pruijssers AJ, Agostini ML, et al. (2020). An orally bioavailable broad-spectrum antiviral inhibits SARS-CoV-2 in human airway epithelial cell cultures and multiple coronaviruses in mice. Sci Transl Med, 12:eabb5883. |
| [116] | Cortegiani A, Ingoglia G, Ippolito M, Giarratano A, Einav S (2020). A systematic review on the efficacy and safety of chloroquine for the treatment of COVID-19. J Crit Care, 57:279-283. |
| [117] | Pan X, Zhou P, Fan T, Wu Y, Zhang J, Shi X, et al. (2020). Immunoglobulin fragment F(ab')2 against RBD potently neutralizes SARS-CoV-2 in vitro. Antiviral Res, 182:104868. |
| [118] | Chen L, Xiong J, Bao L, Shi Y (2020). Convalescent plasma as a potential therapy for COVID-19. Lancet Infect Dis, 20:398-400. |
| [119] | Haodong C (2020). Safety application of novel coronavirus pneumonia antiviral drugs. Adverse Drug React, 22:8. |
| [120] | Luo SH, Liu W, Liu ZJ, Zheng XY, Hong CX, Liu ZR, et al. (2020). A confirmed asymptomatic carrier of 2019 novel coronavirus. Chin Med J (Engl), 133:1123-1125. |
| [121] | Qiu R, Wei X, Zhao M, Zhong C, Zhao C, Hu J, et al. (2020). Outcome reporting from protocols of clinical trials of Coronavirus Disease 2019 (COVID-19): a review. medRxiv. |
| [122] | Monneret G, de Marignan D, Coudereau R, Bernet C, Ader F, Frobert E, et al. (2020). Immune monitoring of interleukin-7 compassionate use in a critically ill COVID-19 patient. Cell Mol Immunol, 17:1001-1003. |
| [123] | Zhai P, Ding Y, Wu X, Long J, Zhong Y, Li Y (2020). The epidemiology, diagnosis and treatment of COVID-19. Int J Antimicrob Agents, 55:105955. |
| [124] | Little P (2020). Non-steroidal anti-inflammatory drugs and covid-19. BMJ, 368:m1185. |
| [125] | Matsuyama S, Kawase M, Nao N, Shirato K, Ujike M, Kamitani W, et al. (2020). The inhaled corticosteroid ciclesonide blocks coronavirus RNA replication by targeting viral NSP15. bioRxiv. |
| [126] | Wang Y, Jiang W, He Q, Wang C, Wang B, Zhou P, et al. (2020). Early, low-dose and short-term application of corticosteroid treatment in patients with severe COVID-19 pneumonia: single-center experience from Wuhan, China. medRxiv. |
| [127] | Cron RQ, Chatham WW (2020). The Rheumatologist's Role in COVID-19. J Rheumatol, 47:639-642. |
| [128] | Deng Xiaobing YX, Jianfeng Pei (2020). Regulation of interferon production as a potential strategy for COVID-19 treatment. ArXiv. |
| [129] | Li X, Yu J, Zhang Z, Ren J, Peluffo AE, Zhang W, et al. (2020). Network Bioinformatics Analysis Provides Insight into Drug Repurposing for COVID-2019. Preprints. |
| [130] | Mehta P, McAuley DF, Brown M, Sanchez E, Tattersall RS, Manson JJ, et al. (2020). COVID-19: consider cytokine storm syndromes and immunosuppression. Lancet, 395:1033-1034. |
| [131] | Martin TR, Wurfel MM, Zanoni I, Ulevitch R (2020). Targeting innate immunity by blocking CD14: Novel approach to control inflammation and organ dysfunction in COVID-19 illness. EBioMedicine, 57:102836. |
| [132] | Richardson P, Griffin I, Tucker C, Smith D, Oechsle O, Phelan A, et al. (2020). Baricitinib as potential treatment for 2019-nCoV acute respiratory disease. Lancet, 395:e30-e31. |
| [133] | Stebbing J, Phelan A, Griffin I, Tucker C, Oechsle O, Smith D, et al. (2020). COVID-19: combining antiviral and anti-inflammatory treatments. Lancet Infect Dis, 20:400-402. |
| [134] | Zhang W, Zhao Y, Zhang F, Wang Q, Li T, Liu Z, et al. (2020). The use of anti-inflammatory drugs in the treatment of people with severe coronavirus disease 2019 (COVID-19): The Perspectives of clinical immunologists from China. Clin Immunol, 214:108393. |
| [135] | Singh AK, Singh A, Shaikh A, Singh R, Misra A (2020). Chloroquine and hydroxychloroquine in the treatment of COVID-19 with or without diabetes: A systematic search and a narrative review with a special reference to India and other developing countries. Diabetes Metab Syndr, 14:241-246. |
| [136] | CytoDyn Inc. (2020). CytoDyn Files FDA-Suggested Modifications to IND and Protocol for Phase 2 Clinical Trial for COVID-19 Patients with Mild to Moderate Indications and a Second Randomized Protocol for All COVID-19 Patients in Severe Condition Will be Filed Next Week per FDA Recommendation. |
| [137] | Mastaglio S, Ruggeri A, Risitano AM, Angelillo P, Yancopoulou D, Mastellos DC, et al. (2020). The first case of COVID-19 treated with the complement C3 inhibitor AMY-101. Clin Immunol, 215:108450. |
| [138] | Zheng M, Gao Y, Wang G, Song G, Liu S, Sun D, et al. (2020). Functional exhaustion of antiviral lymphocytes in COVID-19 patients. Cell Mol Immunol, 17:533-535. |
| [139] | Rasmussen SA, Jamieson DJ (2020). Coronavirus Disease 2019 (COVID-19) and Pregnancy. Obstet Gynecol, 135:999-1002. |
| [140] | Yang D, Yang Y, Zhao Y (2020). Ibudilast, a Phosphodiesterase-4 Inhibitor, Ameliorates Acute Respiratory Distress Syndrome in Neonatal Mice by Alleviating Inflammation and Apoptosis. Med Sci Monit, 26:e922281-1-e922281-8. |
| [141] | Grimes JM, Grimes KV (2020). p38 MAPK inhibition: A promising therapeutic approach for COVID-19. J Mol Cell Cardiol 144:63-65. |
| [142] | Mauvais-Jarvis F, Klein SL, Levin ER (2020). Estradiol, Progesterone, Immunomodulation, and COVID-19 Outcomes. Endocrinology, 161. |
| [143] | Zhang X, Zhu Z, Jiao W, Liu W, Liu F, Zhu X (2019). Ulinastatin treatment for acute respiratory distress syndrome in China: a meta-analysis of randomized controlled trials. BMC Pulm Med, 19:196. |
| [144] | Wu C, Hu X, Song J, Du C, Xu J, Yang D, et al. (2020). Heart injury signs are associated with higher and earlier mortality in coronavirus disease 2019 (COVID-19). medRxiv. |
| [145] | Golchin A, Seyedjafari E, Ardeshirylajimi A (2020). Mesenchymal Stem Cell Therapy for COVID-19: Present or Future. Stem Cell Rev Rep, 16:427-433. |
| [146] | Mevorach D (2020). Allocetra-Ots: Early Apoptotic Cells for Immune Homeostasis in Human Stem Cell Transplantation (HSCT) and for the Prevention of Graft Versus Host Disease (GvHD). Biol Blood Marrow Transplant, 26:S313-S314. |
| [147] | Amat-Santos IJ, Santos-Martinez S, López-Otero D, Nombela-Franco L, Gutiérrez-Ibanes E, Del Valle R, et al. (2020). Ramipril in High-Risk Patients With COVID-19. J Am Coll Cardiol, 76:268-276. |
| [148] | Sallari Jazzi AMK; Hossein Hejazi S; Damavandi MS; Sadeghi P; Zeinalian M; Tabesh F; Mirbod SM; Khanahmad H. (2020). Inhibition of Viral Macrodomain of COVID-19 and Human TRPM2 by losartan. Preprints. |
| [149] | Rothlin RP, Vetulli HM, Duarte M, Pelorosso FG (2020). Telmisartan as tentative angiotensin receptor blocker therapeutic for COVID-19. Drug Dev Res, 81. |
| [150] | Kintscher U, Slagman A, Domenig O, Röhle R, Konietschke F, Poglitsch M, et al. (2020). Plasma Angiotensin Peptide Profiling and ACE2-Activity in COVID-19 Patients treated with Pharmacological Blockers of the Renin Angiotensin System. Hypertension, 76:e34-e36. |
| [151] | Berra L, Lei C, Su B, Dong H, Safaee Fakhr B, Grassi LG, et al. (2020). Protocol for a randomized controlled trial testing inhaled nitric oxide therapy in spontaneously breathing patients with COVID-19. medRxiv. |
| [152] | Marchetti M (2020). COVID-19-driven endothelial damage: complement, HIF-1, and ABL2 are potential pathways of damage and targets for cure. Ann Hematol, 99:1701-1707. |
| [153] | Chen CS, Qi F, Shi KQ, Li YP, Li J, Chen YP, et al. (2020). Thalidomide Combined with Low-dose Glucocorticoid in the Treatment of COVID-19 Pneumonia. Preprints. |
| [154] | Rosa SGV, Santos WC (2020). Clinical trials on drug repositioning for COVID-19 treatment. Rev Panam Salud Publica, 44:e40. |
| [155] | Solaimanzadeh I (2020). Acetazolamide, Nifedipine and Phosphodiesterase Inhibitors: Rationale for Their Utilization as Adjunctive Countermeasures in the Treatment of Coronavirus Disease 2019 (COVID-19). Cureus, 12:e7343. |
| [156] | Robertson CE (2020). Could CGRP Antagonists Be Helpful in the Fight Against COVID-19? Headache, 60:1450-1452. |
| [157] | Shetty AK (2020). Mesenchymal Stem Cell Infusion Shows Promise for Combating Coronavirus (COVID-19)- Induced Pneumonia. Aging Dis, 11:462. |
| [158] | Munera-Campos M, Carrascosa JM (2020). Innovation in Atopic Dermatitis: From Pathogenesis to Treatment. Actas Dermosifiliogr, 111:205-221. |
| [159] | Seelhammer TG, Rowse P, Yalamuri S (2020). Bivalirudin for Maintenance Anticoagulation During Venovenous Extracorporeal Membrane Oxygenation for COVID-19. J Cardiothorac Vasc Anesth. |
| [160] | Shervani Z, Khan I, Khan T, Qazi UY (2020). COVID-19 Vaccine. Adv Infect Dis, 10:195-210. |
| [161] | Xia S, Zhang Y, Wang Y, Wang H, Yang Y, Gao GF, et al. (2020). Safety and immunogenicity of an inactivated SARS-CoV-2 vaccine, BBIBP-CorV: a randomised, double-blind, placebo-controlled, phase 1/2 trial. Lancet Infect Dis. |
| [162] | Gupta T, Gupta SK (2020). Potential adjuvants for the development of a SARS-CoV-2 vaccine based on experimental results from similar coronaviruses. Int Immunopharmacol, 86:106717. |
| [163] | Yang J, Wang W, Chen Z, Lu S, Yang F, Bi Z, et al. (2020). A vaccine targeting the RBD of the S protein of SARS-CoV-2 induces protective immunity. Nature, 586:572-577. |
| [164] | Thanh Le T, Andreadakis Z, Kumar A, Gomez Roman R, Tollefsen S, Saville M, et al. (2020). The COVID-19 vaccine development landscape. Nat Rev Drug Discov, 19:305-306. |
| [165] | Mercado NB, Zahn R, Wegmann F, Loos C, Chandrashekar A, Yu J, et al. (2020). Single-shot Ad26 vaccine protects against SARS-CoV-2 in rhesus macaques. Nature, 586:583-588. |
| [166] | Agrawal S, Goel AD, Gupta N (2020). Emerging prophylaxis strategies against COVID-19. Monaldi Arch Chest Dis, 90. |
| [167] | Kalnin KV, Plitnik T, Kishko M, Zhang J, Zhang D, Beauvais A, et al. (2020). Immunogenicity of novel mRNA COVID-19 vaccine MRT5500 in mice and non-human primates. Preprint from bioRxiv. |
| [168] | Walsh EE, Frenck RW, Falsey AR, Kitchin N, Absalon J, Gurtman A, et al. (2020). Safety and Immunogenicity of Two RNA-Based Covid-19 Vaccine Candidates. N Engl J Med |
| [169] | Liu C, Zhou Q, Li Y, Garner LV, Watkins SP, Carter LJ, et al. (2020). Research and Development on Therapeutic Agents and Vaccines for COVID-19 and Related Human Coronavirus Diseases. ACS Cent Sci, 6:315-331. |
| [170] | Sanchis-Gomar F, Lavie CJ, Morin DP, Perez-Quilis C, Laukkanen JA, Perez MV (2020). Amiodarone in the COVID-19 Era: Treatment for Symptomatic Patients Only, or Drug to Prevent Infection? Am J Cardiovasc Drugs, 20:413-418. |
| [171] | Cao B, Wang Y, Wen D, Liu W, Wang J, Fan G, et al. (2020). A Trial of Lopinavir-Ritonavir in Adults Hospitalized with Severe Covid-19. N Engl J Med, 382:1787-1799. |
| [172] | Xiong C, Jiang L, Chen Y, Jiang Q (2020). Evolution and variation of 2019-novel coronavirus. bioRxiv. |
| [173] | Ceraolo C, Giorgi FM (2020). Genomic variance of the 2019-nCoV coronavirus. J Med Virol, 92:522-528. |
| [174] | Forster P, Forster L, Renfrew C, Forster M (2020). Phylogenetic network analysis of SARS-CoV-2 genomes. Proc Natl Acad Sci U S A, 117:9241-9243. |
| [175] | Atluri S, Manchikanti L, Hirsch JA (2020). Expanded Umbilical Cord Mesenchymal Stem Cells (UC-MSCs) as a Therapeutic Strategy in Managing Critically Ill COVID-19 Patients: The Case for Compassionate Use. Pain Physician, 23:E71-E83. |
| [176] | Shang L, Zhao J, Hu Y, Du R, Cao B (2020). On the use of corticosteroids for 2019-nCoV pneumonia. Lancet, 395:683-684. |
| [177] | Chen RC, Tang XP, Tan SY, Liang BL, Wan ZY, Fang JQ, et al. (2006). Treatment of severe acute respiratory syndrome with glucosteroids: the Guangzhou experience. Chest, 129:1441-1452. |
| [178] | Arabi YM, Mandourah Y, Al-Hameed F, Sindi AA, Almekhlafi GA, Hussein MA, et al. (2018). Corticosteroid Therapy for Critically Ill Patients with Middle East Respiratory Syndrome. Am J Respir Crit Care Med, 197:757-767. |
| [179] | World Health Organization (2020). Clinical management of severe acute respiratory infection when COVID-19 is suspected. |
| [180] | Russell CD, Millar JE, Baillie JK (2020). Clinical evidence does not support corticosteroid treatment for 2019-nCoV lung injury. Lancet, 395:473-475. |
| [181] | Wang W, Rong P, Ma X, Liu J, Zeng Q, Mei J, et al. (2020). Clinical Factors Associated with Progression and Prolonged Viral Shedding in COVID-19 Patients: A Multicenter Study. Aging Dis, 11:1069-1081. |
| [182] | Moreno G, Rodriguez A, Reyes LF, Gomez J, Sole-Violan J, Diaz E, et al. (2018). Corticosteroid treatment in critically ill patients with severe influenza pneumonia: a propensity score matching study. Intensive Care Med, 44:1470-1482. |
| [183] | Li H, Yang SG, Gu L, Zhang Y, Yan XX, Liang ZA, et al. (2017). Effect of low-to-moderate-dose corticosteroids on mortality of hospitalized adolescents and adults with influenza A(H1N1)pdm09 viral pneumonia. Influenza Other Respir Viruses, 11:345-354. |
| [184] | Zhou W, Liu Y, Tian D, Wang C, Wang S, Cheng J, et al. (2020). Potential benefits of precise corticosteroids therapy for severe 2019-nCoV pneumonia. Signal Transduct Target Ther, 5:18. |
| [185] | Jawhara S (2020). Could Intravenous Immunoglobulin Collected from Recovered Coronavirus Patients Protect against COVID-19 and Strengthen the Immune System of New Patients? Int J Mol Sci, 21:2272. |
| [186] | Seite JF, Shoenfeld Y, Youinou P, Hillion S (2008). What is the contents of the magic draft IVIg? Autoimmun Rev, 7:435-439. |
| [187] | Maddur MS, Trinath J, Rabin M, Bolgert F, Guy M, Vallat JM, et al. (2015). Intravenous immunoglobulin-mediated expansion of regulatory T cells in autoimmune patients is associated with increased prostaglandin E2 levels in the circulation. Cell Mol Immunol, 12:650-652. |
| [188] | Haveri A, Smura T, Kuivanen S, Osterlund P, Hepojoki J, Ikonen N, et al. (2020). Serological and molecular findings during SARS-CoV-2 infection: the first case study in Finland, January to February 2020. Eurosurveillance, 25. |
| [189] | Chen L, Xiong J, Bao L, Shi Y (2020). Convalescent plasma as a potential therapy for COVID-19. Lancet Infect Dis, 20:398-400. |
| [190] | Shen C, Wang Z, Zhao F, Yang Y, Li J, Yuan J, et al. (2020). Treatment of 5 Critically Ill Patients With COVID-19 With Convalescent Plasma. JAMA, 323:1582-1589. |
| [191] | National Health Commission of the PRC (2020). Convalescent plasma for the treatment of severe and critical COVID-19. |
| [192] | Wang D, Hu B, Hu C, Zhu F, Liu X, Zhang J, et al. (2020). Clinical Characteristics of 138 Hospitalized Patients With 2019 Novel Coronavirus-Infected Pneumonia in Wuhan, China. JAMA, 323:1061-1069. |
| [193] | Chen L, Liu HG, Liu W, Liu J, Liu K, Shang J, et al. (2020). Analysis of clinical features of 29 patients with 2019 novel coronavirus pneumonia. Zhonghua Jie He He Hu Xi Za Zhi, 43:E005. |
| [194] | Wan S, Yi Q, Fan S, Lv J, Zhang X, Guo L, et al. (2020). Characteristics of lymphocyte subsets and cytokines in peripheral blood of 123 hospitalized patients with 2019 novel coronavirus pneumonia (NCP). medRxiv. |
| [195] | Okabayashi T, Kariwa H, Yokota S, Iki S, Indoh T, Yokosawa N, et al. (2006). Cytokine regulation in SARS coronavirus infection compared to other respiratory virus infections. J Med Virol, 78:417-424. |
| [196] | Lazzeri C, Ip A, Berry DA, Hansen E, Goy AH, Pecora AL, et al. (2020). Hydroxychloroquine and tocilizumab therapy in COVID-19 patients-An observational study. Plos One, 15. |
| [197] | Hamilton JA (2020). GM-CSF in inflammation. J Exp Med, 217:e20190945. |
| [198] | Becher B, Tugues S, Greter M (2016). GM-CSF: From Growth Factor to Central Mediator of Tissue Inflammation. Immunity, 45:963-973. |
| [199] | Zhang J, Roberts AI, Liu C, Ren G, Xu G, Zhang L, et al. (2013). A novel subset of helper T cells promotes immune responses by secreting GM-CSF. Cell Death Differ, 20:1731-1741. |
| [200] | Lang FM, Lee KMC, Teijaro JR, Becher B, Hamilton JA (2020). GM-CSF-based treatments in COVID-19: reconciling opposing therapeutic approaches. Nat Rev Immunol, 20:507-514. |
| [201] | Bouchon A, Dietrich J, Colonna M (2000). Cutting Edge: Inflammatory Responses Can Be Triggered by TREM-1, a Novel Receptor Expressed on Neutrophils and Monocytes. J Immunol, 164:4991-4995. |
| [202] | Won C, Damsky W, Singh I, Joseph P, Chichra A, Oakland H, et al. (2020). Hijaking the SARS-CoV-2 Cytokinopathy: Janus Kinase Inhibitors for Moderate to Severe COVID-19. SSRN. |
| [203] | Thomas TC, Rollins SA, Rother RP, Giannoni MA, Hartman SL, Elliott EA, et al. (1996). Inhibition of complement activity by humanized anti-C5 antibody and single-chain Fv. Mol Immunol, 33:1389-1401. |
| [204] | Barilla-Labarca ML, Toder K, Furie R (2013). Targeting the complement system in systemic lupus erythematosus and other diseases. Clin Immunol, 148:313-321. |
| [205] | Fuller MJ, Callendret B, Zhu B, Freeman GJ, Hasselschwert DL, Satterfield W, et al. (2013). Immunotherapy of chronic hepatitis C virus infection with antibodies against programmed cell death-1 (PD-1). Proc Natl Acad Sci U S A, 110:15001-15006. |
| [206] | Wilson AB, Prichard-Thomas S, Coombs RR (1979). Receptors for activated C3 on thymus-dependent (T) lymphocytes of normal guinea-pigs. Immunology, 37:377-384. |
| [207] | Teijaro JR, Walsh KB, Cahalan S, Fremgen DM, Roberts E, Scott F, et al. (2011). Endothelial cells are central orchestrators of cytokine amplification during influenza virus infection. Cell, 146:980-991. |
| [208] | Stebbing J, Phelan A, Griffin I, Tucker C, Oechsle O, Smith D, et al. (2020). COVID-19: combining antiviral and anti-inflammatory treatments. Lancet Infect Dis, 20:400-402. |
| [209] | Zheng Y, Li R, Liu S (2020). Immunoregulation with mTOR inhibitors to prevent COVID-19 severity: A novel intervention strategy beyond vaccines and specific antiviral medicines. J Med Virol, 92:1495-1500. |
| [210] | Katzenstein AL, Bloor CM, Leibow AA (1976). Diffuse alveolar damage--the role of oxygen, shock, and related factors. A review. Am J Pathol, 85:209-228. |
| [211] | Aggarwal NR, King LS, D'Alessio FR (2014). Diverse macrophage populations mediate acute lung inflammation and resolution. Am J Physiol Lung Cell Mol Physiol, 306:L709-L725. |
| [212] | Guice KS, Oldham KT, Caty MG, Johnson KJ, Ward PA (1989). Neutrophil-dependent, oxygen-radical mediated lung injury associated with acute pancreatitis. Ann Surg, 210:740-747. |
| [213] | Vaughan AE, Brumwell AN, Xi Y, Gotts JE, Brownfield DG, Treutlein B, et al. (2014). Lineage-negative progenitors mobilize to regenerate lung epithelium after major injury. Nature, 517:621-625. |
| [214] | Bavishi C, Maddox TM, Messerli FH (2020). Coronavirus Disease 2019 (COVID-19) Infection and Renin Angiotensin System Blockers. JAMA Cardiol, 5:745-747. |
| [215] | Bloomfield GL, Holloway S, Ridings PC, Fisher BJ, Blocher CR, Sholley M, et al. (1997). Pretreatment with inhaled nitric oxide inhibits neutrophil migration and oxidative activity resulting in attenuated sepsis-induced acute lung injury. Crit Care Med, 25:584-593. |
| [216] | Rosa SGV, Santos WC (2020). Clinical trials on drug repositioning for COVID-19 treatment. Rev Panam Salud Publica, 44:e40. |
| [217] | Thompson BT, Drazen JM, Chambers RC, Liu KD (2017). Acute Respiratory Distress Syndrome. N Engl J Med, 377:562-572. |
| [218] | Renné T, Nieswandt B, Gailani D, Renné C, Burfeind P, Pauer H-U, et al. (2006). Targeting coagulation factor XII provides protection from pathological thrombosis in cerebral ischemia without interfering with hemostasis. J Exp Med, 203:513-518. |
| [219] | Cantin AM, North SL, Fells GA, Hubbard RC, Crystal RG (1987). Oxidant-mediated epithelial cell injury in idiopathic pulmonary fibrosis. J Clin Invest, 79:1665-1673. |
| [220] | Cho H-Y, Reddy SPM, Yamamoto M, Kleeberger SR (2004). The transcription factor NRF2 protects against pulmonary fibrosis. FASEB, 18:1258-1260. |
| [221] | Garcovich S, Calabrese C, Pizzicannella J, Sterodimas A, Gentile P (2020). Research progress on Mesenchymal Stem Cells (MSCs), Adipose-Derived Mesenchymal Stem Cells (AD-MSCs), Drugs, and Vaccines in Inhibiting COVID-19 Disease. Aging Dis, 11:1191-1201. |
| [222] | Walter J, Ware LB, Matthay MA (2014). Mesenchymal stem cells: mechanisms of potential therapeutic benefit in ARDS and sepsis. Lancet Respir Med, 2:1016-1026. |
| [223] | Eklund L, Saharinen P (2013). Angiopoietin signaling in the vasculature. Exp Cell Res, 319:1271-1280. |
| [224] | Lee JW, Fang X, Gupta N, Serikov V, Matthay MA (2009). Allogeneic human mesenchymal stem cells for treatment of E. coli endotoxin-induced acute lung injury in the ex vivo perfused human lung. Proc Natl Acad Sci U S A, 106:16357-16362. |
| [225] | Khoury M, Cuenca J, Cruz FF, Figueroa FE, Rocco PRM, Weiss DJ (2020). Current Status of Cell-Based Therapies for Respiratory Virus Infections: Applicability to COVID-19. Eur Respir J, 55:2000858. |
| [226] | Zhao RC, Jin K, Caruso C, Ellison-Hughes G, Min K-J, Chakrabarti S, et al. (2020). Transplantation of ACE2- Mesenchymal Stem Cells Improves the Outcome of Patients with COVID-19 Pneumonia. Aging Dis, 11:216-228. |
| [227] | Camerini R, Garaci E (2015). Historical review of thymosin alpha 1 in infectious diseases. Expert Opin Biol Ther, 15 Suppl 1:S117-127. |
| [228] | Zhai P, Ding Y, Wu X, Long J, Zhong Y, Li Y (2020). The epidemiology, diagnosis and treatment of COVID-19. Int J Antimicrob Agents, 55:105955. |
| [229] | Cornet AD, Hofstra JJ, Swart EL, Girbes AR, Juffermans NP (2010). Sildenafil attenuates pulmonary arterial pressure but does not improve oxygenation during ARDS. Intensive Care Med, 36:758-764. |
| [230] | Blanch L, Albaiceta GM (2010). Sildenafil for pulmonary hypertension in ARDS: a new pleasant effect? Intensive Care Med, 36:729-731. |
| [231] | Song J-C, Wang G, Zhang W, Zhang Y, Li W-Q, Zhou Z (2020). Chinese expert consensus on diagnosis and treatment of coagulation dysfunction in COVID-19. Mil Med Res, 7:1-10. |
| [232] | Levy JH, Connors JM (2020). COVID-19 and its implications for thrombosis and anticoagulation. Blood, 135:2033-2040. |
| [233] | Doshi P (2020). Covid-19 vaccine trial protocols released. BMJ, 371. |
| [234] | Jackson LA, Anderson EJ, Rouphael NG, Roberts PC, Makhene M, Coler RN, et al. (2020). An mRNA Vaccine against SARS-CoV-2 - Preliminary Report. N Engl J Medicine, 383:1920-1931. |
| [235] | U.S. Food and Drug Administration. 2020. Coronavirus (COVID-19) Update: FDA Issues Emergency Use Authorization for Potential COVID-19 Treatment. |
| [236] | Beigel JH, Tomashek KM, Dodd LE, Mehta AK, Zingman BS, Kalil AC, et al. (2020). Remdesivir for the Treatment of Covid-19 - Final Report. N Engl J Med, 383:1813-1826. |
| [237] | Wang Y, Zhang D, Du G, Du R, Zhao J, Jin Y, et al. (2020). Remdesivir in adults with severe COVID-19: a randomised, double-blind, placebo-controlled, multicentre trial. Lancet, 395:1569-1578. |
| [238] | Shandong Provincial Health Committee. (2020). Diagnosis and Treatment Protocol for Novel Coronavirus Pneumonia with Traditional Chinese Medicine. |
| [239] | Wang Guangyu QW, Ma Jiaju, Luan Lianguo, Lu Youran, Li XuCheng, Zhao Xin, Zhang Zhongde, Liu Qingquan (2020). Preliminary study on clinical features and syndrome differentiation treatment of new coronavirus (2019-nCoV) pneumonia. J Tradit Chin Med, 61:6. |
| [240] | Yude W (2020). The epidemic situation and countermeasures in ancient China. Jianghan Tribune, 9:5. |
| [241] | Fuchun S. 2005. Basic Theory of Traditional Chinese Medicine: People's Military Medical Press. |
| [242] | Lu Jianwu DY, Yin Shipeng (2016). Discussion on the function correlation between spleen and stomach and non-specific immunity with the theory of "positive qi". J Gansu Univ Tradit Chin Med, 6:3. |
| [243] | Yu Feng LJ, Ma Han (2020). Talking about new coronavirus pneumonia. Acta Chin Med: 8. |
| [244] | Zhang Wei WY, Zhang Huiyong, Chen Wei, Shi Kehua, Wang Zhenwei (2020). Interpretation of the"TCM Diagnosis and Treatment Program for Novel Coronavirus Pneumonia in Shanghai (Trial)". Shanghai J Tradit Chin Med, 54:4. |
| [245] | Xiao M, Tian J, Zhou Y, Xu X, Min X, Lv Y, et al. (2020). Efficacy of Huoxiang Zhengqi dropping pills and Lianhua Qingwen granules in treatment of COVID-19: A randomized controlled trial. Pharmacol Res, 161:105126. |
| [246] | Zhang K, Tian M, Zeng Y, Wang L, Luo S, Xia W, et al. (2020). The combined therapy of a traditional Chinese medicine formula and Western medicine for a critically ill case infected with COVID-19. Complement Ther Med, 52:102473. |
| [247] | Wang Z, Chen X, Lu Y, Chen F, Zhang W (2020). Clinical characteristics and therapeutic procedure for four cases with 2019 novel coronavirus pneumonia receiving combined Chinese and Western medicine treatment. Biosci Trends, 14:64-68. |
| [248] | Xin S, Cheng X, Zhu B, Liao X, Yang F, Song L, et al. (2020). Clinical retrospective study on the efficacy of Qingfei Paidu decoction combined with Western medicine for COVID-19 treatment. Biomed Pharmacother, 129:110500. |
| [249] | Zhang X, Cao D, Liu J, Zhang Q, Liu M (2020). Efficacy and safety of Lianhua Qingwen combined with conventional antiviral Western Medicine in the treatment of coronavirus disease (covid-19) in 2019: Protocol for a systematic review and meta-analysis. Medicine, 99:e21404. |
| [250] | Gao K, Song YP, Chen H, Zhao LT, Ma L (2020). Therapeutic efficacy of Qingfei Paidu decoction combined with antiviral drugs in the treatment of corona virus disease 2019: A protocol for systematic review and meta analysis. Medicine, 99:e20489. |
| [251] | Cao C, Zhen Z, Kuang S, Xu T (2020). Reduning injection combined with western medicine for pneumonia: A protocol for systematic review and meta-analysis. Medicine, 99:e22757. |