| | | |
| --- | --- | --- |
| Original Article | | | |
Proteolytic Cleavage of Apolipoprotein E in the Down Syndrome Brain
Day Ryan J.1, McCarty Katie L.2, Ockerse Kayla E.1, Head Elizabeth2, Rohn Troy T.1
1Department of Biological Sciences, Boise State University, Boise, Idaho, 83725, USA
2Department of Pharmacology& Nutritional Sciences, Sanders-Brown Center on Aging, University of Kentucky, Lexington, KY, 40536, USA
Abstract

Down syndrome (DS) is one of the most common genetic causes of intellectual disability and is characterized by a number of behavioral as well as cognitive symptoms. Many of the neuropathological features of early-onset Alzheimer's disease (AD) including senile plaques and neurofibrillary tangles (NFTs) are also present in people with DS as a result of triplication of the amyloid precursor gene on chromosome 21. Evidence suggests that harboring one or both apolipoprotein E4 (APOE4) alleles may increase the risk for AD due to the proteolytic cleavage of apoE4 and a subsequent loss of function. To investigate a role for the apoE proteolysis in vivo, we compared three autopsy groups; 7 DS with AD neuropathology cases over 40 years, 5 young DS cases without AD pathology under 40 years (YDS) and 5 age-matched control cases over 40 years by immunohistochemistry utilizing an antibody that detects the amino-terminal fragment of apoE. Application of this antibody, termed the amino-terminal apoE fragment antibody (nApoECF) revealed labeling of pyramidal neurons in the frontal cortex of YDS cases, whereas in the DS-AD group, labeling with nApoECF was prominent within NFTs. NFT labeling with nApoECF was significantly greater in the hippocampus versus the frontal cortex in the same DS-AD cases, suggesting a regional distribution of truncated apoE. Colocalization immunofluorescence experiments indicated that 52.5% and 53.2% of AT8- and PHF-1-positive NFTs, respectively, also contained nApoECF. Collectively, these data support a role for the proteolytic cleavage of apoE in DS and suggest that apoE fragmentation is closely associated with NFTs.

Keywords Alzheimer's disease beta-amyloid paired helical filaments proteolysis neurofibrillary tangles immunohistochemistry
Corresponding Authors: Rohn Troy T.
About author:

These authors equally contribute this work

Issue Date: 09 January 2016

Table 1 Case Demographics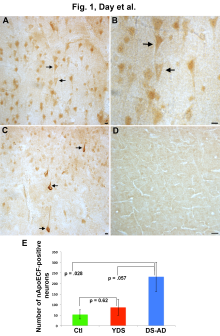 Figure 1.

(A-B): Application of the nApoECF antibody in frontal cortex tissue sections from YDS cases revealed labeling predominantly within pyramidal neurons (arrows, low magnification Panel A) and (arrows, high magnification Panel B). (C): In contrast, in DS-AD cases, in addition to neuronal staining, more mature, fibrillary NFTS were labeled with the nApoECF antibody (arrows), whereas little immunoreactivity was observed in age-matched control cases (D). (E): A least significant difference post hoc test analysis of the number of nApoECF-positive neurons and NFTs in frontal cortex indicated a significant difference between DS-AD cases and age-matched controls (p= 0.02) and YDS groups (p = 0.05). For all three groups, n = 5, ±S.E.M. All scale bars represent 10 µm except for Panel D, which represents 50 µm.
Figure 2.

Application of the nApoECF antibody in hippocampal tissue sections revealed very little labeling in YDS cases (A) or in age-matched controls (C), however, strong immunolabeling of NFTs was observed in DS-AD cases (B). (D): Three DS-AD cases were quantified (±S.D.) for the number of nApoECF-positive NFTs comparing hippocampal versus frontal cortex regions. The data revealed a clear difference between the numbers of labeled NFTs between the two regions with the hippocampus giving consistently higher numbers. Case #1, #2, and #3 correspond to subjects 13, 12, and 11, respectively, as listed in Table 1. All scale bars for Panels A and C represent 50 µm and 10 µm for Panel D.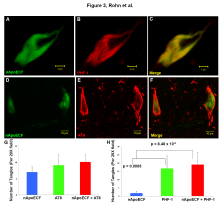 Figure 3.

(A-C): Representative confocal immunofluorescence double-labeling utilizing the nApoECF antibody (green, Panel A) and PHF-1 (red, Panel B) revealed strong co-localization of the two antibodies within a NFT located in the hippocampus (Panel C). (D-F): Identical to Panels A-C with the exception of AT8 (red) being employed. For Panels A-F, images were captured from the CA1 region of the hippocampus in representative DS-AD cases. (G and H): Quantification of NFTs double-labeled by PHF-1, AT8, and nApoECF. For both panels, data show the number of NFTs labeled with nApoECF alone (blue bar), AT8 (G) or PHF-1 (H) alone (green bars) or those NFTs that were labeled with both antibodies (red bars). NFTs were identified in a 20X field within hippocampal tissue sections by immunofluorescence overlap microscopy (n=3 fields using three different DS cases) ±S.E.M. For Panel G there were no statistical differences between the various test groups. Data indicated that roughly 52.5% of AT8-positive NFTs also contained nApoECF, whereas 53.2% of all identified PHF-1-positive NFTs were labeled with nApoECF.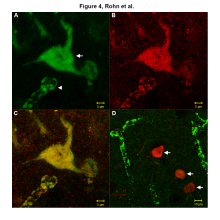 Figure 4.

(A-C): Representative confocal immunofluorescence double-labeling in CA1 region of the hippocampus in DS-AD cases utilizing an antibody that recognizes the amino-terminal region of full-length apoE4 (green, A) and nApoECF (red, B), with the overlap image shown in Panel C. Strong co-localization was indicated in both apparent NFTs and blood vessels (yellow, C). (D): In contrast, no co-localization with nApoECF was observed in a similar experiment using a full-length antibody to the C-terminal end of apoE4, which strongly labeled blood vessels (green, D), but not NFTs (arrows, D).
| | |
| --- | --- |
| [1] | Lejeune J, Gautier M, Turpin R (1959). [Study of somatic chromosomes from 9 mongoloid children]. Comptes rendus hebdomadaires des seances de l'Academie des sciences, 248: 1721-1722 |
| [2] | Sherman SL, Allen EG, Bean LH, Freeman SB (2007). Epidemiology of Down syndrome. Mental retardation and developmental disabilities research reviews, 13: 221-227 |
| [3] | Weijerman ME, de Winter JP (2010). Clinical practice. The care of children with Down syndrome. European journal of pediatrics, 169: 1445-1452 |
| [4] | Vis JC, Duffels MG, Winter MM, Weijerman ME, Cobben JM, Huisman SA, et al. (2009). Down syndrome: a cardiovascular perspective. Journal of intellectual disability research : JIDR, 53: 419-425 |
| [5] | Hilton JM, Fitzgerald DA, Cooper DM (1999). Respiratory morbidity of hospitalized children with Trisomy 21. Journal of paediatrics and child health, 35: 383-386 |
| [6] | Gibson PA, Newton RW, Selby K, Price DA, Leyland K, Addison GM (2005). Longitudinal study of thyroid function in Down's syndrome in the first two decades. Archives of disease in childhood, 90: 574-578 |
| [7] | Caird MS, Wills BP, Dormans JP (2006). Down syndrome in children: the role of the orthopaedic surgeon. The Journal of the American Academy of Orthopaedic Surgeons, 14: 610-619 |
| [8] | American Academy of Pediatrics. Committee on G (2001). American Academy of Pediatrics: Health supervision for children with Down syndrome. Pediatrics, 107: 442-449 |
| [9] | Roizen NJ, Patterson D (2003). Down's syndrome. Lancet, 361: 1281-1289 |
| [10] | Wisniewski KE, Dalton AJ, McLachlan C, Wen GY, Wisniewski HM (1985). Alzheimer's disease in Down's syndrome: clinicopathologic studies. Neurology, 35: 957-961 |
| [11] | Mann DM, Esiri MM (1989). The pattern of acquisition of plaques and tangles in the brains of patients under 50 years of age with Down's syndrome. J Neurol Sci, 89: 169-179 |
| [12] | Hof PR, Bouras C, Perl DP, Sparks DL, Mehta N, Morrison JH (1995). Age-related distribution of neuropathologic changes in the cerebral cortex of patients with Down's syndrome. Quantitative regional analysis and comparison with Alzheimer's disease. Arch Neurol, 52: 379-391 |
| [13] | Zigman WB, Schupf N, Urv T, Zigman A, Silverman W (2002). Incidence and temporal patterns of adaptive behavior change in adults with mental retardation. American journal of mental retardation : AJMR, 107: 161-174 |
| [14] | Schupf N, Sergievsky GH (2002). Genetic and host factors for dementia in Down's syndrome. The British journal of psychiatry : the journal of mental science, 180: 405-410 |
| [15] | Weisgraber KH, Rall SCJr., Mahley RW (1981). Human E apoprotein heterogeneity. Cysteine-arginine interchanges in the amino acid sequence of the apo-E isoforms. J Biol Chem, 256: 9077-9083 |
| [16] | Eisenstein M (2011). Genetics: finding risk factors. Nature, 475: S20-22 |
| [17] | Genin E, Hannequin D, Wallon D, Sleegers K, Hiltunen M, Combarros O, et al. (2011). APOE and Alzheimer disease: a major gene with semi-dominant inheritance. Molecular psychiatry, 16: 903-907 |
| [18] | Rohn TT, McCarty KL, Love JE, Head E (2014). Is Apolipoprotein E4 an Important Risk Factor for Dementia in Persons with Down Syndrome? Journal of Parkinson's disease and Alzheimer's disease, 1 |
| [19] | Zigman WB, Jenkins EC, Tycko B, Schupf N, Silverman W (2005). Mortality is associated with apolipoprotein E epsilon4 in nondemented adults with Down syndrome. Neurosci Lett, 390: 93-97 |
| [20] | Prasher VP, Sajith SG, Rees SD, Patel A, Tewari S, Schupf N, et al. (2008). Significant effect of APOE epsilon 4 genotype on the risk of dementia in Alzheimer's disease and mortality in persons with Down syndrome. International journal of geriatric psychiatry, 23: 1134-1140 |
| [21] | Rohn TT (2013). Proteolytic cleavage of apolipoprotein e4 as the keystone for the heightened risk associated with Alzheimer's disease. International journal of molecular sciences, 14: 14908-14922 |
| [22] | Rohn TT, Catlin LW, Coonse KG, Habig JW (2012). Identification of an amino-terminal fragment of apolipoprotein E4 that localizes to neurofibrillary tangles of the Alzheimer's disease brain. Brain Res, 1475: 106-115 |
| [23] | Rohn TT, Day RJ, Sheffield CB, Rajic AJ, Poon WW (2014). Apolipoprotein E pathology in vascular dementia. Int J Clin Exp Pathol, 7: 938-947 |
| [24] | Rohn TT, Day RJ, Catlin LW, Brown RJ, Rajic AJ, Poon WW (2013). Immunolocalization of an amino-terminal fragment of apolipoprotein E in the Pick's disease brain. PLoS One, 8: e80180 |
| [25] | Montine TJ, Phelps CH, Beach TG, Bigio EH, Cairns NJ, Dickson DW, et al. (2012). National Institute on Aging-Alzheimer's Association guidelines for the neuropathologic assessment of Alzheimer's disease: a practical approach. Acta Neuropathol, 123: 1-11 |
| [26] | Goedert M, Jakes R, Vanmechelen E (1995). Monoclonal antibody AT8 recognises tau protein phosphorylated at both serine 202 and threonine 205. Neurosci Lett, 189: 167-169 |
| [27] | Goedert M, Jakes R, Crowther RA, Six J, Lubke U, Vandermeeren M, et al. (1993). The abnormal phosphorylation of tau protein at Ser-202 in Alzheimer disease recapitulates phosphorylation during development. Proc Natl Acad Sci U S A, 90: 5066-5070 |
| [28] | Greenberg SG, Davies P, Schein JD, Binder LI (1992). Hydrofluoric acid-treated tau PHF proteins display the same biochemical properties as normal tau. J Biol Chem, 267: 564-569 |
| [29] | Huang Y, Liu XQ, Wyss-Coray T, Brecht WJ, Sanan DA, Mahley RW (2001). Apolipoprotein E fragments present in Alzheimer's disease brains induce neurofibrillary tangle-like intracellular inclusions in neurons. Proc Natl Acad Sci U S A, 98: 8838-8843 |
| [30] | Harris FM, Brecht WJ, Xu Q, Tesseur I, Kekonius L, Wyss-Coray T, et al. (2003). Carboxyl-terminal-truncated apolipoprotein E4 causes Alzheimer's disease-like neurodegeneration and behavioral deficits in transgenic mice. Proc Natl Acad Sci U S A, 100: 10966-10971 |
| [31] | Serrano-Pozo A, Frosch MP, Masliah E, Hyman BT (2011). Neuropathological alterations in Alzheimer disease. Cold Spring Harbor perspectives in medicine, 1: a006189 |
| [32] | Morrow JA, Segall ML, Lund-Katz S, Phillips MC, Knapp M, Rupp B, et al. (2000). Differences in stability among the human apolipoprotein E isoforms determined by the amino-terminal domain. Biochemistry, 39: 11657-11666 |
| [33] | Verghese PB, Castellano JM, HoltzmanDM Apolipoprotein E in Alzheimer's disease and other neurological disorders. Lancet Neurol, 10: 241-252 |