| | | |
| --- | --- | --- |
| Orginal Article | | | |
Exploration of Novel Anti-Oxidant Protein Sestrin in Frailty Syndrome in Elderly
Rai Nitish1, Venugopalan G.2, Pradhan Rashmita2, Ambastha Akash2, Upadhyay Ashish Datt3, Dwivedi Sadanand3, Dey Aparajit B.2, Dey Sharmistha1,*
1Department of Biophysics,
2Department of Geriatric Medicine,
3Department of Neurology,
4Department of Biostatistics, All India Institute of Medical Sciences, New Delhi - 110029, India
Abstract

Frailty in elderly is very much familiar with a decline in the musculoskeletal system. Muscle degeneration in the lower organism was observed due to loss of anti-oxidant protein Sestrin. The aim of the study is to determine the level of Sestrin1 and Sestrin2 in the serum of frail and non-frail elderly to associate their impact in frailty syndrome. Subjects with age ≥ 65 years were enrolled from Geriatric Medicine OPD of All India Institute of Medical Sciences, New Delhi (N= 92). Among them, 51 subjects were identified as frail and rest 41 were regarded as non-frail according to "deficit accumulation model of Rockwood." The study was performed by surface plasmon resonance and validated by western blot. Sestrin1 and Sestrin2 were found to be significantly reduced in frail compare to non-frail elderly. Furthermore, even after the adjustment for age, gender and education, the level of Sestrin1 and Sestrin2 remain significantly lower across the groups. The Sestrin1 level was significantly lower in various categories like age, gender, BMI, education, ADL, number of co-morbidity along with other clinico-pathological features. ROC analysis also revealed the distinction of frail and non-frail in respect to serum Sestrin1 and Sestrin2. This study highlighted the new and promising role of serum Sestrin in frail and non-frail elderly. In future, it can be utilized as molecular marker to assess the potential diagnostic value for clinical purpose.

Keywords Serum Surface Plasmon Resonance Protein marker Immunoblot
Corresponding Authors: Dey Sharmistha
About author:

These authors contributed equally to this work.

Issue Date: 01 April 2018

Table 1 Demographic data of frail and nonfrail subjects: age, BMI, gait speed and grip strength illustrated as mean ± S.D.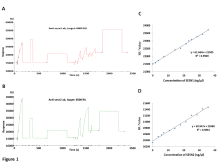 Figure 1. Surface Plasmon Resonance. Immobilization of (A) anti-human Sesn1 IgG and (B) anti-human Sesn2 IgG on the CM5 sensor chip. The linear standard curve, obtained by plotting different response unit (RU) against their respective concentration, showing the binding of increasing concentration of purified (C) Sesn1 and (D) Sesn2 with their respective antibody, resulting in a corresponding increase in RU values.

Table 2 Unadjusted and Adjusted (for age, gender and education) serum protein levels (mean ± S.E.) (95% confidence interval) (ng/µl) of frail and nonfrail subjects.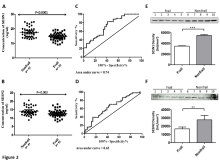 Figure 2. Serum Sestrin level. Scatter graph showing the levels (ng/µl) of serum (A) Sesn1 and (B) Sesn2 in frail (n=51) and nonfrail (n=41) subjects. The serum concentration, estimated by SPR technology, showed a significant decline of Sesn1 (p<0.0001) and Sesn2 (p = 0.003) in frail compare to nonfrail. ROC analysis showing the area under curve for (C) Sesn1 and (D) Sesn2 to differentiate between frail and nonfrail. The area under curve for Sesn1 = 0.74 and Sesn2 = 0.65. The western blot followed by density analysis was performed to confirm the differential expression of (E) Sesn1 and (F) Sesn2 in the serum of frail and nonfrail subjects. Lane 1-5: frail; Lane 6-10: nonfrail. For E and F, values are expressed as Intensity/mm2 for frail and nonfrail

Table 3 The concentration of serum Sesn1 and Sesn2 (ng/µl) as mean ± SD with different clinico-pathological features.
| | |
| --- | --- |
| [1] | Mathers CD, Stevens GA, Boerma T, White RA, Tobias MI (2015). Causes of international increases in older age life expectancy. Lancet, 385: 540-548. |
| [2] | Fried LP, Ferrucci L, Darer J, Williamson JD, Anderson G (2004). Untangling the concepts of disability, frailty, and comorbidity: implications for improved targeting and care. J Gerontol A Biol Sci Med Sci, 59: 255-263. |
| [3] | Cesari M, Vellas B (2012). Sarcopenia: a novel clinical condition or still a matter for research? J Am Med Dir Assoc, 13: 766-767. |
| [4] | Landi F, Liperoti R, Fusco D, Mastropaolo S, Quattrociocchi D, Proia A, et al. (2012). Sarcopenia and mortality among older nursing home residents. J Am Med Dir Assoc, 13: 121-126. |
| [5] | Rockwood K, Mitnitski A (2007). Frailty in relation to the accumulation of deficits. J Gerontol A Biol Sci Med Sci, 62: 722-727. |
| [6] | Song X, Mitnitski A, Rockwood K (2010). Prevalence and 10-year outcomes of frailty in older adults in relation to deficit accumulation. J Am Geriatr Soc, 58: 681-687. |
| [7] | Calvani R, Marini F, Cesari M, Tosato M, Anker SD, von Haehling S, et al. (2015). Biomarkers for physical frailty and sarcopenia: state of the science and future developments. J Cachexia Sarcopenia Muscle, 6: 278-286. |
| [8] | Viña J, Tarazona-Santabalbina FJ, Pérez-Ros P, Martínez-Arnau FM, Borras C, Olaso-Gonzalez G, et al. (2016). Biology of frailty: Modulation of ageing genes and its importance to prevent age-associated loss of function. Mol Aspects Med, 50: 88-108. |
| [9] | Rodriguez-Mañas L, Fried LP (2015). Frailty in the clinical scenario. Lancet, 385: e7-9. |
| [10] | Sanchis-Gomar F, Gómez-Cabrera MC, Viña J (2011). The loss of muscle mass and sarcopenia: non hormonal intervention. Exp Gerontol, 46: 967-969. |
| [11] | Viña J, Salvador-Pascual A, Tarazona-Santabalbina FJ, Rodriguez-Mañas L, Gomez-Cabrera MC (2016). Exercise training as a drug to treat age associated frailty. Free Radic Biol Med, 98: 159-164. |
| [12] | Robinson MM, Dasari S, Konopka AR, Johnson ML, Manjunatha S, Esponda RR, et al. (2017). Enhanced Protein Translation Underlies Improved Metabolic and Physical Adaptations to Different Exercise Training Modes in Young and Old Humans. Cell Metab, 25: 581-592. |
| [13] | McPhee JS, French DP, Jackson D, Nazroo J, Pendleton N, Degens H (2016) Physical activity in older age: perspectives for healthy ageing and frailty. Biogerontology, 17: 567-580. |
| [14] | de Labra C, Guimaraes-Pinheiro C, Maseda A, Lorenzo T, Millán-Calenti JC (2016) Effects of physical exercise interventions in frail older adults: a systematic review of randomized controlled trials. BMC Geriatr, 15: 154. |
| [15] | Davies KJ, Quintanilha AT, Brooks GA, Packer L (1982). Free radicals and tissue damage produced by exercise. Biochem Biophys Res Commun, 107: 1198-1205. |
| [16] | Budanov AV, Sablina AA, Feinstein E, Koonin EV, Chumakov PM (2004). Regeneration of peroxiredoxins by p53-regulated sestrins, homologs of bacterial AhpD. Science, 304: 596-600. |
| [17] | Sanchis-Gomar F (2013). Sestrins: novel antioxidant and AMPK-modulating functions regulated by exercise? J Cell Physiol, 228: 1647-1650. |
| [18] | Lee JH, Budanov AV, Park EJ, Birse R, Kim TE, Perkins GA, et al. (2010). Sestrin as a feedback inhibitor of TOR that prevents age-related pathologies. Science, 327: 1223-1228. |
| [19] | Kumar R, Mohan N, Upadhyay AD, Singh AP, Sahu V, Dwivedi S, et al. (2014). Identification of serum sirtuins as novel noninvasive protein markers for frailty. Aging Cell, 13: 975-980. |
| [20] | Brinkmann C, Brixius K (2013). Peroxiredoxins and sports: New insights on the antioxidative defense. J Physiol Sci, 63: 1-5. |
| [21] | Kavazis AN, Alvarez S, Talbert E, Lee Y, Powers SK (2009). Exercise training induces a cardioprotective phenotype and alterations in cardiac subsarcolemmal and intermyofibrillar mitochondrial proteins. AmJ Physiol Heart Circ Physiol, 297: H144-H152. |
| [22] | Yang YL, Loh KS, Liou BY, Chu IH, Kuo CJ, Chen HD, et al. (2013). SESN-1 is a positive regulator of lifespan in Caenorhabditis elegans. Exp Gerontol, 48: 371-379. |
| [23] | Sharafi H, Rahimi R (2012). The effect of resistance exercise on p53, caspase-9, and caspase-3 in trained and untrained men. J Strength Cond Res, 26: 1142-1148. |
| [24] | Pieper R, Gatlin CL, Makusky AJ, Russo PS, Schatz CR, Miller SS, et al. (2003). The human serum proteome: display of nearly 3700 chromatographically separated protein spots on two-dimensional electrophoresis gels and identification of 325 distinct proteins. Proteomics, 3: 1345-1364. |
| [25] | Taylor WH (1969). Serum enzymes in the diagnosis of disease. Br J Anaesth, 41: 227-234. |
| [26] | Thadikkaran L, Siegenthaler MA, Crettaz D, Queloz PA, Schneider P, Tissot JD (2005). Recent advances in blood-related proteomics. Proteomics, 5: 3019-3034. |
| [27] | Anderson NL, Anderson NG (2002). The human plasma proteome: history, character, and diagnostic prospects. Mol Cell Proteomics, 1: 845-867. |
| [28] | Cesari M, Fielding R, Bénichou O, Bernabei R, Bhasin S, Guralnik JM, et al. (2015). Pharmacological interventions in frailty and sarcopenia: report by the international conference on frailty and sarcopenia research task force. J Frailty Aging, 4: 114-120. |