| | | |
| --- | --- | --- |
| Original Article | | | |
Influence of Environment and Lifestyle on Incidence and Progress of Amyotrophic Lateral Sclerosis in A German ALS Population
Sonja Korner1,*, Johanna Kammeyer1, Antonia Zapf2, Magdalena Kuzma-Kozakiewicz3, Maria Piotrkiewicz4, Bożenna Kuraszkiewicz4, Hanna Goszczynska4, Marta Gromicho5, Julian Grosskreutz6, Peter M. Andersen7, Mamede de Carvalho5, Susanne Petri1,8
1Department of Neurology, Hannover Medical School, Germany.
2Department of Medical Statistics, University Medical Center Göttingen Germany.
3Department of Neurology, Medical University of Warsaw, Poland.
4Nalecz Institute of Biocybernetics and Biomedical Engineering, Polish Academy of Sciences, Warsaw, Poland.
5Institute of Physiology-Instituto de Medicina Molecular, Faculty of Medicine, University of Lisbon, Portugal
6Department of Neurology, University Hospital Jena, Jena, Germany.
7Department of Pharmacology and Clinical Neuroscience, Umea University, Sweden.
8Center for Systems Neuroscience (ZSN), Hannover, Germany.
Abstract

Amyotrophic lateral sclerosis (ALS) is a neurodegenerative disease mainly affecting upper and lower motor neurons in the brain and spinal cord. Pathogenesis of ALS is still unclear, and a multifactorial etiology is presumed. The remarkable clinical heterogeneity between different phenotypes of ALS patients suggests that environmental and lifestyle factors could play a role in onset and progression of ALS. We analyzed a cohort of 117 ALS patients and 93 controls. ALS patients and controls were compared regarding physical activity, dietary habits, smoking, residential environment, potentially toxic environmental factors and profession before symptom onset and throughout the disease course. Data were collected by a personal interview. For statistical analysis descriptive statistics, statistical tests and analysis of variance were used. ALS patients and controls did not differ regarding smoking, diet and extent of physical training. No higher frequency of toxic influences could be detected in the ALS group. ALS patients lived in rural environment considerably more often than the control persons, but this was not associated with a higher percentage of occupation in agriculture. There was also a higher percentage of university graduates in the ALS group. Patients with bulbar onset were considerably more often born in an urban environment as compared to spinal onset. Apart from education and environment, ALS phenotypes did not differ in any investigated environmental or life-style factor. The rate of disease progression was not influenced by any of the investigated environmental and life-style factors. The present study could not identify any dietary habit, smoking, physical activity, occupational factor as well as toxic influences as risk factor or protective factor for onset or progression of ALS. Living in rural environment and higher education might be associated with higher incidence of ALS.

Keywords ALS environment life-style epidemiology phenotypes
Corresponding Authors: Korner Sonja
About author:

Currently address: Department of Neurology, Zhongshan Hospital, Fudan University, Shanghai, China

Issue Date: 23 January 2018

Table 1 Characterization of the ALS patient cohort.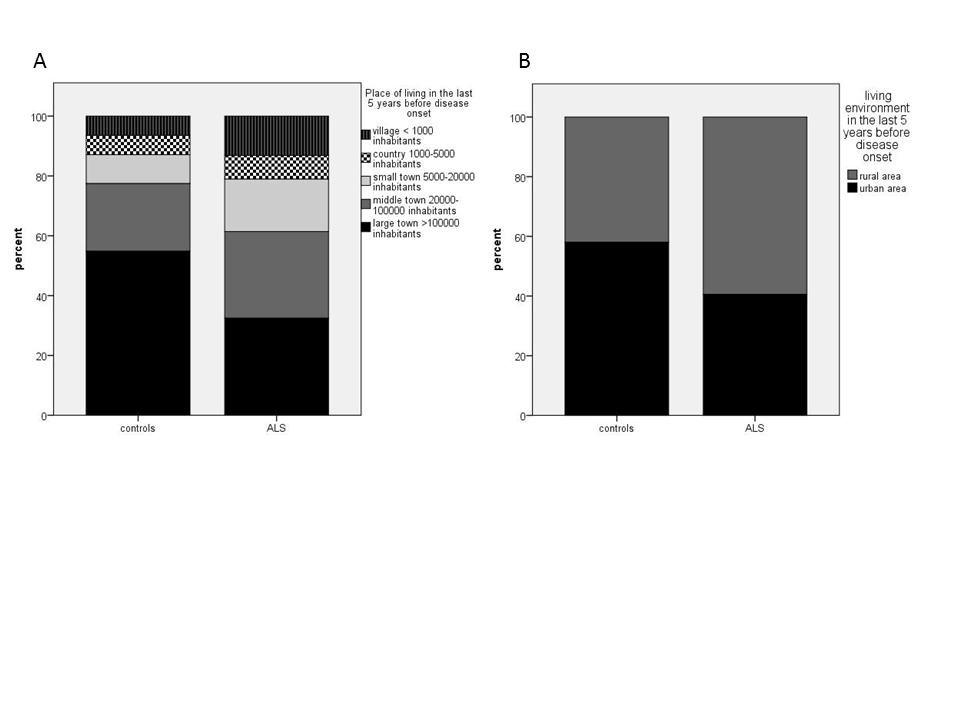 Figure 1. Place of living of ALS-patients and controls. ALS-patients relevantly more frequently lived in smaller towns (p = 0.021) (A) and rural areas (p = 0.013) (B).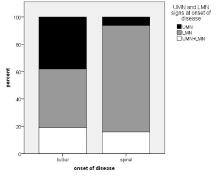 Figure 2. Patients with bulbar onset showed UMN involvement more frequently than patients with spinal onset (p<0.001).

Table 2 Comparison of patients and ALS-patients (93 vs 117).

Table 3 Percentages of university graduates in our ALS patient group compared with the national average 2016 in Germany according to information of the federal statistical office.

Table 4 Comparison of ALS-patients with bulbar and spinal onset (21 vs 96).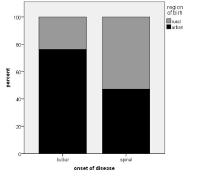 Figure 3. Bulbar onset patients relevantly more often than spinal onset patients were born in an urban environment (p = 0.017).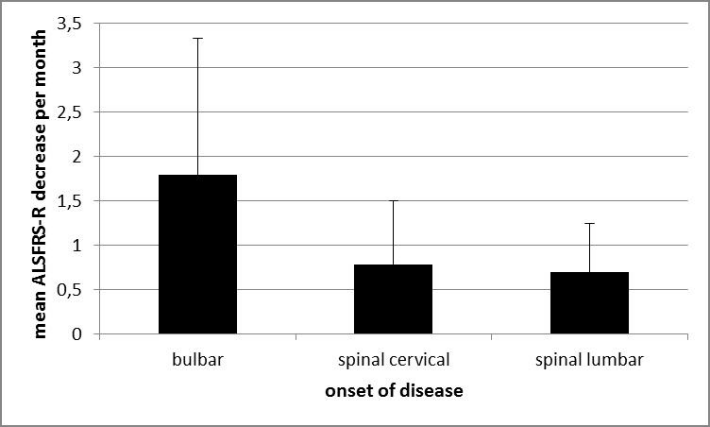 Figure 4. Bulbar onset was associated with faster disease progression (p=0.001).

Table 5 Comparison of ALS-patients with predominant upper motor neuron (UMN) or lower motor neuron (LMN) symptoms or with equal UMN and LMN symptoms (14 vs 83 vs 19).
| | |
| --- | --- |
| [1] | Turner MR, Wotton C, Talbot K, Goldacre MJ (2012). Cardiovascular fitness as a risk factor for amyotrophic lateral sclerosis: indirect evidence from record linkage study. J Neurol Neurosurg Psychiatry, 83(4):395-8. |
| [2] | Sutedja NA, van der Schouw YT, Fischer K, Sizoo EM, Huisman MH, Veldink JH, et al (2011). Beneficial vascular risk profile is associated with amyotrophic lateral sclerosis. J Neurol Neurosurg Psychiatry, 82(6):638-42. |
| [3] | Dorst J, Kuhnlein P, Hendrich C, Kassubek J, Sperfeld AD, Ludolph AC (2011). Patients with elevated triglyceride and cholesterol serum levels have a prolonged survival in amyotrophic lateral sclerosis. J Neurol, 258(4):613-7. |
| [4] | Dupuis L, Corcia P, Fergani A, Gonzalez De Aguilar JL, Bonnefont-Rousselot D, Bittar R, et al (2008). Dyslipidemia is a protective factor in amyotrophic lateral sclerosis. Neurology, 70(13):1004-9. |
| [5] | van Es MA, Hardiman O, Chio A, Al-Chalabi A, Pasterkamp RJ, Veldink JH, et al (2017). Amyotrophic lateral sclerosis. Lancet, 390(10107):2084-98. |
| [6] | Beghi E, Mennini T, Bendotti C, Bigini P, Logroscino G, Chio A, et al (2007). The heterogeneity of amyotrophic lateral sclerosis: a possible explanation of treatment failure. Curr Med Chem, 14(30):3185-200. |
| [7] | Korner S, Kollewe K, Ilsemann J, Muller-Heine A, Dengler R, Krampfl K, et al (2013). Prevalence and prognostic impact of comorbidities in amyotrophic lateral sclerosis. Eur J Neurol, 20(4):647-54. |
| [8] | Dupuis L, Pradat PF, Ludolph AC, Loeffler JP (2011). Energy metabolism in amyotrophic lateral sclerosis. Lancet Neurol, 10(1):75-82. |
| [9] | Pradat PF, Bruneteau G, Gordon PH, Dupuis L, Bonnefont-Rousselot D, Simon D, et al (2010). Impaired glucose tolerance in patients with amyotrophic lateral sclerosis. Amyotroph Lateral Scler, 11(1-2):166-71. |
| [10] | Hamidou B, Couratier P, Besancon C, Nicol M, Preux PM, Marin B (2014). Epidemiological evidence that physical activity is not a risk factor for ALS. Eur J Epidemiol, 29(7):459-75. |
| [11] | Chio A, Calvo A, Dossena M, Ghiglione P, Mutani R, Mora G (2009). ALS in Italian professional soccer players: the risk is still present and could be soccer-specific. Amyotroph Lateral Scler, 10(4):205-9. |
| [12] | Pupillo E, Messina P, Giussani G, Logroscino G, Zoccolella S, Chio A, et al (2014). Physical activity and amyotrophic lateral sclerosis: a European population-based case-control study. Ann Neurol, 75(5):708-16. |
| [13] | Beghi E, Logroscino G, Chio A, Hardiman O, Millul A, Mitchell D, et al (2010). Amyotrophic lateral sclerosis, physical exercise, trauma and sports: results of a population-based pilot case-control study. Amyotroph Lateral Scler, 11(3):289-92. |
| [14] | Veldink JH, Kalmijn S, Groeneveld GJ, Titulaer MJ, Wokke JH, van den Berg LH (2005). Physical activity and the association with sporadic ALS. Neurology, 64(2):241-5. |
| [15] | Longstreth WT, McGuire V, Koepsell TD, Wang Y, van BG (1998). Risk of amyotrophic lateral sclerosis and history of physical activity: a population-based case-control study. Arch Neurol, 55(2):201-6. |
| [16] | Feddermann-Demont N, Junge A, Weber KP, Weller M, Dvorak J, Tarnutzer AA (2017). Prevalence of potential sports-associated risk factors in Swiss amyotrophic lateral sclerosis patients. Brain Behav, 7(4):e00630. |
| [17] | Luna J, Logroscino G, Couratier P, Marin B (2017). Current issues in ALS epidemiology: Variation of ALS occurrence between populations and physical activity as a risk factor. Rev Neurol (Paris), 173(5):244-53. |
| [18] | de Carvalho M, Ryczkowski A, Andersen P, Gromicho M, Grosskreutz J, Kuzma-Kozakiewicz M, et al (2017). International Survey of ALS Experts about Critical Questions for Assessing Patients with ALS. Amyotroph Lateral Scler Frontotemporal Degener, 18(7-8):505-10. |
| [19] | Statistisches Bundesamt (2016). Bildungsstand der Bevölkerung. Bevölkerung 2015 nach Altersgruppen und Bildungsabschluss. Wiesbaden, Statistisches Bundesamt, 40-41. |
| [20] | Lehman EJ, Hein MJ, Baron SL, Gersic CM (2012). Neurodegenerative causes of death among retired National Football League players. Neurology, 79(19):1970-4. |
| [21] | Abel EL (2007). Football increases the risk for Lou Gehrig's disease, amyotrophic lateral sclerosis. Percept Mot Skills, 104(3 Pt 2):1251-4. |
| [22] | Kassa RM, Bonafede R, Boschi F, Bentivoglio M, Mariotti R (2017). Effect of physical exercise and anabolic steroid treatment on spinal motoneurons and surrounding glia of wild-type and ALS mice. Brain Res, 1657:269-78. |
| [23] | Armon C (2007). Sports and trauma in amyotrophic lateral sclerosis revisited. J Neurol Sci, 262(1-2):45-53. |
| [24] | Binazzi A, Belli S, Uccelli R, Desiato MT, Talamanca IF, Antonini G, et al (2009). An exploratory case-control study on spinal and bulbar forms of amyotrophic lateral sclerosis in the province of Rome. Amyotroph Lateral Scler, 10(5-6):361-9. |
| [25] | Sutedja NA, Veldink JH, Fischer K, Kromhout H, Wokke JH, Huisman MH, et al (2007). Lifetime occupation, education, smoking, and risk of ALS. Neurology, 69(15):1508-14. |
| [26] | Kamel F, Umbach DM, Munsat TL, Shefner JM, Sandler DP (1999). Association of cigarette smoking with amyotrophic lateral sclerosis. Neuroepidemiology, 18(4):194-202. |
| [27] | Weisskopf MG, McCullough ML, Calle EE, Thun MJ, Cudkowicz M, Ascherio A (2004). Prospective study of cigarette smoking and amyotrophic lateral sclerosis. Am J Epidemiol, 160(1):26-33. |
| [28] | Calvo A, Canosa A, Bertuzzo D, Cugnasco P, Solero L, Clerico M, et al (2016). Influence of cigarette smoking on ALS outcome: a population-based study. J Neurol Neurosurg Psychiatry, 87(11):1229-33. |
| [29] | Furby A, Beauvais K, Kolev I, Rivain JG, Sebille V (2010). Rural environment and risk factors of amyotrophic lateral sclerosis: a case-control study. J Neurol, 257(5):792-8. |
| [30] | Qureshi MM, Hayden D, Urbinelli L, Ferrante K, Newhall K, Myers D, et al (2006). Analysis of factors that modify susceptibility and rate of progression in amyotrophic lateral sclerosis (ALS). Amyotroph Lateral Scler, 7(3):173-82. |
| [31] | Bharucha NE, Schoenberg BS, Raven RH, Pickle LW, Byar DP, Mason TJ (1983). Geographic distribution of motor neuron disease and correlation with possible etiologic factors. Neurology, 33(7):911-5. |
| [32] | Granieri E, Carreras M, Tola R, Paolino E, Tralli G, Eleopra R, et al (1988). Motor neuron disease in the province of Ferrara, Italy, in 1964-1982. Neurology, 38(10):1604-8. |
| [33] | Migliaretti G, Berchialla P, Dalmasso P, Cavallo F, Chio A (2013). Amyotrophic lateral sclerosis in Piedmont (Italy): a Bayesian spatial analysis of the incident cases. Amyotroph Lateral Scler Frontotemporal Degener, 14(1):58-65. |
| [34] | Cruz DC, Nelson LM, McGuire V, Longstreth WT Jr, (1999). Physical trauma and family history of neurodegenerative diseases in amyotrophic lateral sclerosis: a population-based case-control study. Neuroepidemiology, 18(2):101-10. |
| [35] | Vinceti M, Filippini T, Violi F, Rothman KJ, Costanzini S, Malagoli C, et al (2017). Pesticide exposure assessed through agricultural crop proximity and risk of amyotrophic lateral sclerosis. Environ Health, 16(1):91. |
| [36] | Keren N, Scott KM, Tsuda M, Barnwell J, Knibb JA, Ellis CM, et al (2014). Evidence of an environmental effect on survival in ALS. Amyotroph Lateral Scler Frontotemporal Degener, 15(7-8):528-33. |
| [37] | Govoni V, Granieri E, Fallica E, Casetta I (2005). Amyotrophic lateral sclerosis, rural environment and agricultural work in the Local Health District of Ferrara, Italy, in the years 1964-1998. J Neurol, 252(11):1322-7. |
| [38] | Govoni V, Della CE, Cesnik E, Casetta I, Granieri E (2017). Can the age at onset give a clue to the pathogenesis of ALS? Acta Neurol Belg, 117(1):221-7. |
| [39] | Sutedja NA, Veldink JH, Fischer K, Kromhout H, Heederik D, Huisman MH, et al (2009). Exposure to chemicals and metals and risk of amyotrophic lateral sclerosis: a systematic review. Amyotroph Lateral Scler, 10(5-6):302-9. |
| [40] | Weisskopf MG, McCullough ML, Morozova N, Calle EE, Thun MJ, Ascherio A (2005). Prospective study of occupation and amyotrophic lateral sclerosis mortality. Am J Epidemiol, 162(12):1146-52. |
| [41] | Weisskopf MG, Morozova N, O'Reilly EJ, McCullough ML, Calle EE, Thun MJ, et al (2009). Prospective study of chemical exposures and amyotrophic lateral sclerosis. J Neurol Neurosurg Psychiatry, 80(5):558-61. |
| [42] | Koeman T, Slottje P, Schouten LJ, Peters S, Huss A, Veldink JH, et al (2017). Occupational exposure and amyotrophic lateral sclerosis in a prospective cohort. Occup Environ Med, 74(8):578-85. |
| [43] | Fang F, Quinlan P, Ye W, Barber MK, Umbach DM, Sandler DP, et al (2009). Workplace exposures and the risk of amyotrophic lateral sclerosis. Environ Health Perspect, 117(9):1387-92. |
| [44] | Sutedja NA, Fischer K, Veldink JH, van der Heijden GJ, Kromhout H, Heederik D, et al (2009). What we truly know about occupation as a risk factor for ALS: a critical and systematic review. Amyotroph Lateral Scler, 10(5-6):295-301. |
| [45] | Capozzella A, Sacco C, Chighine A, Loreti B, Scala B, Casale T, et al (2004). Work related etiology of amyotrophic lateral sclerosis (ALS): a meta-analysis. Ann Ig, 26(5):456-72. |
| [46] | Wei Q, Chen X, Zheng Z, Guo X, Huang R, Cao B, et al (2015). The predictors of survival in Chinese amyotrophic lateral sclerosis patients. Amyotroph Lateral Scler Frontotemporal Degener, 16(3-4):237-44. |
| [47] | de Lau LM, Giesbergen PC, de Rijk MC, Hofman A, Koudstaal PJ, Breteler MM (2004). Incidence of parkinsonism and Parkinson disease in a general population: the Rotterdam Study. Neurology, 63(7):1240-4. |
| [48] | Ingre C, Roos PM, Piehl F, Kamel F, Fang F (2015). Risk factors for amyotrophic lateral sclerosis. Clin Epidemiol, 7:181-93. |