| | | |
| --- | --- | --- |
| Orginal Article | | | |
Clinical Profile of Chinese Long-Term Parkinson's Disease Survivors With 10 Years of Disease Duration and Beyond
Sun Qian, Wang Tian, Jiang Tian-Fang, Huang Pei, Wang Ying, Xiao Qin, Liu Jun*, Chen Sheng-Di*
Department of Neurology & Collaborative Innovation Center for Brain Science, Ruijin Hospital affiliated to Shanghai Jiao Tong University School of Medicine, Shanghai, 200025 China
Abstract

Parkinson's disease (PD) patients with 10 years or more survival (PD-10) are not well characterized. The aim of this study was to evaluate the main issues facing PD-10 patients and identify factors that independently contributed to quality of life (QoL).

A group of 121 PD-10 patients recruited from outpatient clinics participated in this cross-sectional study. Data on demographic and clinical factors were collected. Multiple linear regression analyses were conducted to identify determinants of poor QoL.

The entire PD-10 patients had disease duration ranging from 10 to 23 years, with 84.2% of the total cohort skewed to between 10 and 15 years' duration. The PD-10 patients had great frequency of left-sided onset, increased motor and non-motor symptoms as well as inferior QoL. The more advanced stage of disease in PD-10 patients was associated with motor phenotype, freezing of gait, higher UPDRS sub-scores and levodopa equivalent dose, less balanced confidence, fatigue, anxiety, depression, reduced quality of life and worse Timed Up & Go performance. Self-reported mood symptoms, decreased balance confidence and reduced daily activities were the three factors most closely associated with poorer QoL, but excessive daytime sleepiness and long disease duration additionally contributed to the explanatory power.

This is the first report to investigate the clinical characteristics of Chinese PD-10 patients. Our study may elucidate an important clue for understanding PD-10 patients in clinical practice and identifying patients with PD at risk for reduced QoL.

Keywords Parkinson's disease longevity motor and non-motor symptoms quality of life
Corresponding Authors: Liu Jun,Chen Sheng-Di
About author:

These authors contributed equally to this work.

Issue Date: 01 February 2018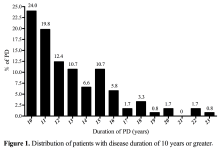 Figure 1. Distribution of patients with disease duration of 10 years or greater.

Table 1 Demographic and motor characteristics for PD patients with 10 years or more disease duration.
Table 2 showed the frequency distribution of medication in PD-10 patients. Although 100% patients were taking levodopa, only 9.09% (11/121) of those were taking levodopa alone and the majority of those were also taking dopamine agonists or any other PD medication. Among PD-10 patients, 43.80% (53/121) of patients were taking three PD medication, 83.02% (44/53) of whom were taking the combination of dopamine agonists, levodopa and other anti-parkinson drugs. Although higher percentage of PD-10 patients with H-Y ≥3.0 was taking COMT inhibitor (39.62% vs. 19.12%), the percentages of taking amantadine (28.30% vs. 48.53%) for patients with H-Y ≥3.0 were significantly lower. We did not observe statistically significant differences in the proportions of levodopa, dopamine agonist, MAO-B inhibitor, anticholinergics and types of PD medication used between PD-10 patients with and without H-Y ≥3.0.

Table 2 PD medication of H-Y ≥ 3.0 and H-Y < 3.0 patients.

Table 3 PDQ-39 scores of H-Y ≥ 3.0 and H-Y < 3.0 patients.

Table 4 Factors associated with QoL in stepwise multiple linear regression model.
| | |
| --- | --- |
| [1] | Alves G, Wentzel-Larsen T, Aarsland D, Larsen JP (2005). Progression of motor impairment and disability in Parkinson disease: a population-based study. Neurology, 65:1436-41. |
| [2] | Auyeung M, Tsoi TH, Mok V, Cheung CM, Lee CN, Li R,et al (2012). Ten year survival and outcomes in a prospective cohort of new onset Chinese Parkinson's disease patients. J Neurol Neurosurg Psychiatry, 83:607-11. |
| [3] | Hassan A, Wu SS, Schmidt P, Malaty IA, Dai YF, Miyasaki JM,et al (2012). What are the issues facing Parkinson's disease patients at ten years of disease and beyond? Data from the NPF-QII study. Parkinsonism Relat Disord, 18 Suppl 3:S10-4. |
| [4] | Warren Olanow C, Kieburtz K, Rascol O, Poewe W, Schapira AH, Emre M,et al (2013). Factors predictive of the development of Levodopa-induced dyskinesia and wearing-off in Parkinson's disease. Mov Disord, 28:1064-71. |
| [5] | Munhoz RP, Espay AJ, Morgante F, Li JY, Teive HA, Dunn E,et al (2013). Long-duration Parkinson's disease: role of lateralization of motor features. Parkinsonism Relat Disord, 19:77-80. |
| [6] | Hassan A, Wu SS, Schmidt P, Simuni T, Giladi N, Miyasaki JM,et al (2015). The Profile of Long-term Parkinson's Disease Survivors with 20 Years of Disease Duration and Beyond. J Parkinsons Dis, 5:313-9. |
| [7] | Vu TC, Nutt JG, Holford NH (2012). Disease progress and response to treatment as predictors of survival, disability, cognitive impairment and depression in Parkinson's disease. Br J Clin Pharmacol, 74:284-95. |
| [8] | Vu TC, Nutt JG, Holford NH (2012). Progression of motor and nonmotor features of Parkinson's disease and their response to treatment. Br J Clin Pharmacol, 74:267-83. |
| [9] | Schrag A, Jahanshahi M, Quinn N (2000). How does Parkinson's disease affect quality of life? A comparison with quality of life in the general population. Mov Disord, 15:1112-8. |
| [10] | Muslimovic D, Post B, Speelman JD, Schmand B, de Haan RJ (2008). Determinants of disability and quality of life in mild to moderate Parkinson disease. Neurology, 70:2241-7. |
| [11] | Hughes AJ, Daniel SE, Kilford L, Lees AJ (1992). Accuracy of clinical diagnosis of idiopathic Parkinson's disease: a clinico-pathological study of 100 cases. J Neurol Neurosurg Psychiatry, 55:181-4. |
| [12] | Ramaker C, Marinus J, Stiggelbout AM, Van Hilten BJ (2002). Systematic evaluation of rating scales for impairment and disability in Parkinson's disease. Mov Disord, 17:867-76. |
| [13] | Hoehn MM, Yahr MD (1976). Parkinsonism: onset, progression and mortality. Neurology, 17:427-42. |
| [14] | Schrag A, Quinn N (2000). Dyskinesias and motor fluctuations in Parkinson's disease. A community-based study. Brain, 123 (Pt 11):2297-305. |
| [15] | Jankovic J, McDermott M, Carter J, Gauthier S, Goetz C, Golbe L,et al (1990). Variable expression of Parkinson's disease: a base-line analysis of the DATATOP cohort. The Parkinson Study Group. Neurology, 40:1529-34. |
| [16] | Powell LE, Myers AM (1995). The Activities-specific Balance Confidence (ABC) Scale. J Gerontol A Biol Sci Med Sci, 50a:M28-34. |
| [17] | Podsiadlo D, Richardson S (1991). The timed "Up & Go": a test of basic functional mobility for frail elderly persons. J Am Geriatr Soc, 39:142-8. |
| [18] | Shumway-Cook A, Brauer S, Woollacott M (2000). Predicting the probability for falls in community-dwelling older adults using the Timed Up & Go Test. Phys Ther, 80:896-903. |
| [19] | Giladi N, Shabtai H, Simon ES, Biran S, Tal J, Korczyn AD (2000). Construction of freezing of gait questionnaire for patients with Parkinsonism. Parkinsonism Relat Disord, 6:165-70. |
| [20] | Giladi N, Tal J, Azulay T, Rascol O, Brooks DJ, Melamed E,et al (2009). Validation of the freezing of gait questionnaire in patients with Parkinson's disease. Mov Disord, 24:655-61. |
| [21] | Chaudhuri KR, Pal S, DiMarco A, Whately-Smith C, Bridgman K, Mathew R,et al (2002). The Parkinson's disease sleep scale: a new instrument for assessing sleep and nocturnal disability in Parkinson's disease. J Neurol Neurosurg Psychiatry, 73:629-35. |
| [22] | Johns MW (1991). A new method for measuring daytime sleepiness: the Epworth sleepiness scale. Sleep, 14:540-5. |
| [23] | Porter B, Macfarlane R, Walker R (2008). The frequency and nature of sleep disorders in a community-based population of patients with Parkinson's disease. Eur J Neurol, 15:50-4. |
| [24] | Stiasny-Kolster K, Mayer G, Schafer S, Moller JC, Heinzel-Gutenbrunner M, Oertel WH (2007). The REM sleep behavior disorder screening questionnaire--a new diagnostic instrument. Mov Disord, 22:2386-93. |
| [25] | Nomura T, Inoue Y, Kagimura T, Uemura Y, Nakashima K (2011). Utility of the REM sleep behavior disorder screening questionnaire (RBDSQ) in Parkinson's disease patients. Sleep Med, 12:711-3. |
| [26] | Friedman JH, Alves G, Hagell P, Marinus J, Marsh L, Martinez-Martin P,et al (2010). Fatigue rating scales critique and recommendations by the Movement Disorders Society task force on rating scales for Parkinson's disease. Mov Disord, 25:805-22. |
| [27] | Krupp LB, LaRocca NG, Muir-Nash J, Steinberg AD (1989). The fatigue severity scale. Application to patients with multiple sclerosis and systemic lupus erythematosus. Arch Neurol, 46:1121-3. |
| [28] | Jenkinson C, Fitzpatrick R, Peto V, Greenhall R, Hyman N (1997). The Parkinson's Disease Questionnaire (PDQ-39): development and validation of a Parkinson's disease summary index score. Age Ageing, 26:353-7. |
| [29] | Chen W, Tan YY, Hu YY, Zhan WW, Wu L, Lou Y,et al (2012). Combination of olfactory test and substantia nigra transcranial sonopraphy in the differential diagnosis of Parkinson's disease: a pilot study from China. Transl Neurodegener, 1:25. |
| [30] | Chen W, Chen S, Kang WY, Li B, Xu ZM, Xiao Q,et al (2012). Application of odor identification test in Parkinson's disease in China: a matched case-control study. J Neurol Sci, 316:47-50. |
| [31] | Folstein MF, Folstein SE, McHugh PR (1975). "Mini-mental state". A practical method for grading the cognitive state of patients for the clinician. J Psychiatr Res, 12:189-98. |
| [32] | Maier W, Buller R, Philipp M, Heuser I (1988). The Hamilton Anxiety Scale: reliability, validity and sensitivity to change in anxiety and depressive disorders. J Affect Disord, 14:61-8. |
| [33] | Frank E, Prien RF, Jarrett RB, Keller MB, Kupfer DJ, Lavori PW,et al (1991). Conceptualization and rationale for consensus definitions of terms in major depressive disorder. Remission, recovery, relapse, and recurrence. Arch Gen Psychiatry, 48:851-5. |
| [34] | Lee HK, Altmann LJ, McFarland N, Hass CJ (2016). The relationship between balance confidence and control in individuals with Parkinson's disease. Parkinsonism Relat Disord, 26:24-8. |
| [35] | Diem-Zangerl A, Seppi K, Wenning GK, Trinka E, Ransmayr G, Oberaigner W,et al (2009). Mortality in Parkinson's disease: a 20-year follow-up study. Mov Disord, 24:819-25. |
| [36] | Willis AW, Schootman M, Kung N, Evanoff BA, Perlmutter JS, Racette BA (2012). Predictors of survival in patients with Parkinson disease. Arch Neurol, 69:601-7. |
| [37] | Lo RY, Tanner CM, Albers KB, Leimpeter AD, Fross RD, Bernstein AL,et al (2009). Clinical features in early Parkinson disease and survival. Arch Neurol, 66:1353-8. |
| [38] | Diamond SG, Markham CH, Hoehn MM, McDowell FH, Muenter MD (1990). An examination of male-female differences in progression and mortality of Parkinson's disease. Neurology, 40:763-6. |
| [39] | Ebmeier KP, Calder SA, Crawford JR, Stewart L, Besson JA, Mutch WJ (1990). Parkinson's disease in Aberdeen: survival after 3.5 years. Acta Neurol Scand, 81:294-9. |
| [40] | D'Amelio M, Ragonese P, Morgante L, Reggio A, Callari G, Salemi G,et al (2006). Long-term survival of Parkinson's disease: a population-based study. J Neurol, 253:33-7. |
| [41] | Baldereschi M, Di Carlo A, Rocca WA, Vanni P, Maggi S, Perissinotto E,et al (2000). Parkinson's disease and parkinsonism in a longitudinal study: two-fold higher incidence in men. ILSA Working Group. Italian Longitudinal Study on Aging. Neurology, 55:1358-63. |
| [42] | Wooten GF, Currie LJ, Bovbjerg VE, Lee JK, Patrie J (2004). Are men at greater risk for Parkinson's disease than women? J Neurol Neurosurg Psychiatry, 75:637-9. |
| [43] | Kadastik-Eerme L, Rosenthal M, Paju T, Muldmaa M, Taba P (2015). Health-related quality of life in Parkinson's disease: a cross-sectional study focusing on non-motor symptoms. Health Qual Life Outcomes, 13: 83. |
| [44] | Reid WG, Hely MA, Morris JG, Loy C, Halliday GM (2011). Dementia in Parkinson's disease: a 20-year neuropsychological study (Sydney Multicentre Study). J Neurol Neurosurg Psychiatry, 82:1033-7. |
| [45] | Beiske AG, Loge JH, Hjermstad MJ, Svensson E (2010). Fatigue in Parkinson's disease: prevalence and associated factors. Mov Disord, 25:2456-60. |
| [46] | Zuo LJ, Yu SY, Wang F, Hu Y, Piao YS, Du Y,et al (2016). Parkinson's Disease with Fatigue: Clinical Characteristics and Potential Mechanisms Relevant to alpha-Synuclein Oligomer. J Clin Neurol, 12:172-80. |
| [47] | Friedman JH, Brown RG, Comella C, Garber CE, Krupp LB, Lou JS,et al (2007). Fatigue in Parkinson's disease: a review. Mov Disord, 22:297-308. |
| [48] | Jones JD, Butterfield LC, Song W, Lafo J, Mangal P, Okun MS,et al (2015). Anxiety and Depression Are Better Correlates of Parkinson's Disease Quality of Life Than Apathy. J Neuropsychiatry Clin Neurosci, 27:213-8. |
| [49] | Karlsen KH, Larsen JP, Tandberg E, Maeland JG (1999). Influence of clinical and demographic variables on quality of life in patients with Parkinson's disease. J Neurol Neurosurg Psychiatry, 66:431-5. |
| [50] | Fan JY, Chang BL, Wu YR (2016). Relationships among Depression, Anxiety, Sleep, and Quality of Life in Patients with Parkinson's Disease in Taiwan. Parkinsons Dis, 2016:4040185. |
| [51] | Grimbergen YA, Schrag A, Mazibrada G, Borm GF, Bloem BR (2013). Impact of falls and fear of falling on health-related quality of life in patients with Parkinson's disease. J Parkinsons Dis, 3:409-13. |
| [52] | Havlikova E, van Dijk JP, Nagyova I, Rosenberger J, Middel B, Dubayova T,et al (2011). The impact of sleep and mood disorders on quality of life in Parkinson's disease patients. J Neurol, 2011;258:2222-9. |
| [53] | Benge JF, Kekecs Z, Encarnacion E, Ainslie M, Herff C, Elkins G,et al (2016). Duration of disease does not equally influence all aspects of quality of life in Parkinson's disease. J Clin Neurosci, 28:102-6. |
| [54] | Duncan GW, Khoo TK, Yarnall AJ, O'Brien JT, Coleman SY, Brooks DJ,et al (2014). Health-related quality of life in early Parkinson's disease: the impact of nonmotor symptoms. Mov Disord, 29:195-202. |